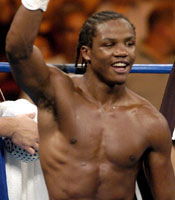 "It could be early or it could be late, but I expect Kassim to knock him out!"
RC: Ronnie, how was training camp with Kassim in preparation for his fight on Friday night?
RS: We had a great training camp, a really really good training camp. Everything went perfect. We got as lot of good boxing and we did a lot of pads. He did a lot of learning, which is what it is all about in the gym. The thing with Kassim is he loves to learn and I teach that is what I do. So it went really really good. I just appreciate the fact that he does work hard and his thing is he refuses to be second. He wants to be first all of the time and I love that in a fighter.
RC: Prior to the Karmazin fight. Kassim was that dude in the division. And with all of the personal problems he was going through at that time, he looked flat that night and many wondered just how good is Kassim Ouma. Three months later he returned against Freddie Cuevas in his first fight working with you, and he looked phenomenal. Can we expect the same in this fight?
RS: Kassim is basically a combination fighter. He is a guy that likes to throw a lot of punches and I told him that there is no problem throwing a lot of punches, but I told him he has to jab first. I added just added the jab to his style. You saw that in the last fight. Everything worked off of his jab. Now in the gym he realizes that before he does anything he is going to jab himself close. Then I told him to go for what he knows, at that point he can do whatever he wants to do, as long as he gives me my jab first and I want combinations behind them. In this fight, we have been working on certain combinations that are really going to work for us.
RC: In the his last fight against Cuevas, I also noticed a little more head movement and little more def…
RS: (Cutting in) Right, absolutely! Well you are going to see a lot of that. I think that with any fight, no matter who you are fighting, you have to have defense and you have to have head movement. That is part of the game, but the head movement, whatever side he finishes on, that is the side that he is going to stay and punch on. We have been really doing that in the gym, and he has really been looking good. His mind is ready, his body is ready, he is just in great shape and hey he is ready to go man.
RC: We I spoke to Kassim he admitted he didn't know much about Francisco Mora, and I know a lot of times the trainer is the one that views the tape and comes up with the game plan. Why don't you tell us about Francisco Mora?
RS: Francisco Mora is a guy that has a lot of experience.  A lot of professional experience, and those Argentineans they come to fight, it is as simple as that. This guy has a great chin and he is a hard puncher. I saw two tapes of him, two different fights that really interest me, so I looked at those. One he lost and one he won. He fought at 168lbs in one of them. That is when he fought Robin Reid, he lost that fight but I think he lost that fight because the guy was just too big for him. In the other fight I saw him in, he knocked this kid out, but this kid didn't really have a whole lot of experience. What I saw in him is that he is a strong fighter. He loves to take it to you, but the difference is going to be is that he is going to run into a jab that he has never seen before, and he is going to run into punching power that he has never seen before. I expect Kassim to knock him out, it could be early or it could be late. But I think Kassim will knock him out.
RC: With Francisco Mora being the naturally bigger guy, and being that he has fought at much higher weights than 154lbs; do you feel he will have a significant advantage?
RS: Not at all, the thing with Kassim is I have him sparring with big guys and I have him sparring with small guys. It doesn't make a difference to him. Both of them are going to step on the scale at 154lbs, and after that he (Mora) can gain 50lbs if he wants to. It isn't going to make no difference in this fight. I hope he does gain all of that weight because it is going to tear his body up anyway. So that is just going to be a plus on our side.
RC: I know it takes a while for a new trainer and fighter to mend completely and adapt to one another. However we did see a significant difference in his last fight when he stopped Freddie Cuevas who had previously never been stopped. How far are you from having Kassim Ouma a finished Ronnie Shields product?
RS: I think you are going to see that in this fight, I really do. There are a few little things that I still don't like but it is not going to be a big deal at all. We just gotta keep working, but I think that you will see all the changes in, if not this fight then the next fight. He is not far away at all because he knew from the begging the style that I train. So he already knew that, and he kept some of his moves from way back, and I changed a few things like making him sit down on his punches. The defense, the defense is already there, so I am not worried about his defense, so all together I am thinking one or two more fights.
RC: Ronnie, what we can all expect from Kassim Ouma on Friday night?
RS: I would say a good boxer for the first few rounds, and then you are going to see a great puncher for however long it last.
RC: Kassim is known for being a puncher whose punches have an accumulative affect, and not a one punch K.O. power, for you to come up with the prediction that we are going to see a great puncher, have you been working on……
RS: (Cutting in) Ooh Absolutely, and like I was saying the jab. The jab is the key. He is going to blind this guy with the jab and once he starts hitting this guy with left hands and right hooks, man it is going to be unbelievable. You are going to see it is going to be unbelievable.
RC: Is there anything specific that you guys been working on that makes you tell us that he is going to be a big puncher no…
RS: (Cutting in) It is not really going to be a one-punch knockout kind of thing. But the thing is I have him sitting down more, even on his jab, his jab is hard. He is going to hurt guys with jabs now because I have him sitting down on everything and stepping in with a good jab. Once he starts throwing combinations, not wide shots, I had him shorten his shots up and he is giving me 25% more power now than he already had. And for him, you are talking about Light heavyweight type punches. I am telling you.
RC: You also train WBA Lightweight champion Juan Diaz who has a rematch coming up against Lakva Sim on March 3rd. In the first match Juan pretty much dominated Sim throughout the fight. Give us your thoughts on the upcoming rematch?
RS: In all of the tapes I saw of Lakva Sim he fought the same fight the whole time. He tries to wear you down, and he tries to wear you down with punching power. The last time, I had Juan box him for the first six – eight rounds. After that I told him get on the inside a bit and the last few rounds I told Juan that he (Sim) couldn't do anything to him. So I told him to fight him on the inside and Juan did that. He wore him down and wore him out. He boxed him in the beginning and I sat him down on the inside and Lakva never saw any of the punches coming, and it is going to be the same thing that is going to happen this fight.
RC:  Do you feel that this fight is going to be easier for you guys being that you feel you already know what to expect from Lakva Sim?
RS: It is not going to be easier, I mean it is going to be the same hard fight that is was last time. Juan is just going to have to be in great shape like he always is, and we just gotta box him for a while and every now and then I will put him on the inside and get him back on the outside. Lakva Sim is a great fighter, and that is why no other 135lb fighter wants to fight him. But the thing about him is he didn't expect this young kid in Juan Diaz the first time to be able to stand up to his punching power. We surprised him, Juan threw more punches than he did, and threw the harder punches. Now in this fight, of course we are going to make some adjustments. I am going to go back and look at the tape again; I have looked at it a couple of times already, but I am going to go back and look at it again and see if I can see what type of adjustments that I feel that they are going to try to make. But I don't know how much more adjustments they can make. Lakva always fight the same way. When you look at a Juan Diaz tapes you see different styles, you don't see the same style the whole time, and you always see something different. I try to confuse people that way; Juan is the type of guy that can fight both ways. He can box, or he can stand toe to toe with you if he has to.
Some fights I put him in to be the aggressor, other fights I tell him I just want him to box, and he listens very well and he is always in condition so it is no problem for him going twelve rounds with anybody.
RC: Do you have any other fights coming up soon that we might not be aware of?
RS: Yes I have a fight coming up next week on ESPN with Antonio Davis; he is fighting Koba Gogoladze in Detroit next week.
RC: Why don't you tell us a little bit about Antonio Davis 19-1(9)?
RS: Sure! He is the IBA Jr. Lightweight champion and they are fighting for the NABO Jr. lightweight title. When I took him over he had one loss, and he is 7-0 with me. He is not a puncher; he is a good little boxer. He is fighting a southpaw of course, and the guy is pretty good, but my guy is real awkward for a right-hander. So it is going to be a pretty good fight. I have been studying tape of Koba, and he quit in the fight against Kid Diamond so we have it in us to make him quit.
Send questions and comments to: bkscam@gmail.com