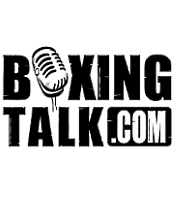 By Ramon Rodriguez
Boxingtalk recently had the chance to speak with lightweight Rolando "El Pochito" Reyes of Oxnard California. Reyes (24-3-2, 15 KOs) will be fighting Courtney Burton for a vacant regional lightweight title on July 22 on ShoBox at 11 p.m. ET/PT. It should be an excellent match-up as Burton is 21-3 and is coming off one of the best fights of 2004, a war in which he was stopped in the last round by Ebo Elder.  The winner will be a legitimate contender in the exciting 135-pound category.
Boxingtalk: Hey, Rolando, how's it going?
Rolando Reyes: I'm doing good.
BT: Tell us how you feel about your upcoming fight with Courtney Burton?
RR: I feel good for this fight. I've been training hard and I'm ready to knock him out.
BT: At what weight class is the fight going to be?
RR: It's going to be at lightweight, 135 pounds.
BT: And is that the weight class you plan to fight at regularly?
RR: Yeah, 135 is my regular weight. My last fight I fought at 140 but it's no problem fighting at 135.
BT: How does it feel to be fighting on ShoBox once again?

RR: It feels good. My last fight I did pretty good and they liked it so they brought me back. This is another chance to get ranked in the top 10.
BT: I hear this upcoming fight is for the vacant  NABO lightweight title. Is that a testament as to how you feel you're coming along as a prospect?
RR: For this fight, it's do or die. Either I make it or I don't make it so I'm going to do my best and knock him out and keep going.
BT: In your last fight against Jose Antonio Ojeda, many were impressed by how persistent you were in the ring and in looking for a knockout. What do you plan to do against Burton?
RR: With Burton I'm going to do the same thing I did my last fight. I'm going to box and use my speed, my power punch and that's what I'll use to knock him out.
BT: Well, Rolando, BoxingTalk wishes you the best of luck on your upcoming fight. Is there anything else you'd like to say in closing?
RR: On the 22nd, there's going to be a new NABO champ in Oxnard.