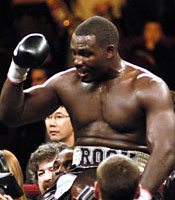 Former heavyweight champion Hasim "The Rock" Rahman, who was scheduled to face Vitali Klitschko for the WBC heavyweight championship April 30 prior to Klitschko suffering an injury during training, had some harsh words for James "Lights Out" Toney shortly before 9:30 p.m. Thursday during a BoxingTalk.com chat session.
"Toney is a fag and I would love to shut his mouth," said Rahman, who added if he and Toney both emerge victorious in their future world title challenges, "I would love to get in a unification tournament. I would definitely be the first one to sign for it."
When Rahman typed James' name in the chat room, instead of Toney he typed "Phony, but inadvertently spelled phony P-H-O-N-E-Y. When asked what he thought about Toney saying in a recent interview that Klitschko took on an easier fight in Rahman, "The Rock" responded, "I though he (Toney) was the (WBC) mandatory for a long time but didn't want to get in there with the man. To me, he looks afraid of Klitschko and based on the way he didn't want to spar with me, I think he's afraid of me too."
Considering that Toney is one of the best trash talkers in boxing, and is also an avid reader of BoxingTalk.com, Rahman's comments are not likely to go without a response from "Lights Out."
Other News: When Ruiz spoke to boxing fans in the chat a half hour earlier, he called Klitschko a quitter (referring to his TKO loss to Chris Byrd because of a shoulder injury) and said he wouldn't be surprised if Klitschko decided to pull another quit job in the future.
Send questions and comments to: kirklang@yahoo.com