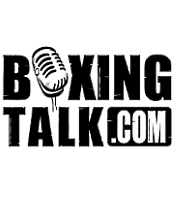 Robert "Ghost" Guerrero (13-0-1) 6 KO's has just announced that he will be fighting for the NABF Featherweight Championship against Cesar    Figueroa, 28 wins (20 ko's) - 4 losses - 2 draws. This fight will take place on December 9th, 2004 at the Pechanga Resort and Casino in Temecula California. This fight will be the undercard on the Vassiliy Jirov- Michael Moorer heavyweight bout, and will be televised on The Best Damm Sports Show Period (FSN). Boxingtalk just got off of the phone with Robert "Ghost" Guerrero. We talked about his upcoming championship fight, his future, and even a little amateur boxing. This is what this promising contender had to say.......
BC: Robert, thanks for talking to Boxingtalk...
RG: No problem Brad.
BC: Robert is was just announced today that you will be fighting for the NABF Title against a tough Cesar Figueroa. Talk about what you need to do to get this title belt around your waist.
RG: This is a big fight for me Brad.... A win puts me into the top 10 in the world. The guy I am fighting has a lot of experience, and is coming off an impressive win against Jorge Martinez, he stopped him in the 10 round I believe. This guy is hungry too.....
BC: Robert, what do you know about this guy?
RG: He is a typical come at you type of guy.... He is real tough, he likes to take guys into the deep water man... he likes to use his experience against young guys like me.
BC: Robert, how long have you known that Cesar was going to be your opponent?
RG: I just found out about a week and a half ago....I have seen tape on him, but I have been preparing myself for anyone.
BC: Robert, a win against this guy makes you a champion. Is there anyone out there you would want to fight next?
RG: I want to fight them all, I want to do whatever I need to do to become a top world fighter.
BC: Robert, talk about the team that surrounds you. What do they bring to the table for team "Ghost" Guerrero?
RG: My new head trainer is John Bray, he is a great guy man. He trains me really hard, and I respect him for that. I have a great cutman in Carlos Vargas, and then I got my main man Mario Serrano, my Publicist. Mario is out there pumping me up man, he's awsome! And of course my manager is Bob Santos, he's the best.
BC: Robert, you have a very impressive amateur career..... Talk a little bit about your accomplishments as an amateur boxing.
RG: I had quite a bit of fights Brad.... way over 100... after so many fights you stop counting (laughing)... my first national title was the Junior Olympics. My first three fights were all knockouts. I went the following year to the Junior Olympics, and fought with a fever, and still got a bronze medal. After that I fought as an open fighter. I tried to qualify for the 2000 Olympic trials at the age of 16 yrs of age. I didn't qualify that time, so I went to the USA Everlast tournament, and took another bronze. Then I went and fought at the western trials, and poured my soul into it. I took a gold there, and qualified for the 2000 Olympic trials, where I lost to Clarence Vincent. Clarence went on to win a bronze medal in the Olympics. It was a big accomplishment for me to get that far as a young kid at 16yrs of age.
BC: If you win this fight against Figueroa, you will be a champion... do you think your amateur career better prepared you as a pro in order to achieve so much, so fast as a pro,  at your current age now.
RG: Brad, it prepared me mentally so that when I am in there with an older guy, I know that I have already done this.  It takes the stress, and worry out of your mind. It takes a lot of pressure off of me, it lifts up my confidence.
BC: Robert, when you retire from boxing, how do you most want to be remembered by the boxing fans.
RG: I want the people to know that I give all the glory to God. I want everyone to know that what I achieved in the ring as a fighter is according to God's will.
BC: Robert, talk to your fans for a minute....what can they expect to see out of Robert Guerrero in this fight against Cesar Figueroa for the title?
RG: They are going to see a whole different fighter... I have a new team, they will see my new skills..everything in my new toolbag will be used... They will see me win this fight.
BC: Robert, you are a class act and I really appreciate you taking some of your time out to speak with me. On behalf of the Boxingtalk staff, and readers I thank you.
RG: Brad, thank you ....I enjoyed it.
*Special thanks goes out to Mario Serrano for his assistance in setting up this interview.
CLICK HERE FOR MORE OF THIS EXCLUSIVE
Send questions and comments to: bradcooney1@bellsouth.net