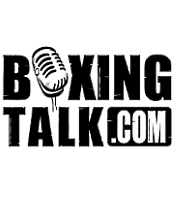 "I think I've proven that I'm one of the best 130-pounders in the world, and I've proven that I deserve a shot at the champion."
It is well known in the boxing world that Robbie "The Bomber" Pedan will take on any comers, but after his fight against Nate Campbell last March, Pedan is looking to cash in on his position of being the #1 IBF junior lightweight contender. With a victory last weekend on the Erik Morales – Carlos Hernandez undercard, Pedan knows his time has come to become champion sometime this year, and he will face anyone he needs to for that to happen. A fight with Morales is a possibility, but according to "The Bomber" it doesn't seem to matter to him who he has to beat, as long as a victory will wrap a belt around his waist.
BoxingTalk: Robbie, how do you feel your fight went on Saturday?




Robbie Pedan: It was good. A win is a win. The kid [Armando Cordoba] really didn't want to fight too much, he ran a little bit, but it's good to get another fight under my belt before the title fight, so I don't rust up. I had a real good camp, and things are looking really positive for me right now.




BT: Did you have a chance to watch the Morales-Hernandez fight?




RP: Yes, I watched it. It was a real good fight. Carlos fought his heart out and gave what he had, but Morales proved that fighting at the 130-pound division is not an easy one.




BT: Knowing you could be fighting Morales soon, is there anything you would do differently than what Hernandez did?




RP: I think Carlos didn't use his jab, but I think my jab will do more damage if I get to fight Morales. I'm not really sure if that fight (against Morales) will happen, but we should know something in the next couple weeks. Morales might release the title or I might fight Nate Campbell. I'm very confident now. I'm only four fights back since my loss to Juan Manuel Marquez, then I had some time off, but everything is going really well.




BT: BoxingTalk recently did an interview with Nate Campbell in which he commented that he wants you next. However, you are next in line for Morales' IBF belt. What exactly is next for you?




RP: I don't know Darren, your guess is as good as mine. I just want to fight for the title. It doesn't matter who I have to go through to get it. If it's Morales, I'll fight him. If it's Campbell, I'll fight him. It doesn't matter. I think I've proven that I'm one of the best 130-pounders in the world, and I've proven that I deserve a shot at the champion. So if Morales doesn't want to fight me than I'll fight Nate. That's the way the boxing business is, but I know I'll get my shot sometime this year.




BT: Even though you got the win on Saturday, your next fight could have some higher stakes involved. Is there anything you would change about your style of fighting going up against a Morales or a Campbell compared to a Cordoba?




RP: I really didn't have that much time to prepare for this fight, and I got a little bit sick during training camp, so I would need to get healthy again, but I did have a real good camp, and I felt I fought a decent fight even though Cordoba didn't want to fight, he just wanted to survive. I know I could have a title fight next, so I'll have to be careful, make sure I don't get careless, knocked out, or beaten. My trainer and I do a lot of progressive training and I know that this past camp and my fight on Saturday will help me in the future.




BT: According to Bob Arum, it looks like Morales could be fighting again in November. Are you ready for a Morales fight in November?




RP: I spoke with Dan Goosen and he told me we could be fighting for the title in November. So maybe Morales will fight me then, but I'm not going to worry about it until it's a signed deal. Once it is, then I can sit down and prepare for the fight, with the right camp and conditioning. Right now, I just want to focus on getting healthy again, recover from this past fight, get back into shape, and it will pay off in the end.




BT: If you were to take on Morales or fight Campbell again, do you feel you would need to let your punches go more than you have in your previous fights.




RP: I think I would. I didn't get too much tape of Cordoba's previous fights. I actually didn't get any tape of his fights, so I didn't know what to expect. I wanted to be very cautious and very careful to ensure myself the victory. With Nate and Erik, they are both quality fighters, and you can get pretty messed up if you don't have a different game plan or prepare different ways to fight their strengths. I'm happy this past fight is over and done with, and I'm definitely going to get my title shot this year - it's been a long time coming. In this business, no one is going to give you anything, you have to take for yourself. I think I've proven that I deserve my shot, and I'm looking forward to it.



BoxingTalk thanks Mr. Pedan for taking the time to speak with us. We wish him continued success both in and out of the ring.


READ THE FULL EXCLUSIVE INTERVIEW WITH THE BOMBER
Send questions and comments to: thomaspointrd@aol.com