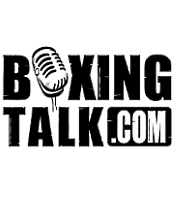 PRESS RELEASE:
 IBF mandatory challenger Cosme "Chino" Rivera (28-7-2, 20 KOs) plans on shocking the boxing world May 14 when he fights defending champion Zab "Super" Judah (33-2, 24 KOs) in the 12-round co-feature, headlined by Tito Trinidad-Winky Wright, for the undisputed (IBF, WBC & WBA) welterweight titles on HBO PPV from the MGM Grand in Las Vegas.
"All of those boxing insiders who think this is going to be a one-sided fight haven't followed my career," Rivera said. "I can't wait. Judah is wearing my belts. He's never fought anybody with my heart and determination. I'm a Mexican and we're all about heart. Nobody's every knocked me down. I've been waiting my whole career for this opportunity. I'm going to bring the fight to him."
The 28-year-old Rivera, now living in Los Angeles, was born in the same part of Mexico as Julio Cesar Chavez and Jose Luis Ramirez. Unbeaten in his last seven fights since moving up to welterweight from junior welterweight, fighting opponents with an aggregate number of 150 victories, Cosme earned his IBF mandatory position by stopping Hercules Kyvelos (22-1) in the fourth round of their September 9, 2004 IBF eliminator.
"We're excited," Guilty Boxing vice president Jay Hassman noted. "Cosme and Guilty Boxing respect Zab for his commitment to fight the No. 1 challenger. Guilty's worked hard to provide this opportunity for Cosme to fight for the world titles. He is the first of many boxers from Guilty's growing, talented stable who'll be fighting for world titles this year."
Rivera has held several minor title belts like the IBA Americas, WBF and WBC Continental Americas welterweight, as well as the WBO NABO, UBF International and Baja California State light welterweight championships. He has defeated world-class fighters such as James Hare (28-0-1), Golden Johnson (22-5-2), Wilfredo Negron (20-6) and Hector Quiroz (26-3-1).
"Zab is the undisputed champion of the world and he's going to come out trying to prove he's the No. 1 welterweight. But he's going to be in for a war because I'm no pushover. I can take a good punch. My chin is tough and he's never going to put me on the canvas.
"I'm one of the greatest Mexican fighters of all-time, right there with Chavez and (Carlos) Palomino, and I'll prove it against Judah.  I'm going to show the world what I'm all about. Once I beat Zab it'll set-up big money fights for me against Oscar (De La Hoya) or (Shane) Mosley