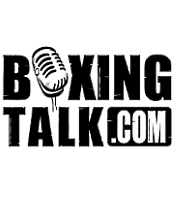 "If you are going to screw me, at least use Vaseline"
RC: What's going on Rico?


RH: Just sitting here chilling, I have been home since after that Montell Griffin fight which I was obviously upset about. I was fighting in an IBF eliminator for a mandatory spot on ShoBox for f@*king pennies man. So I am just waiting for my next fight which I thought was going to be Glen Johnson but you know he did the right thing, he went for the money. [[World light heavyweight champion Antonio] Tarver is the money right now in our division so I respect that.  I guess Clinton Woods is up next, which again I am getting offered pennies from my understanding. So I am pretty upset right now on the business aspect of boxing. I always knew it was shady but god damn I didn't know it was going to be this damn shady.
RC: What about the Montell Griffin fight were you upset about, was it your performance?
RH: To be honest Ray I wasn't even upset with my performance, because I went in there, I followed my game plan. Even during the fight I was going back to my corner telling Danny (Smith) and Rick (Griffin) this is some bullshit I want to fight, and they were like "Nope just keep doing what you are doing" Pretty much I was a little disturbed afterwards by (Steve) Farhood's comments, but that is just the media and they were doing their job, I wasn't upset about that. I thought I did what my team asked me to do, and at the end of the day they raised my hand, so I was pleased with that.
RC: Many felt the you received a controversial decision, do you feel you would have done better if you had fought the way you wanted or even would have felt you won the fight easier?
RH: I think the way they had me fight….. Either way you look at it I won it. Montell wasn't throwing any punches. If I throw five or six punches and land two and he lands one then how could he win. The whole time I had him backing up, I had him on the ropes a few times, and I was the one pressing the fight. He was trying to pick shots throwing a shot here and a shot there, but he really wasn't doing shit. Then I looked at the fight on tape myself, and I say fuck what they are talking about, I know I won that fight.
RC: You said this business is shady and they want you to fight for pennies, where do you feel the shade is coming from?
RH: Pretty much I believe it is promoters. We were going to fight Glenn Johnson on the December 4th show on Showtime before they put Jeff Lacy in that spot. I was told that they were offering me a fight (with Glen Johnson) for a certain amount, but when I requested all of the paperwork….. because I wanted to see what is really being offered, because if it was what they said I was being offered I wanted to see it for myself. As soon as I asked for the paperwork it was like I rocked the boat and then nobody wanted to show me the paperwork, then all of a sudden the  fight is off the table and they stuck Jeff Lacy in that spot.
RC: Do you think the fight could have been taken of the table due to Johnson no longer willing to fight you because he chose to fight Tarver or because you requested the paperwork?

RH: It wasn't like that, it wasn't the fact that because Glenn Johnson pulled out of the fight, I mean they were basically letting it be known "Look dude you are asking for fucking paper work and we aint giving you the papers. Don't be asking for paper work, either you want the fight or you don't want the fight"
RC: Exactly who do you think didn't want you to see that information?
RH: I think it is the promoters. You see I have Fight Night Inc. which is out of Michigan, and they had Gary Shaw come on board to act as a co-promoter to give me I guess the little ShoBox shows that I have been fighting on, so I think it is some of everybody, or both parties involved, they are trying to make money.
RC: So why hasn't your management team looked into getting the facts straight and protecting your best int...
RH: (Cutting in) Nah, that is the other thing, that is bullshit too. Here it is, I have a manager Valerie Atikian who hasn't done anything for me..….put it like this, I have been managing my career from day one. This lady aint never negotiated a fight, she aint never got me a fight, she aint never done shit for me in my career. Then when I tell her she is not doing nothing, I don't need her any more or at least if she wants to sit on and act as an advisor I wont kick her off totally, so I said lets just cut back your percentage since you are not doing shit in the first place. Then all of a sudden I am getting sued, the lady is suing me talking about I am in breach of contract because I am negotiating my own fights, but I have been doing that from day one.
RC: Has she done anything for you as far as financial wise?
RH: Yeah she give me a bullshit signing bonus ($3000), and I only got half of that, I never even got the full amount of the signing bonus.
RC: What were the terms that you two agreed on for the payments of your bonus?
RH: The agreement was for three years, as far as the signing bonus, I got half at the time that I signed then I was supposed to get the rest, it was suppose to be a couple of weeks later, and I never even got that.
RC: So who was negotiating for you when you requested the paperwork?
RH: She (Valerie Atikian) didn't negotiate shit; they weren't even calling this lady. They were calling me directly and dealing with me, this shit is Shady as hell. One of the assistants for Fight Night INC. that I was pretty cool with a guy name John helped me because Kozerski wasn't talking to me direct. He had him come at me because that was his assistant and we had a good rapport with one another.
RC: Does your contract allow you to represent yourself?
RH: It's in my contract I believe where she was to act as the negotiator, and as a manager she was supposed to perform managerial duties to try and advance my career. So from my understanding she is suing Fight Night Also.   She was also working with Damien Fuller, and he went through the same shit. They ended up suing each other and he got out of his contract too.
RC: So what made you want to air it all out like this?
RH: To be honest, I don't even care no more. Because it aint only me, if this shit is affecting me right now, then maybe it will happen when some other young dude come along, and he won't get ate up by this shit. I have to deal with this shit right now, that's just my nature.
RC: This is a very similar situation that your former stable mate Ishe Smith went thr…
RH: (Cutting in) Yup, the only thing with that is I am broke, I aint making no money. I can't even file fucking bankruptcy because I can't pay the fucking attorneys.
RC: Have you spoken to Gary Shaw about this whole matter, or have someone who represents you talk to him?
RH: Nate Neil is friend of mine and an advisor to me; he has been pretty much acting as an advisor and helping me in talking to Bill Kozerski. But Gary or Bill, they don't even call anybody. I see them when I get to the hotel or where ever I am fighting at. I see them like two days before my fight, and then it's you know "Good Boy this, good boy that" you know what I am saying? Treating me like basically some slave ass nigga and then next thing you know, I don't hear from them until about a couple of weeks before I am about to get a fight. Then they will call me a couple of weeks before the fight and say "We got this lined up, this is what's on the table, either you are going to take it or you are not going to take it for this amount of money" and I don't hear from him after that. Then I see him on fight night and then it is like "Good" patting me on the back. This shit is crazy man, I understand this is a business, but it is basically a fucking master-slave relationship all over again.
RC: You care to discuss what type of figures they were talking about for those fights?
RH: Trust me when I tell you it is pennies. I will give you this, for Montell Griffin I made $15,000.
RC: Was that take home or gross?
RH: Shit, take home was less than that, because I am giving up 20% to management, another 20% for my coaches and my assistants, you can bet I am not taking home shit.
When I take it home, and I pay my bills I am broke again. I am living fight to fight.
Now I understand that I am not a household name so I am not expecting millions, but I am like damn I know they are making more than what they are telling me. Even Diego (Corrales) and (Mohamed) Abdulaev, they were on ShoBox making $25,000-$45,000, and that is bullshit for them too. But you know, that is this business, we put in the sweat and the blood and everybody else really reaps the benefits. At the end of our career, we are flat broke; we are busted, while everybody else living well.
At one point in time Kozerski and my co-manager Rick Griffin were close with one another, they were like blood, but then the next thing you know me and him starting rocking the boat, we started requesting shit that obviously they feel we didn't need to have any knowledge of.
RC: So what now Rico, what are you going to do from here?
RH: To be honest with you I am just looking for a deal that I am going to be happy with. Whether or not it is with Gary, whether or not I re-up with Fight Night Inc, I just want what I am worth, ever since the beginning of my career I haven't ducked anybody. I fought everybody, everybody told me Richard Hall was a bad mistake, everybody told me I shouldn't take the fight against Montell, but I am fighter, plus I am trying to eat. So I was taking every fight for pennies because I didn't give a fuck what it is. I got to take the fight, and I am prepared and ready to fight anybody at all cost. But I just want what I am due, I am not asking for no more, and I am not asking for no less. I am not a multi million dollar fighter right now and I understand that, but if I am fighting somebody and that somebody happens to be a like a Richard Hall or Montell Griffin, don't try and cheat me out of a couple hundred bucks or a couple thousand, when you are sitting on millions.
For instance I fought Montell and Richard Hall for $15,000 when I know the fight with Montell was worth more than that, it might not have been much much more, but I feel I could have made $5000-$10,000 more than what they paid me.
RC: You were possibly going to fight on the December 18th card, are you at all concerned that now you have said what you said you won't get that opportunity?
RH:  It's a possibility I am not sure, but it is definitely a possibility.
RC: But you would rather still release it because???
RH: I got to change my conditions. Obviously nobody else is trying to change them for me. So if I don't step up and try to make some changes the shit isn't going to get done. It has got to be done, it is either going to be now or it is going to be later. I am at the point where I am #1 in the IBF and I am in the top ten in the WBC, WBO and in the ring magazine ratings. I'm the mandatory in the IBF, in my next fight I am guaranteed a world title shot. So I am like come on throw me something, don't pay me like I am picking cotton or something.
RC: Since you said your promoter hasn't been answering your calls, is their anything you would like to say to him?
RH: Aint too much else I can say, just give me my due. I am not asking for no more, I am not asking for less. I am willing to work for mine and do what I got to do to get to where I want to be. You know what I am saying? (Rhetorically) At least use vaseline, If you are going to screw me use vaseline.
Send questions and comments to: rayocampbelljr@hotmail.com