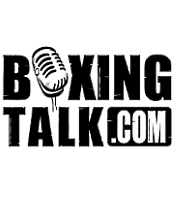 PRESS RELEASE:
IBF Light Welterweight Champion Ricky Hatton's trip to America this past weekend was an unqualified success. The British hero was in Atlantic City to watch Arturo Gatti put his WBC title on the line against Floyd Mayweather and also to witness Vivian Harris' WBA title clash against Carlos Maussa. Other highlights saw the twenty six year old from Manchester, England filling the studio guest host chair on ESPN2's Friday Night Fights program and Frank Warren's promotional firm Sports Network, in the form of Frank Maloney and Richard Maynard, sponsored a closed door interview session with the top American boxing reporters including Steve Farhood, Dan Rafael, Tim Smith, Greg Leon and George Willis , which served well to introduce the talkative and humorous Hatton to the US Press.  
Informally, Hatton bumped into Oasis frontman and fellow Mancunian Liam Gallagher as well as actor Samuel L. Jackson while in New York. In Atlantic City, "The Hitman" was joined on the beach by retired warrior Micky Ward, IBF Light Middle kingpin Kassim Ouma, Irish Middleweight titlist Matthew Macklin along with HBO's Larry Merchant, Ring Magazine's Nigel Collins and Sky TV's Ian Darke and Ed Robinson.   The topper of the afternoon was when Arturo Gatti's manager Pat Lynch introduced Hatton to his fighter, one of the Englishman's longtime idols. The two got along famously and expressed a mutual respect for one another, parting ways with Ricky wishing Arturo all the best.  
Unfortunately for Gatti, the WBC Champion lost his belt later that night to perhaps the best pound for pound boxer in the world today, Floyd Mayweather. Hatton watched the bout as a ringside analyst for Britain's Sky TV and was in good position to comment on Mayweather's dominant performance. "It was sad to see the way that Gatti got beat, really," he said. "He's been such a warrior and such a great fighter over the years but you can't take anything away from Floyd Mayweather. He does a lot of talking at times but he backed it all up tonight and more, it was a real classy performance. This was the first time I've seen Mayweather fight in person and while he didn't look like the biggest light welter out there, he was so accurate and so fast. He just never missed and was razor sharp tonight. To be honest, I can't praise him enough."  
Hatton went into the weekend saying that he wanted to face the winner of the Mayweather - Gatti bout and the impressive display by the newly minted WBC Champion hasn't dampened that ambition in the least. "I think what Arturo Gatti did tonight with Mayweather was exactly what Sharmba Mitchell did with Kostya Tszyu; he just stood at the right range and didn't particularly do too much," analyzed Hatton. "That's what happened and Mayweather ended up putting on a fantastic performance. Nobody expected me to beat Kostya Tszyu and likewise, I'd have no fears of fighting Floyd Mayweather and doing the same. I don't have the same style as Arturo Gatti and I think...I don't want to sound harsh on Arturo because he's a hero of mine, but he just stood there and made it very easy for Floyd tonight at times, but it would be very, very unfair to take anything away from Floyd Mayweather."   Another member of the 140lb top class was in action at Boardwalk Hall but Vivian Harris was unable to hold onto his WBA crown in what had appeared to be nothing more than a tuneup for the Brooklyn man before his likely participation in a long awaited unification bout.
Along with everyone else in attendance, "The Hitman" was shocked at what he witnessed as Harris seemingly self destructed against lanky Colombian challenger Carlos Maussa. "I was absolutely flabbergasted," said Hatton. "The first thirty seconds after Harris' opponent came out I thought that he looked like a novice. I thought 'how has he got a shot at the title'?   "Maybe Harris was just in front (on the scorecards) when the fight ended but after two rounds he was blowin' like crazy and the shot that knocked him out really, wasn't even a decent shot, to be fair, from what I could see. I'm just very, very surprised and you wouldn't have thought that it was the same guy who knocked out Oktay Urkal. I think that Harris was just knackered.
I think he was tired and had nothing left. Neither did Maussa. He was knockin' around, droppin' his hands, givin' a bit of a bardo but I think deep down it was because he was tired as well. It looked like a heavy gust of wind would have blown them over at times. I couldn't believe, given Vivian Harris' quality and what he's achieved, who he's beaten, I just couldn't believe what I was watching at times."   Harris and Hatton came close to meeting in the ring last October in Manchester but the proposed bout fell apart when the two camps couldn't agree on a suitable financial arrangement. A frustrated Hatton fought gutsy Delaware fighter Mike Stewart instead but hasn't forgotten that he was jilted. "I bet Harris is regretting the day he had the chance to have that big payday against me," fumed the IBF Champion. "It seems to have all gone belly up for him now but he'll come back because he's a talented fighter. I just can't believe how bad his stamina looked and that he lost to somebody of that caliber.
I'm not taking anything away from Maussa because he must be quite heavy handed in order to have done what he did but it's very disappointing for Harris."   Judging by the sizeable jump in Americans joining his official website,
www.rickyhitmanhatton.com
, and the very positive response to his appearance on Friday Night Fights, Hatton's excursion across the Atlantic was a measurable success that the stocky "Whirlwind of Bad Intent" would like to repeat soon. While Hatton made the trip with his father Ray Hatton, agent Paul Speak and best mate Simon, "The Hitman" leaves Atlantic City having made many new friends and admirers. "I've had a fantastic time, just walking through bars in New York, in the casinos and Boardwalk Hall here in Atlantic City everyone has been shouting my name," he said. "The last time I came to America was to watch my good friend Marco Antonio Barrera fight and only the odd person recognized me.
Obviously a damn sight more are recognizing me now and that's nice to see. I'm hoping to come and fight over here.   "I'm recognized as the number one fighter in the light welter division but Mayweather has a belt, Maussa has a belt and Cotto has a belt so those are the guys that I want to challenge. We'll sit down and see what materializes, but I've really enjoyed my trip and doing the ESPN show really raised my profile over here. I've seen three of my rivals in the flesh, met the American press among other great things so it's been a great weekend for me and I don't think it'll be long before I'm back over again."   
www.rickyhitmanhatton.com