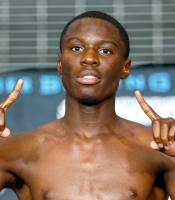 Greg Leon: What's good Richardson? How did everything go in camp? What can we expect to see from you on Saturday night? Richardson Hitchins: "Y'all going to see a whole different Richardson Hitchins, but y'all going to see a better Richardson Hitchins. But I don't even want to say that because I don't really see this fight lasting too long. I plan on showing the boxing world and my promoter how I've grown as a fighter. I'm punching a lot harder, I'm throwing dynamite and I'm coming strong and I don't think this kid is going to be ready to take the heat. I told Leonard (Ellerbe) a few months ago to stop putting these kind of guys in front of me. I'm not looking past no opponent of course, but they keep on putting this kind of guy in front of me and I'm going to have to keep smashing them to prove to Leonard and Floyd that I need a step up in competition."
GL: You have to feel good going into this fight since it's the first time in your young career that you're going every other month three fights in a row.
RH: "That's what I'm saying. It's a whole new and improved and I've been in the gym heavily and I see boxing in a whole different light now. I'm 100% dedicated to the sport now. Before it was, I mean when you're young a professional around your friends who are all getting money, you get side tracked, but I know the bigger picture and I know what I"m capable of, so it's just time for me to take on boxing."
GL: What do you know about your oponnent Alejandro Munera [4-1-3]?
RH: "I know he's bigger than me, I know he's a puncher. I'm expecting a big strong guy, but I know he's not as fast as me and he's not as smart as me and that's going to be a big key. It's all about me and how I take his punch and how I control him."
GL: Happy to be back home?
RH: "Yeah, but it's going to be another day in the office. Another regular day in Brooklyn. It ain't going to be nothing too different, I'm just ready to go fight. My intentions are to show my promoter that they can't keep putting this level of opposition in front of me. If I don't do what I"m supposed to do then it's on me. I feel like I'm on a whole different level and I'm feeling like I'm ready to compete with world champions right now."
GL: Sounds like you're saying you don't want so much protection.
RH: "I don't need it. There's certain fighters that need to be guided a certain way, but Mario Barrios fought on Saturday's Julian Williams card and the guy he fought, I would smash that guy with nine fights. I pray that Leonard puts a guy like that in front of me. I'd smash a guy like that, fighting a guy with four wins isn't helping me. What people need to understand is that I know boxing, there's a lot of guys who don't know boxing. There's world champions out there who don't know the sport, I'm just so good at boxing that I don't have to be guided. I'm young and I'm ready. I'm going to keep calling for it and when they do give it to me I'm going to be ready."
GL: What do you want a win on Saturday night to lead to?
RH: "I think I'm ready for a Shobox main event. I think I got the following for it and I've got the skills and the things that people want to see. I feel like Leonard should turn it up a notch and put me in a Shobx main event versus a veteran or an undefeated prospect coming up. It don't matter to me, mentally I'm ready. There's not a lot of fighters in the sport who could mess with me. To mess with me you've got to be a really skilled fighter, once this fight is over I'm going to sit down and talk to Leonard. Leonard knows, he seen me in the gym sparring Devin Haney a few weeks ago, he's seen the work and he knows the kind of level I'm on. He's ready to do it, he's just waiting for me to prove it and on Saturday night it's Showtime."
GL: Closing thoughts for the fans.
RH: "Saturday nignt, don't miss it. It's the young legend, Richardson Hitchins, the best thing coming out of New York will be back in the ring and I'm looking to put on a show for you guys so don't miss it."
Send questions and comments to: Boxingtalkg@Yahoo.com