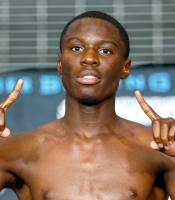 "July 27th, then Shobox, then bigger and better things!"
Greg Leon: Congrats on your victory over Alejandro Munera (4-2-3 4KO), can you give us some thoughts on your performance? Richarson Hitchins: "I did what I'm supposed to do with a guy like that. I punished him and got him out of there, I made him quit and just did what I was supposed to do. GL: Before the fight you made it crystal clear that you didn't want to fight these kind of guys no more and it was up to you to force your promoter into giving you more difficult fights. After this performance did you speak with your promoter to see if you're going to get your wish? RH: "Yes, they definitely said the next one was going to be a step up and it should be one. Put them in front of me and I'll beat them. I'm going to keep getting better as a young fighter. The guy was 4-1, but I don't put these guys in front of me. Floyd Mayweather was champion inside of two years, and when he fought his ninth fight he was in there against somebody that was 1-13. At the end of the day, does that really matter? It's about staying busy. I want to step up the competition and Leonard (Ellerbe) said they were going to step it up for me so hopefully I get what I want."
GL: Shobox sound about right?
RH: "Yes, but first I'm back on July 27th on the undercard of the Tank Davis card. Depending on how many rounds the commission gives Mayweather Promotions it could be a ten rounder, if not an eight and then I'll be back on Shobox in a ten rounder right after that. After July 27th, my next fight will be on a Shobox card."
GL: And you're hoping the July 27th fight is a step up with Shobox right behind that?
RH: "I've done my homework on this sport. A lot of fighters have taken their time with some of their opponents, even Floyd. Floyd was champion at 17-0, but he was so active and he was fighting so much that he was learning on the job. I think my promoter's job is to keep me active, I've fought three times already this year, I'm back again this summer and I'm on Shobox after that, and then it's onto bigger and better things before the end of winter."
GL: This is the movement you've been asking for.
RH: "I should be 12-0 right now and I can't blame my promoter for everything because fights have fallen off the day of or before the weigh-in and it's borderline impossible to find guys on that notice."
GL: If you know you're going to be fighting on Shobox in two fights, what's the point of taking a step up on an OFF tv fight?
RH: "Just to get me that experience. It doesn't matter who's watching because my stock is going up and my name is ringing bells. I want to show my promoters that I can handle the step up in competition, I can do the same things to guys of highter caliber. This is all about getting the comfortability because some guys won't go down with one or two shots, some guys won't quit, some guys will grab, some guys will do different things strategically so I just want to get more comfortable in there. I feel like I can handle any competition, this is boxing and I can box my ass off bro. Whoever it is on July 27th it's not going to be no different."
GL: Closing thougts for the fans.
RH: "July 27th I'm back on the Gervonta Davis undercard and I want all of my Baltimore fans to come out. I'm going to keep hitting chins, so all the fans out there keep supporting me because I'm the biggest thing coming out of New York. People might not believe it now, but I'm going to keep showing people that I'm the truth."
Send questions and comments to: Boxingtalkg@Yahoo.com