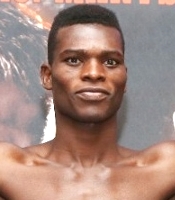 Greg Leon: How is everything going in preparation for your June 28th bout versus Ray Beltran? Richard Commey: "Honestly, I've been just working hard and doing what I'm supposed to be doing. I'm working so everything goes the way it's supposed to and I can keep on making big fights for the fans." GL: What do you think of Beltran as a fighter? Richard Commey: "I think he's been around, he's a [former] champion and he knows what he's doing. It's a big opportunity and a good style for me, I think this will be a good fight for me to get my name out there. He's a tough fighter, he comes forward and it's going to be a good fight."
GL: How important was it for you to get in this kind of fight following your hand injury before stepping it up to the highest levels of the division?
RC: "In boxing it is what it is. The the injury with the hand was right on time, this week I feel perfectly ready to fight and I'm looking forward to being back in the ring. I've been back in the gym and it's been all good, as fighters we have to fight, so being able to fight again now on June 28th is great."
GL: Has it been difficult for you to focus on Beltran knowing that Teofimo Lopez is likely next?
RC: "I am a boxer and for me I just have to take it one step at a time. I'm just looking forward to giving it all I have in the ring to make sure I defend my title so I can move on to what is next."
GL: Are you 100% confident in your hand right now?
RC: "I am, I haven't felt anything wrong with it and I think it's all good, but this is boxing and you never know what will happen."
GL: Even though you feel good about your hand right now I'm sure you'll feel even better when you're throwing it with the 8 ounce glove on. Is that when you'll really have confidence in it?
RC: "Yes, most definitely."
GL: Do you think Beltran will go the distance?
RC: "For me as a fighter, it's scheduled for twelve rounds and I'll be ready to go all out. If I'm able to finish the fight early and get himm out of there, it's only a bonus for me. I'm expecting that we'll both be ready to go all twelve rounds, that's what I'm preparing for and like I said I think it's going to be a great fight because we both have come forward styles."
GL: Closing thoughts.
RC: "I want to thank my entire team, all of the fans back in Ghana, I am your world champion and I will continue to make you guys proud! I'm representing my people in the gym and the people who support me, keep your prayers coming."
Send questions and comments to: boxingtalkg@yahoo.com