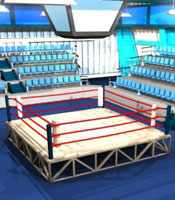 Melissa Oddessa Parker W8 Maria Cecillia Roman.. Andre Rozier's Team Havoc took to the ring at the Caribe Royale in Orlando, Florida over the weekend. Melissa Oddessa Parker picked up a win at super bantamweight in a non-title bout. Parker defeated reigning IBF bantamweight champion Maria Cecillia Roman over eight rounds. Parker (4-0, 2 KOs) won the fight by majority decision, with the judges scoring it 80-72, 78-74 and 76-76. Roman heads back to Argentina with a record of 15-5-1 with 0 KOs.
MORE RESULTS
Ramon Cardenas (19-1) won at super bantamweight , defeating Angel Antonio Contreras (10-4-1) by split decision after eight rounds...
Alex Vargas (10-0, 4 KOs) once again displayed power, needing just 29 seconds for a first-round knockout win over Jorge Alberto Careaga (4-5)...
Cesar Francis (8-0, 6 KOs) got a first round knockout win against Gonzalo Carlos Dallera (7-10) in just 42 seconds...
Elsewhere, there were wins for the likes of Pablo Valdez, Giovanni Scuderi, Brandon Lynch, Anthony Soto, Ofacio Falcon, Elon de Jesus and Daniil Platonovschi. source for all results: mtk global