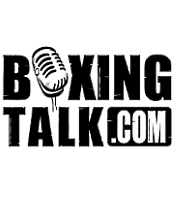 "I want him back!"
In the days leading up to his fight with Carlos "Famoso" Hernandez, Erik Morales told reporters that he did not see the desire from Famoso needed to win the fight. Even though Hernandez walked out of the ring last Saturday without his IBF title, he proved "El Terrible" wrong. Famoso showed his opponent and everyone watching that he is truly a warrior that will not stop until he has given his entire heart, mind, soul, and body to the ring. BoxingTalk spoke with Famoso to get his thoughts on his fight with Morales, what he would do differently if they were to meet again, and what the future has in store for El Salvador's first boxing champion.
BoxingTalk: Carlos, will you explain how you felt your fight against Morales went down?




Carlos Hernandez: Sure. I felt that the fight obviously did not go my way. Morales was scoring the points and getting off with his combinations, but I felt that I was much stronger than him. His punches were not as lethal as I thought they would be. At the same time, he was connecting with his shots, which is why he won the fight. I felt that I was going to connect with my beautiful right hand towards the end of the fight, because every time I was hitting him in the body and the side of the head he would wince – he would make these noises like "ow" or "ah." So I felt that he was hurt, I hurt him a few times, but those shots compared to the many shots that he connected with is what won him the fight.




BT: Were there times throughout the fight that Morales hurt you?




CH: No, but there were many times that I felt frustrated from being hit a lot, instead of coming back to counter punch. There were times that I was caught off balanced that made it look like I was hurt, but I wasn't.




BT: Is there anything you could have done differently during training or in the fight itself that would have changed the outcome for you?




CH: Yeah, I think so. I could have thrown more combinations instead of looking for that one solid shot. I could have kept my hands up more, and worked more on my defense. With my jab, I thought I worked well with my jab during training, but I couldn't let it go during the fight. Morales has a wonderful jab, one of the best out there outside of [Floyd] Mayweather's.




BT: There were definitely more Mexicans in the crowd supporting Morales than there were of your fellow Salvadorians. How much did Morales' 'home court advantage' effect you during the fight?




CH: It didn't effect me at all. If anything, it gave me the strength that when I heard his people shout, I would just try to get in their heads, and start throwing more punches.




BT: Have you spoken with your promoter Bob Arum since the fight, about what he has planned next for you?




CH: I talked with him at the post fight press conference. They were all happy. Top Rank was happy with the fight. Mark Taffet, the head of HBO's Pay-per-view was happy with it. I have had people coming up to me saying, 'I didn't know who I was, but now I know who you are.' Hearing that is important. Taffet has told me that big things are coming my way. He and Arum have made comments saying that I should be champion again within the next six to nine months.




BT: What do you want your new fans to know about you after Saturday's fight?




CH: I hope people now understand that I gave it my all, and they appreciate my boxing, and my heart in the ring.




BT: Morales mentioned this during the post fight press conference, and I have heard reports that your next possible opponent could be Jesus Chavez. Is that a fight that you would want to take next?




CH: If fighting Chavez is an elimination bout for fighting Morales again, even if I have to move up to 135 to find him, I want him. I want him back! And I know things would turn out differently.




BT: What is most disappointing about this loss for you?




CH: Losing for my country. Titles to me are just material things, but we all need it to make money. My heart was disappointed because of my family, my fans, and my people. I think I proved in the fight that I had fire. Morales said before the fight that I didn't have fire, well I think I proved him wrong.




BT: What does the future hold for Famoso?




CH: That's a good question. I'm going to take a couple weeks off, go down to Central America, and relax and gain weight. Then I want to see if this Jesus Chavez thing is real. If it's an elimination bout to fight Morales at 130 for the WBC title, then that's what I want. I want big fights. I don't want to waste my time with little fights anymore. I'm going to be 34 in January, and I don't want to hang around this business much longer. I want to make my move now, I want that WBC title, I want to be champion once more, and my goal now is to become two time champion of the world.




BoxingTalk thanks Famoso for taking the time to speak with us. We look forward to seeing him become El Salvador's two-time world champion.


READ THE FULL EXCLUSIVE INTERVIEW WITH FAMOSO
Send questions and comments to: thomaspointrd@aol.com