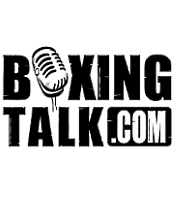 Ray Austin, Black Rhino? I think I would crack Ty Fields into the top 40 before them 2 bums. At least he hasn't been KTFO cold yet.  Does he still fight do you know? Last I saw he was like 29-1 w/ 27 KO's or something crazy.
Jeff Falconer
Shaffer: Ty Fields wouldn't make our top 100 right now. The last time I saw Fields fight, he won by suspicious KO- the dude (Julius Long) stayed down for the count even though replays showed that no punch ever landed. That was about a year ago.  Maybe he had one minor fight since then (he beat Marcelo Aravena, 6-24-1). Ray Austin has a draw with Lance Whitaker and a fairly recent win over former prospect and current jailbird Jo-el Scott. He is trying to land a big fight against a top contender.  Etienne has wins over current WBO titlist Lamon Brewster and Lawrence Clay-Bey.  We'll see whether he deserves the #38 rating when he faces Calvin Brock.  The winner of that fight will likely be a top 25 guy.
Conan here, one of the boxingranks.com regulars.  Heavyweights: Basically the criticism revolves around Lamon Brewster and Wlad. Firstly he beat Wlad fair and square, so unless in the interceding time there has been a form reversal or significant results from either, then I think Lamon has to be ahead of Wlad. Wlad's desperate (or lucky) win against Williamson hardly counts as significant in my book. I'd weight that about the same as Brewsters tough fight against  Meehan. I see that Corrie Sanders is still ranked above Wlad. By the same criteria that Sanders is ranked above Wlad, should apply to Brewster. Since Wlad, Sanders has only fought twice in nearly three years and man he sucked in his last fight against some no name in Austria on the Spotlight card. Personally I think the solution is to rank Brewster above Wlad.  And now a subjective opinion. Ruslan Chagaev has got more talent in his little finger than Ray Austin will ever have. Keep an eye on him for future rankings.  Oleg Maskaev seems to be too high after his loss to Corey Sanders. At least he hasn't lost again. And finally, I can't find any reason to rate Kendrick Releford anywhere. If you rank him, then you must rank Dimitrenko, who has been unbeaten since his win over Releford (not that I think Dimintrenko is in any way proven, just a difficult fighter to face. He even has a three inch reach advantage against Vitali).
Conan the cribberShaffer: Thanks for the detailed comments Conan. About Brewster, when he beat Klitschko, I had him at #10. Then he fought Meehan who wasnt in my top 40 and I feel very strongly that Meehan won the fight, 116-111 or 115-112. To me that was a "significant result" as you say.  So if the #10 guy loses to a guy between #40 and 50, I dont think 22 is a bad spot to rate him. Other guys have lost, so Brewster has moved up to #19, but factor in his losses to Cliff Etienne (#38) and Charles Shufford (unrated), and I think #19 is fair. Dont overrate him just cuz he has the WBO belt. I have seen Chagaev fight in New York and I am waiting for him to beat a real fighter before rating him. As for Dimitrenko, you make a very good point. I just rated Eliseo Castillo because he had a win over Moorer and Moorer just beat Jirov to enter the ratings himself. In Dimitrenko's case, though, Releford started so raw and is learning the sport so fast that he almost isn't the same guy who lost to Dimitrenko. Still, there is something to be said for consistency, and I will add the 6'7" Dimitrenko sooner or later, probably after his next win.
I find your list of rankings to be very well thought of and you guys at Boxingtalk have comprised a pretty darn good one at that. The only weight division I can see that caught my eye or that in my opinion I would have it different, would be the Lightweight division. I would put Jose Luis Castillo as the Champion and not Chico Corrales. Castillo has been the champ at lightweight since he beat Stevie Johnston the first time they met June 17, 2000, that's four years ago. He did loose it to Pretty Boy Floyd (many peoples P4P prizefighter) in a disputed decision two years later in April 2002 but he won it back against one tough Hispanic causing Panic Juan Lazcano who took a beating at the hands of Castillo. Now, this December Castillo defeated El Cepillo Joel Casamayor who has a win against the aforementioned Boxingtalk champ at 135 "Diego Corrales" by TKO. Corrales just won his 135 lb Championship in great fashion over Popo Freitas who has really fought at 130 as recent as last year in August and himself just won the 135 title against Artur Grigorian, Who? So all of a sudden a guy who beat a 130 pounder and was 130 pounder himself is now the champ at 135 overall and not the legitimate 135 pounder for the past four years?  The great thing about it is that we will find out for sure who is the real champ at 135 this coming March when Castillo and Corrales meet in the ring. Keep punching and roll with the punches my friend. -
Jose Reyes Brownsville, TX Shaffer: Jose, as always, you bring up some good points. You are not the only one who has written to say Castillo should be #1 @135. I agree Castillo got robbed in the first Mayweather fight, and it is basically a toss-up between Castillo and Corrales for the #1 spot at lightweight. This is why I left the lightweight title vacant. If anyone has Castillo and Corrales reversed in their ratings, I really can't complain too much.

Your new ratings idea is a very poor one at that and will only cause further confusion. Firstly, you write that you want your ratings to be "a source of reference". The Ring Magazine is all the reference a true boxing fan needs, thank you very much. You write that the "casual fan" cannot keep up with todays sanctioning bodies ratings. Well, there are no "casual" fans in boxing. You should know this. Either you are a fan of boxing or you are not. A boxing fan knows where to look for his ratings: Ring Magazine! Secondly, what makes you think that you are more competent at rating todays fighters than The Ring Magazine, which has been around for more than 80 years? The last thing we need is that every boxingsite starts justifying its ratings, claiming to be just as competent as The Ring Magazine, which you absolutely are not and never will be (You not recognicing Klitschko as World Heavy Champion is a perfect example. There is only 1 Heavy World Champ and his name is Vitaly Klitschko! Period!). Stick to your interviews and news features, thank you. Thirdly, you say that you have examined 1000's of boxers records and that your ratings will be upgraded every 2 weeks?? How many people are you at boxingtalk.net? 500? What you SHOULD be doing, rather than trying to add to the "confusion" of todays boxing world is simply (as maxboxing.com, ESPN and HBO has done) to recognize and SUPPORT The Ring Magazine's ratings. Only if we all unite can we concour the alphabet groups. I understand that you are trying to strengthen your own position on the boxing website market, but if you want to be considered among the best, you must have very strong principles and do the correct things, just like The Ring Magazine. Don't try to build on or copy what others have done. That is why there are so many alphabet goups in the first place.
Miles JacoShaffer: The reason there are no casual fans in boxing is because when a football or baseball fan tunes into a fight, he never knows if he is seeing a true championship or a bogus one. Someone will see a heavyweight championship fight (or two) on Nov 14 and then on Dec 11 he is asked to pay for another heavyweight championship fight involving completely different guys. Unless you research the damn history of the sport, how is a casual fan supposed to know what fights are legit and what fights are not? This is killing the sport and it is the fault of the sanctioning bodies. Also, I disagree that Klitschko is the clear champion. I rate him #1 and Byrd #2 but you can't ignore the fact that Byrd beat him. I just hope they can arrange a fight, but until then, the title should be vacant no matter how many more fans Klitschko has or how much more money is behind him.  If he wants to be the real champ, he needs to find a way to make a deal with Byrd (and Don King). By the way, Miles, I know Nigel Collins and Joe Santoloquito of the Ring Magazine and they are both good guys. I wrote one story for them and it was selected as one of the year's ten best. I am not going to knock them but I think I am just as qualified as them to rate boxers, and more importantly, no one has to buy a magazine to read the Boxingtalk ratings. Plus we go thirty deep in each weight class and explain all our changes, not just ten deep like The Ring.

Scott, with all due respect, how on Earth does your Jr. Welterweight ratings not include Paul Malignaggi. You have Emmanuel Clottey, Ben Tackie, and Michael Warrick in your top 30. Paul Malignaggi is 19-0. How is he not in there? He just won the WBC International Title over a seasoned veteran, does that count for nothing?
Ant95NY@aol.comShaffer: Ant, I know Paul Malignaggi and not only do I like him but I respect him as a boxer. Hand injuries have delayed his rise to the top.  If he can keep his hands healthy for three straight fights, I definitely think he has the speed and skill to beat some good boxers and become world ranked.  As of now, his best win is over Rocky Martinez, which is a useful win, but not quite world class. The other guys you mention all have wins over guys who were once in my ratings: Clottey beat gold medal winner Mohammed Abdullaev, Tackie beat Teddy Reid and Warrick beat Jeff Resto. Paulie is in a very tough weight class (140) and he needs to string together a few good wins like Mike Arnaoutis has done, and he will be there. Get well soon Paulie!
CLICK HERE FOR THE FULL MAILBAG
Send questions and comments to: boxingratings@yahoo.com