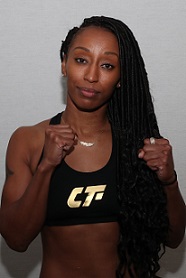 Greg Leon: Congrats on your victory over Erin Toughill (7-5-1). Can you give us some thoughts on your performance? Raquel Miller: "Thank you I thought I had a solid performance, I had fun in there, I was relaxed, I went in there and boxed and had some fun. I got to bang a couple of rounds, I had some fun in there." GL: This was your first knockout in a couple of years. How did it feel to get somebody out of there inside the distance? RM: "It was fun, it was definitely good. I was shocked honestly, because I dropped her right after the opening bell and it took us both down. It was a good fight. She was game and came to fight, she had her moments in the fight, but I had fun in there though."
GL: What do you want this win to lead to?
RM: "A world title fight. I'm definitely checking for Maricela Cornejo [first]. She said I'm scared so let's make it happen. I'm talking to my team and it's a fight that makes sense for us, so it's onward and upward. We're excited, we're ready, we're working, we're in the gym and there isn't a better time to make it happen."
GL: How does a fight with you and Cornejo play out?
RM: "I'm going to stop her if she gets in that ring with me. It's going to be a fun fight, I'm going to enjoy it, but I'm getting in Cornejo's ass if she gets in that ring with me."
GL: Cornejo went the distance with Toughill, does it give you an extra sense of satisfaction knowing that you got her out of there inside the distance?
RM: "I tend to think that styles make fights, I'm not a person who looks at 'this person did that against that person.' I just believe that styles make fights and I just brought my A game to Toughill and I don't really worry about their fight. I just know that when I get in there with Cornejo, my hand is going to be raised in victory."
GL: What did you think of Claressa Shields' win over Christina Hammer?
RM: "I thought that it was a good fight, I thought that it was entertaining, I think that Christina Hammer is very talented, Claressa is talented and I'm looking forward to fighting both of them. When I watched the fight, I learned some things from both sides, but I think it was a tremendous fight for women's boxing and both ladies put on a helluva show."
GL: Did Hammer get exposed as a fighter who could only throw straight punches?
RM: "I think that Hammer hadn't really faced the level of opposition that she was going to face against Shields. I think that showed a lot in the fight, she relied a lot on straight punching in her other victories, but you've got to have more in your arsenal than just straight punches to be able to overcome adversity when you get to that level."
GL: This is boxing so things don't always go as you plan, but if you could write the script would it be Cornejo and then Claressa?
RM: "In a perfect world, I would fight Cornejo next, I would fight [WBA champion] Hanna Gabriels at 154 and take her title and then move up to 160 and take care of Shields."
GL: Would you be disappointed with anything less than a title fight moving forward?
RM: "I'm just going to be thankful for the movement to be honest with you. As women we don't really get that many opportunities, so I'm going to trust my team. Of course I'm very vocal with my team, and active in my career period. If it's not just title fights I'm not going to be super angry, but I do expect to keep taking step up fights against more experienced girls, more game girls. We're here now."
GL: I know it's the day after the fight, but is there any early indication as to when your next fight might take place?
RM: "There's no contract signed, but that is the chatter. There's other women out here who are equally talented to Cornejo. If it's not Cornejo and it's someone else like Tori Nelson or Kali Reiss, I'm happy because I'm going to get that title regardless. There has been some conversation between me and Cornejo and I'm hoping we can definitely make that fight happen for California."
GL: Two more fights before the end of the year?
RM: "Definitely so. I'm just trying to stay active and stay busy because I've got things to do and points to prove, with missions to accomplish."
GL: Gotta stay Pretty, gotta stay Beasting. Closing thoughts for the fans.
RM: "You know what time it is. I want to thank you guys for supporting me, thank you for following me on this journey. One step up, onward, upward and it's going to be 'and the new' very soon. Thank you for all the support and the love, I appreciate you guys."
Send questions and comments to: Boxingtalkg@Yahoo.com