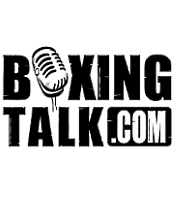 Guilty Promotions and Bobby D. Presents offered for the first time a fight card smack-dab in the middle of downtown San Diego at the club 4th and B. With sizzling carnitas cooking nearby and a large crowd of fight fans, the 4th and B looks like a good place to see boxing in San Diego in the future. With balcony seating and 2nd level raised-stage seating, there are good viewing spots in many places here.
Sitting beside me at ringside was legendary fight trainer Jimmy Montoya who served as match-maker for the fight card and he managed to put together a solid fight card filled with action and willing opponents who were outclassed at times but gave their all.
As for the action, it got started with a 4 round encounter of light-heavyweights. Los Angeles native Jonathon Embry 174 1/4 (1-0 with 1 KO) took on Ukrainian Makhmud Otazhanov 175 1/4 (4-1 with 3 KO's). Embry controlled the action when he wanted to and seemed very comforatble in laying back and waiting for his chance to counter the willing Otazhanov. Embry landed several lead rights that hurt the southpaw and eventually lead to his points victory, with scores of 39-37 (Werner), 39-37 (Hassett) and 40-36 (Crebs).
In the second bout super-lightweight Jose Luis Alvarez 138 of Mexico (0-3 with no KO's) met fellow countryman Humberto Tapia 138 (7-0 with 5 KO's). A good action fight ensued between these two and Alvarez showed off a willingness but always seemed to come out oof the exchanges the worse for wear. In the third round a serious battle of fierce exchanges gave Alvarez hope but it wasn't to be as he lost on points by scores of 40-36 (Cobian, Hassett and Werner) on all three judges scorecards.
Local San Diego heavyweight Mika "The Samoan Destroyer" Gergen 228 (8-2-1 with 7 KO's) took on Andrie Oliynyk (10-3 with 9 KO's) from Orwell, Ohio by way of Kiev. Gergen withstood an early attack from Oliynyk and began to devastate him with straight hands. Oliynyk gave as good as he got but quickly the "Samoan Destroyer's" power began to tell and Oliynyk backtracked to the ropes and began to taste Gergen's power. A solid barrage of uppercuts and strong left hooks forced referee Jose Cobian to halt matters at 1:59 of the first round.
In the co-main event local San Diego product Anthony Salcido 136 1/2 (6-0 with 4 KO's) met Carlos Ochoa 137 (6-3-2 with 1 KO) of Tijuana, Mexico in a lightweight bout scheduled for 6 rounds. Salcido started slowly as the prolonged body attack of Ochoa had Salcido guessing for a while but Salcido's power soon took over. Ochoa was game as he waved Salcido in for more action despite being hammered with strong hooks and uppercuts. He wouldn't go down and Salcido pressed action the rest of the way winning a unanimous decision by scores of 60-54 (Cobian), 59-55 (Werner) and 59-55 (Hassett).
In the main event, another local San Diego product Jairo "Elgiro" Ramirez 135 3/4 (17-2 with 7 KO's)  fought Ismael "Bolillito" Gonzalez 136 of Mexico City, Mexico ( 18-9 with 7 KO's)  in a ten round lightweight main event that had the locals cheering loudly as their man Ramirez dominated the full ten rounds despite a very game effort by Gonzalez who fought back hard whenever Ramirez landed his stirring combinations.  After winning the first four rounds rather handily through slick movement and rapid combinations to the body and head, Ramirez landed a jolting right hand lead that had Gonzalez backing straight back (a big no-no in the fight game) and Gonzalez was dumped by a thudding follow-up right hand. Gonzalez was up at the count of 8 and continued trading. Gonzalez was later hit by another right and then was knocked to the canvas by what looked to be at ringside a solid right to the body but referee Jose Cobian ruled he was downed by a low-blow. Cobian took a point away from Ramirez despite no previous warning. Gonzalez was allowed to rest for about a minute and then survived the round. I scored the round a 9-8 for the winner of the round Ramirez in one of boxing's rare scoring situations.
The seventh round seemed to pick up where the 5th left off with both men trading savage blows with neither man scoring a further knockdown. But the fans were cheering as Gonzalez never backed down. In the last round Ramirez suffered a cut on his right cheekbone courtesy of either a head-butt or right hand and other than that he was unmarked and seemed strong enough to go another ten rounds.
Ramirez earned the unanimous decision by scores of 98-89 (Crebs), 99-88 (Werner), and 99-88 (Hassett). After the scores were read, Ramirez broke out into a little dance with the round card girls and seemed pretty happy about the night overall.
In the walkout bout, lightweights Alex Arriza 138 1/2 (2-4) of Long Beach, Cal. faced local fighter Angel Estrada 137 who was making his pro debut. This fight just about stole the show. Arriza, a limited but tough wade-in slugger met the cagey Estrada who chose to match Arriza punch-for-punch. The whole fight was a blood and guts brawl which after a cut opened over Arriza's right eye ended up splashing those of us at press row in a shower of blood. Estrada could have made it easier on himself by boxing and continuing his well-placed body blows but he chose to slug it out which thrilled his fans but not his corner or Jimmy Montoya sitting next to me who yelled, "Box"! The crowd really appreciated the action and gave Arriza a rousing ovation despite his losing on all three cards by similar scores of 40-36 (Werner, Cobian and Hassett).
A good card which went off well and was paced nicely. Competitive fights and action will always bring the crowds back and with the success here tonight it looks like it could become a regular event.
IN ATTENDANCE:
5 TIME WORLD CHAMP Manuel Medina
Carlos Palomino English color for ESPN Deportes
San Diego Aztec 11 years in NFL Benny Ricardo
Jose Torres in attendance once fought Bobby Chacon
San Diego local Tony "Bazooka" DeLuca
Rich Vierling also publishes the boxing newsletter THE JAB. For further info, checkout his boxing blog at: http://thejab.blogspot.com
CLICK HERE FOR THE FULL FIGHT REPORT
Send questions and comments to: raven366@earthlink.net