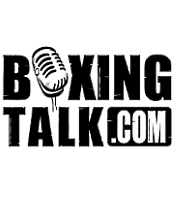 By Wyatt Johnston
Hasim Rahman W12 Monte Barrett...

In the main event, former heavyweight champ Hasim Rahman defeated Monte Barrett to claim the WBC interim title and earn a shot at Vitali Klitschko later in the year. The fight had some slow moments, which caused some booing by the crowd in Chicago's United Center, but overall was an entertaining fight.  Rahman looked in the best shape he has been in a long time and stalked Barrett for most of the fight, landing the harder punches.  Rahman rocked Barrett two or three times in the fight, but Barrett also hurt Rahman an equal number of times.  But it was Rahman who kept trying to make more of a fight out of it while Barrett seemed to want to stay away.  Rahman's agression earned him a unanimous decision with scores of 116-112, 118-110, 118-110.
Ricardo Mayorga W12 Michelle Piccirillo...

Ricardo Mayorga got back to his winning ways by defeating Michelle Piccirillo to claim the vacant WBC junior middleweight title.  Piccirillo, a former IBF welterweight titlist, tried his best to imitate Cory Spinks, who outboxed Mayorga in 2003 to become the world wetlerweight champion.  Piccirillo tried running from Mayorga for most of the fight but Mayorga knocked him down twice in round two and again in round four, when Piccirillo landed a combo that Mayorga barely felt and then Mayorga stared at him and nailed him with an  overhand right.  Mayorga again hurt Piccirillo in the seventh round, rocking him several times but was unable to finish him off. Mayorga arguably won every round of the bout, because Piccirillo landed some decent shots but Mayorga seemed to do more even in those rounds. Mayorga landed more punches, landed the harder punches, and was aggressive throughout the fight, officially earning a unanimous decision by scores of 117-110, 117-108  and 120-105.  With the WBC belt at 154 pounds, Mayorga will now look to a super fight with Fernando Vargas later this year assuming Vargas gets past Javier Castillejo this weekend. The title was stripped from Castillejo when he signed to fight Vargas.
Oliver McCall KO4 Przemyslaw Saleta...
In a heavyweight fight, Oliver McCall stopped the less-than-stellar Przemyslaw Saleta in Round four.  If George Foreman comes out of retirement, these guys are to blame.  It seems unlikely that McCall has any chance what soever of being a serioius contender in the heavyweight division, but he had enough left to knock out Saleta, a man who holds a win over Luan Krasniqi, a legitimate contender fighting out of Germany.
Luis Collazo TKO8 Miguel A. Gonzalez...

In the opening bout of Don King's Global Glory pay-per-view show from Chicago, WBA regular eelterweight champ Luis Collazo put on a spectacular performance against former lightweight champion Miguel Angel Gonzalez.  Collazo, from Brooklyn, New York, used accuracy, speed, and all-around boxing skills that convinced Gonzalez's corner to throw the towel in before the start of the eigth round.  By stopping the very tough Gonzalez (who had only been stopped once in his career and that was by Kostya Tszyu) Collazo showed more power than 12 KOs in his 26 wins would suggest.  The official time was 0:01 of round eight.  Collazo would be a tough fight for anyone in the welterweight division, especially WBO champion Antonio Margarito.
Alejandro Garcia W12 Luca Messi...
Alejandro "Terra" Garcia defeated Luca Messi by unanimous decision to improve to 25-1. Garcia commented afterwards, "I think I broke my left hand in the second round. I injured it in the gym and I even had to re-tape my hand after the first time I put the gloves on tonight. I had to dig deep down because my lethal weapon, the left punch, was not available tonight.Messi was in great condition and he was very aggressive. As soon as my hand heals I will be ready to go after the best in my division." Garcia takes home the WBA belt he lost to Travis Simms, whose career is currently tied up in litigation with the WBA.  Messi, 28-5-1, said afterwards, "I thought I won the fight, he was very strong but I was the better fighter. I was very proud of my first performance in America." source: DKP press release
Matt Zegan TKO7 Jesus Perez...
Lightweight contender Matt Zegan made his American debut with a seventh-round stoppage of Jesus Perez.  Zegan, now 36-1 with only a disputed loss to Artur Grigorian in a title fight, said afterward, "I was not sure I could knock him down but it came once in the third and twice in the sixth. I am happy so many people showed up early to see me fight. Thanks to all my fans in Poland and Chicago." Perez drops to 24-11-2. source: DKP press release