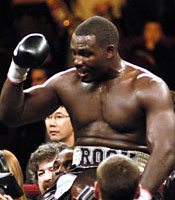 "Klitschko Is Suspect And I'm Going To Bring It Out Of Him"
Former undisputed heavyweight champion of the world, current WBC #1 contender, Hasim "Rock" Rahman was licking his chops after watching Vitali Klitschko need eight rounds to pound his third consecutive out of shape opponent into submission. "I just saw one person fighting so it's really hard to give an assessment. But all of the things I saw that he's open for it ridiculous. The few times that Danny did something, he was effective. The way you tame a bully is to fight him back and I'm a bully tamer. 
GL: Why do you think Klitschko appears so tired early in fights?
Hasim Rahman: "I don't know but I just don't think he has a lot of heart. He has a lot of physical assets like power, height and reach but as far as that real dig down, can I gut this out heart,
I haven't seen it. He showed a little something against Lennox, but I really don't see it. I see him as suspect and I'm going to bring it out of him.
GL: Do you think that Klitschko would fold under pressure? And would pressure be a big part of your game plan if you fought him
?
HR: "Extreme pressure, but that's going to be my game plan for everyone. Punch for punch, I know I'm a harder puncher than him. If you're talking about my jab against his jab, I like my jab over his. My hook over his hook, I like my hook over his. My right hand over his right hand, I like my right hand more than his.
"I need Klitschko in the ring so I can knock him out. He's getting knocked out!"
GL: Well your jab against his jab, I don't know about that. I don't think outside is the place to be against Klitschko.
HR: "Who said I got to jab from the outside? That's a misconception Greg, you don't have to jab from the outside. I know I can be in close and out jab him. The jab shouldn't automatically mean it's going to be an outside fight, let me tell you something, you can jab from six inches away.
"My teacher that I got, Thell Torrence, there's so many things he's teaching me...it's a wrap. It's a wrap."
GL: Boxingtalk's Scott Shaffer spoke with Commissioner Ratner after the fight and he told us it apears that Vitali Klitschko could have two broken hands. How do you react to hearing that?
HR: "What can I say? If he got two broken hands, I just hope they hurry up and heal up so I can break his jaw."
GL: Don King has been in Vegas, I know you've met with him, I know you're looking to make the Klitschko fight, is there anything you can tell us about these meetings or any preliminary discussions that we may not know about?
HR: "As far as I know that's what on the table and we're trying to get it done. Don (King) isn't crying over options on Klitschko. He's just trying to get it done because Don believes in my chances of knocking Klitschko out, so we're just trying to make it happen as soon as possible. As far as we know, according to the WBC rules, you get one defense and then you got to fight the mandatory. Now that Vitali got his defense out of the way, it's time for him to get in the ring!"
GL: It may be a difficult question for you to answer honestly since you're planning on fighting for the WBC title, but do you view Vitali Klitschko as the heavyweight champ? Or is he just one of the heavyweight champs?
HR: "I do, but only because he's the linear champion. I don't necessarily think he's the best, but I do think he's the heavyweight champion because the lineage traces to him now. He didn't beat Lennox Lewis, but he followed the rules, wanted to fight Lennox again, Lennox retired and then he picked up the belt that Lennox had."
GL: Do you feel that Klitschko is a manufactured product from HBO since he hasn't looked tremendously devastating against out of shape overmatched competition?
HR: "Yes I do. And I'd like to advise HBO not to put another penny into the Klitschko's because that bandwagon is about to come to an abrupt halt as soon as this fight is made."
GL: And what would bring it to an abrupt end Rock?
HR: "Oh, you got three choices. My left hand, my left hand hook, or my right hand. I mean, you could take your pick, what do you want? We're going to take this title put this work in and then we're going to talk about unifying. I want it all Greg, from the Rolex's to the Lexus, nobody is safe in the heavyweight division and I don't have any best friends in my division, so nobody is safe."
GL: Many, including myself, would give you a solid shot to beat Klitschko. But if Klitschko catches Rock the party could be over. Is there any chance his power would cause you to fight cautiously? How do you view his power?
HR: "I don't see his power as everyone else does. I've seen this man hit Lennox Lewis with a million hard, flush right hands and Lennox Lewis didn't go anywhere. I seen him hit Corrie Sanders with right hands round after round, I can't hit nobody with so many right hands and they don't go nowhere."
GL: You hit Kali Meehan with a ton of right hands though Rock
.....
HR: (cutting in) "But he was out, done. The ropes were holding him up. He couldn't fight anymore, what was he doing after he was getting hit? He definitely wouldn't have been able to take eight rounds of that."
GL: How long does Klitschko-Rahman last?
HR: "It's tough to say becuae he's not going to fight me the same way he fought everyone else. He knows this is a fight where he's going to get hit hard, so I think he's going to be a little careful with me and I don't think he's prepared for an all out fight with me. I think we may see Klitschko running. It's easy to for a major league pitcher to strike out little leaguers."
GL: Is there anything you'd like to say in closing?
HR: "Rahman has never been doing the things he's doing now. I'm on another level right now, in terms of throwing punches and taking punches, I'm on another level right now, I can't be stopped." 
CLICK HERE FOR MORE OF THIS MUST READ EXCLUSIVE INTERVIEW
Send questions and comments to: gleon@Boxingtalk.net