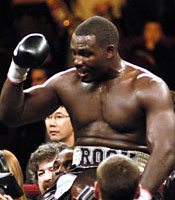 GL: James Toney had a whole lot to say in response to your last interview with Boxingtalk. Did you read the interview? If so, can you give us some thoughts?
"Yeah, I read the interview G-Unit, but that's what James does. He's an internet gangsta. He runs his mouth behind the scenes. As I told you before he got slapped over there and we have the video footage to prove it. If he keeps running his mouth Boxingtalk is going to be airing him getting slapped right in his mouth one day and then the following everyone will be able to see the supposed gangsta put his hands out and say, "Rahman, you a good champ and I appreciate you giving me an opportunity to fight." And we have all of this on tape man. We don't play like that. We got this coward on tape shaking my hand trying to call a truce and then being the coward that he is, he starts running his mouth as soon as he gets home. I just gave him a little humiliation in Cancun and when it comes to March 18, I'm going to finish the job. James Toney's getting knocked out."
GL: How do you feel about him saying he's going to put you on Jim Lampley's lap again?
Hasim Rahman: "I can't stop a woman from running his mouth. That's what they do. He had a chance to come to me man to man and he copped a plea. I had on a suit and he had on his wedding suit, you know jeans, jordans and a white shirt. I don't even think he's figured out how ridiculous his fat ass looked getting married dressed like that. The man got humiliated on tape and let him say one more thing and everyone on Boxingtalk is going to see he's just a fake gangsta. What do I look like scratching this man? My hand is bigger than his face is! Now he went home and he gets tough again, James Phoney must have them screw on testicles. They must have gotten confiscated at customs when he was leaving for Cancun or something, because ain't have no balls in front of me. And I know the black Pillsbury dough boy isn't calling me fat. As out of shape and round as he looked I know him calling me a fat bastard had to be a typo. James Phoney's looking like the Black Butterbean and he's calling me fat. Tell the fat midget to calm down.
GL: You know Rock, most people are probably going to consider him the favorite in this fight. How do you feel about that?
HR: "They should. He's the better boxer and he's proven himself at heavyweight. I'm hoping all the odds makers make him a 10-1 favorite.
GL: Is there anything you'd like to say in closing?
HR:  Yeah, let James say one more thing and watch what I do to his whole gangsta image!
Send questions and comments to: gleon@Boxingtalk.com