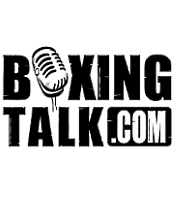 By Scott Shaffer and OnFire Aguirre at ringside
DaVarryl Williamson TKO2 Derrick Jefferson...
DaVarryl Williamson knocked Derrick Jefferson down with a left in the first round and a right in the second round and then whaled on a slumped-over Jefferson with overhand rights until the referee stopped the heavyweight bout. In between, though, Williamson got shaken up pretty badly by a Jefferson uppercut.  "I served notice tonight to the heavyweight division," said Williamson, who entered the contests at #14 in the Boxingtalk ratings.  "I know I am ready to do great things and tonight showed it."  Jefferson's uppercut in the second round was his only highlight. The blow caused Williamson to grab Jefferson and both men toppled to the canvas, although no knockdown was called. 
Ray Austin D12 Larry Donald...
Ray Austin won most of the early rounds, but tired in the late rounds allowing Larry Donald to take the lead on the scorecards. However, Donald did not push Austin hard enough and the big heavyweight had just enough gas left in the tank to win the twelfth round on two scorecards, which turned the heavyweight bout into a draw.  Judges Joe Dwyer and Dick Flaherty both gave Austin the last round and turned in 114-114 scorecards.  Tom Kaczmarek had it 115-113 for Donald. Boxingtalk scored it 115-113 in Austin's favor. In the first round, Austin appeared to score a knockdown when he drove Donald into the ropes, but he didn't receive credit.  Had it been ruled a knockdown, Austin would have won. However, neither boxer ever took charge, so a draw is tough to argue with.
Evans Ashira W10 Quinton Smith...
Middleweight Evans Ashira won a unanimous ten-round decision over Quinton Smith by scores of 98-92 (twice) and 99-91. Smith was high in the sanctioning bodies' ratings without ever having a real test, and he was exposed tonight by Ashira, Boxingtalk's #17 middleweight.
Oleksandr Garaschenko W6 Elvir Muriqi...
Oleksandr Garaschenko came all the way from The Ukraine and got a fair shake from the New York judges.  Despite a cut over his eye, he won a split decision from Elvir Muriqi, whose 30-3 record is deceiving.  The winner is now a reported 14-8.
Elio Rojas W6 Anthony Martinez...
Former Dominican amateur star Elio Rojas improved to 12-0, winning a featherweight bout against Anthony Martinez, 19-18-3.  Offical scores were 60-54, 60-53 and 60-52.
King Kong Garcia W6 Andre Oliynik...
Israel "King Kong" Garcia returned to the ring for his first bout since 2002, defeating Ukrainian Andre Oliynik by official scores of 57-56, 59-55, 59-54. Garcia improves to 15-1 while Oliynik drops to 10-3.