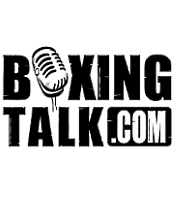 Former amateur stand-out , Brooklyn's Raymond Biggs, Jr. entered the pro ranks in spectacular fashion by stopping Batyr Zakrov in the opening round of their four round bout last night at the Atlantic Oceana in Brighton Beach, Brooklyn.  Biggs repeatedly scored with tremendous jabs and body shots, dropping him in the first round. Zakrov's left eye was cut the right beginning to close until his corner mercifully stopped the bout between rounds.
Biggs, a 2 time New York Golden Gloves Champion and Wisconsin Golden Champion, recently inked a promotional agreement with New Jersey's Duva Boxing. 
Managed by Hall of Fame icon, Lou Duva and his dad, Raymond Sr., the exciting welterweight is trained by one of the best in the business, Tommy Brooks. "This kid reminds me of a young Pernell Whitaker - he has the speed, the moves, he's a tremendous body puncher,  and he has the heart, " stated manager Lou Duva.  Brooks added, "plus he can crack !  I think he's can go right into 6 rounders, and move up the ladder real quick, this kid is so slick ! We didn't have a whole lot of time together training, but Lou and I were very impressed with what what we saw."
Biggs is expected to be back in the ring sometime in October.