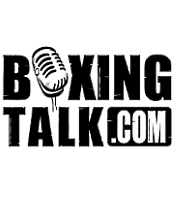 By Ray O. Campbell Jr.
In the opening bout on tonight's live ESPN2 telecast, lightweight Edner Cherry, 17-2-2 (7 KOs), will take on Puerto Rican born Ricky Quiles, 36-6-3 (8 Kos), in the co-feature bout. Cherry, 22, of Wauchula, FL looks to win his 15th straight bout, since dropping a very close split decision to then-undefeated Rafael Sierra back in 2002. In this one-on-one interview, Boxingtalk spoke to the Bahamian born Cherry about his bout tonight at the Seminole Hard Rock Hotel and Casino, Hollywood, Florida.  Cherry is #27 in the Boxingtalk ratings.
RC: What's going on Edner?
EC: I am doing pretty good.
RC: How is everything going for this fight?
EC: Everything is going good, just wonderful, pretty good, I am feeling strong for this fight and I am feeling great.
RC: What can you tell us about your opponent Ricky Quiles?
EC: Well first, I just want to give honor to my God and Savior who really made all of this happen for me, this fight is a blessing, and I just want to thank God for making this happen. But as far as Ricky Quiles, I respect him, he is a good man, I have nothing against him, and he is a great fighter. He is someone that has climbed the ropes and anybody who climbs in between the ropes is a man. With Ricky Quiles, I am looking for a good fight, and I am sure he will teach me something, but I am ready. Both physically and mentally, I am ready for this fight.
RC: How has the preparation been?
EC: Ooh wonderful, Star Fight Productions is getting me ready for this fight. With Star fight productions behind me…..if it wasn't for them, I wasn't going to make it this far. They make sure I'm training right and make sure everything is going good. I've had three weeks to get ready for this fight, I started on the 10th of January, and today was my last touch up. I feel real strong, for those three weeks, it was like everyday workouts that were real good. I live an hour and thirty minutes away from the gym, so instead no if driving back and forth, I just stayed with my coach where I can relax and stay rested. I had to sacrifice some things for this fight, I just had a son, and I had to stay away from him for three weeks. That is dedication, and that is one thing, if you have dedication and believe in yourself and really want it, you can do it.
RC: How hard was that for you?
EC: It was hard; I had to stay away from them. In this sport of Boxing, there are some things that you have to sacrifice; sometimes it can be friends or family. My part was family; I also had to get away from work. I had to tell my boss lady that I needed a couple of weeks off. This fight Friday is a chance for me…..In order to beat someone you got to sacrifice some things and leave things behind and later on it will pay off. My Wife had to understand that I needed to go away to do this so it will be better for us, and better for our family, so that our house can be paid off. She knows I am doing a lot of sacrificing in my life so that I can make it to the top. That is how those great fighters make it up there, there are some things that they had to sacrifice, and leave things behind.
RC: With all that you have had to sacrifice, to prepare for this fight, has that been your extra motivation going into your match up Friday night?
EC: Really…what really push me in this fight or any fight is the fact I have a family. I don't want to work all of my life, and I don't want to see me family, and son and daughter asking people for money and living in just any kind of way. I want to see them grow up, go to college, and to where I can take care of my kids, and see my house paid off. That is really what has me going.
Star Fight Productions treats me like a son; it is like they treat me awesome. That is also what keeps me going, Star Fight Productions keeps me happy, and they treat me right. It is just like a family; they treat me right and make me want to keep boxing for them.
RC: Who have you been working with as far as sparring for this fight?
EC: I had a couple of guys helping me out. I had Reggie Sanders from Indiana; he was there with me for about two weeks helping me out. I have had Derrick Samuel, who helped me out boxing southpaw. I had a about a good fifty rounds of sparring for this fight.
RC: What can we expect from Edner Cherry come Friday night?
EC: I am not a psychic, or anything. I just want to go in and fight a good fight, and may the best man win. The record doesn't mean anything, it is in the heart. I am going in there by faith with God on my side, with the words " I can do all things through Christ" on my mind, which strengthens me. I am going with Christ on my side and believing in my faith. I have faith that I am going in there to fight a good fight, and after the fight is over with we can be friends, no hate, and that is it. I just want to put a good fight in, and show the world that Edner Cherry is on his way coming up.
RC: You are currently ranked #11 in the IBF, providing you are victorious on Friday night where would you lie3k to see yourself ranked amongst the other talented fighters in your division?
EC: Man, I want to see myself the champ. The number one champ, that is what I consider myself, but I know I am not there as the champ, but IO consider myself the champion of the world. I believe in myself, and that I will make it. Just like the other guys, they were thinking the same thing, I want to be where the other guys are because when they believe within themselves, and within their heart that they can do it, and put the hard work in, and it automatically comes when you start doubting yourself thinking I am scared to fight this person, and I don't think you can make it or feel you are sacred to fight this person or that person and dont think you can make it that far, that means you already have doubt within yourself, and I just want to be different.
RC: Edner, if all goes well for you in this fight, are there any particular names out there that would be a good step for you to be on your way on getting a world title shot?
EC: Ooh Yes, We was looking at Levander Johnson to possible fight for the world title, and they have Juan Diaz and Julio Diaz, and I don't see anything different between me and all of them. All of us are human and I just want to fight the best. A fight with either of them will help me out; I don't consider any of them a monster or anything. I can do it once I train hard and believe in my heart that I can hang with these guys. Star Fight Productions has brought me from a long way, and I am not going back down.
RC: Give us your thoughts on the division now as it stands?
EC: The lightweight division have some good fighters. They are all hot and moving, and one day I would like to fight the big names. I would love to see myself fighting them one day, this is what boxing is all about, it's about fighting the best there is. That way your name can be out there, just like Corrales and all of them, they fought the best fighters and now I want to do the same thing, I want to be recognized. Like I said, all of us are human; it just boils down to who have the toughest heart wins, and whoever believes in themselves. I love this division it is fast, and it is hot and I would love to fight those guys later on.
Star fight productions so far has been helping me out, and brought me this far so I will continue to trust them as my promoters. I know they will make the right decisions for me, and will hit the buttons at the right moment to make everything happen.
RC: Is there anything else you would like to say in closing to the people?
EC: I just want to thank my mother in law, she really helped me out for this fight, with my wife having the baby and all, and she stayed with my wife while I was away in camp. So I just want to thank my Mother in Law. Also the people in Tampa, Star Fight Productions, Wauchula, FL and I just want to thank everybody who believed me and what I am doing. I hope they continue to believe that I can make it all of the way. I want to thank God for being with me and helping me out for this fight, and pray that he will continue blessing my career.
I would also like to thank Royals Furniture (His Employer), they really really work with me, when I need the days off I just talked to my Boss lady Denise Miller. That is why I am so in shape and was able to get ready for this fight, and last I would like to thank my wife Elizabeth Cherry for being on my side. She has pushed me a lot. Sometimes when I put myself down, she picks me up and gives me some good words of encouragement. I just want to thank God for having her on my side, and Wauchula, I want to put Wauchula on the map.
Send questions and comments to: rayocampbelljr@hotmail.com