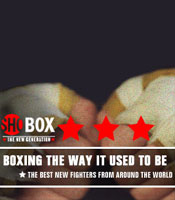 SHOWTIME will make television history when four sons of former world champions and a cousin of another are featured in a special edition of "ShoBox: The New Generation" Saturday, July 1, 2006, (9 p.m. ET/PT, delayed on the west coast) from the Little River Casino Resort in Manistee, Michigan. The SHOWTIME fistic series, which normally airs on Fridays at 11 p.m. ET/PT, will move to Saturday night for one time only and revert to its usual time slot for the following edition on Friday, July 28.  
Talk about all in the family and following in your dad's footsteps. Want bloodlines? Want to see what it really is like to have prizefighting in your genes? How do you escape these shadows? Which youngster will leave the best impression? Tune in July 1 when your questions will be answered as "ShoBox" becomes the "Second Generation'' for a night.  
The outstanding lineup on a DiBella Entertainment-promoted fight card will feature: Chazz Witherspoon (12-0, seven KOs) against Mike Alexander (11-0, eight KOs) in a 10-round battle of unbeaten heavyweights; James McGirt Jr. (11-0, 1 NC, seven KOs) against Stephan Pryor (10-1, seven KOs) in an eight-round middleweight showdown; Ronald Hearns (8-0, six KOs) against Hector Hernandez (8-1-2, three KOs) in another eight-round middleweight bout, and unbeaten junior middleweight Jorge Paez Jr. (9-0, seven KOs) against an opponent to be announced in a six-round junior welterweight.  
Witherspoon is the second cousin of former two-time world heavyweight champion, Tim Witherspoon.  McGirt, Pryor, Hearns and Paez are the sons of legendary former world titleholders Buddy McGirt, Aaron Pryor, Thomas Hearns and Jorge "Maromero" Paez, respectively.  
"I have covered just about every sport, and I am always fascinated when a son or daughter takes up a sport his or her parent or close relative was exceptional at," said "ShoBox" blow-by-blow announcer Nick Charles. "What part is genetics? What part is the environment of just being around somebody who excelled on the world stage? Can these young fighters even come close to achieving the same as their famous relatives? How much can their dads or cousins pass on, and how much do they all have to be their own men, their own fighters?  
"It is intriguing to watch from our perspective, but think about the pleasures and pressures on both father and son to live up to a standard that often is a legacy.''  
Because of their famous last names, the kids make news each time they enter the ring. Now, they all will be making news on the same telecast.  
"In a sense, a boxing son is like the son of a basketball coach. Those kids are usually point guards and always mature and court-savvy. The kids we are going to see on "ShoBox'' grew up in boxing gyms. But there is a lot of pressure on them to prove themselves. They are held up to a higher standard because of what their dads achieved. The talent is often in place, but is the hunger there?  
"This should be a really compelling show -- and one that fits perfectly with the theme of 'ShoBox: The New Generation'."  
Witherspoon, 24, of Woodbury, N.J., by way of Philadelphia, will make his 10-round debut. Slightly more than a year after he started to box in 2002, Witherspoon went to the United States Olympic Trials and became an alternate for the 2004 Olympic Games. He won a Golden Gloves title with five knockouts in five fights.  
Since launching his pro career on Dec. 12, 2004, Witherspoon has maintained a busy schedule. After scoring a second-round TKO over Yul Witherspoon (no relation) to open his sophomore campaign, Witherspoon fought seven additional times in 2005, and has gone to the gate three times in '06. In his last fight on May 11, 2006, Witherspoon overcame a third-round cut over his left eye to destroy Agustin Corpus en route to winning his third consecutive six-round unanimous decision.  
Outside of the ring, Witherspoon shatters boxing's stereotype. He is intelligent, polite and articulate, level-headed, modest and mature. An accomplished high school basketball player with a 3.8 grade point average in Paulsboro, N.J., Witherspoon received a number of division one athletic scholarship offers. However, he turned them down to accept a full academic scholarship from Saint Joseph's University in Philadelphia.  
At Saint Joseph's, Witherspoon took up the sport that his cousin, Tim, had performed so well in during a four-decade career in which he went 55-13-1 before retiring in 2001.  
"I decided to try boxing because that is what my cousin did," Chazz Witherspoon said. "I figured that Tim did well, so maybe I could, too. He has been a lot of help, and has got me ready mentally for boxing. He showed me how the sport requires more mental toughness than physical toughness. Boxing separates the men from the boys and is not for everybody. Tim told me that a long time ago. I see why he says that now.  
"Tim told me early on about some of the pitfalls that he made, so I got to learn through his experience. He told me some of the things to watch for. It is definitely an advantage having him there."  
Witherspoon's handlers have attempted to foist the nickname "Mensa Mauler'' on him. Mensa International is an exclusive organization that describes itself as a "society for bright people, the only qualification for membership of which is a high IQ.'' Chazz prefers the nickname, "Gentleman.''  
"I know that boxing needs someone with character and good qualities beyond the boxing ring, and someone who can just be a good person in general," Witherspoon said. "I am an athlete and I have a college degree. I could be a role model for other kids.  I am ready to accept that responsibility. In fact, I welcome it."  
Alexander, of Reynoldsburg, Ohio, will appear outside of the Buckeye state for the third time. He has scored eight-round decisions in consecutive starts, including in his last outing on Jan. 20, 2006. Alexander turned pro on Aug. 15, 2003, and won his initial six starts by knockout. Five of those bouts ended in the first round.  
McGirt, 23, of Bayshore, N.Y., has won five consecutive outings by knockout. Tall and lanky with good movement, the southpaw prospect at 160 and 168 pounds has scored knockdowns in nearly all of his fights, and multiple knockdowns in several of them. In his last outing, McGirt scored a third-round TKO over Christopher Overbey on Feb. 3, 2006. After going 44-4 in the amateurs, McGirt turned pro at age 21 on Jan. 24, 2004, and registered a four-round victory over James North.  
"The key is to keep James Jr. busy in the ring, and have each opponent get better and better, so he can learn", said Buddy McGirt, a former world junior welterweight and world welterweight champion. "It is more like on-the-job training with James because he played basketball, football and baseball growing up. He did everything but box."  
In 2002, Buddy was voted "Trainer of the Year" by the Boxing Writers Association of America. He finished his career in 1997 with a 73-6-1 record and 48 knockouts.  
Buddy was 18 years old and had six pro fights under his belt when James Jr. was born in 1982. James accompanied his dad to the gym on a number of occasions when he was a kid, but he was not allowed to work out or hit anything.  
"James Jr. sat in the corner," Buddy said. "I did not want him to get that urge."  
"Boxing has been around me since I came out. I grew up around it," James said. "I started training when I was 16. I was going to have my first amateur fight, but the guy they scheduled me to fight had 20 or 30 fights. So my dad did not want that to be my first fight.  
"After that, I got a basketball scholarship to a junior college, but things did not work out. Going into my second year, I did not make grades. So, then I would have had to be red-shirted for a year. I did not want to go practice hard every day and not play. So, I took some time off from school and had a girlfriend, and started boxing.  
"My father knows so much. My job is to go and learn every day in the gym. Whatever direction he points me in is the way I will go. Whoever they put in front of me, I try to take care of business. Box and be smart, get my opponent out of there and move on."  
Family secret: James is not really a junior. "My dad and I actually have different middle names," James said. "I go by James Jr. as a pro because it sells. My son is actually James Anthony McGirt Jr."  
Pryor, 31, of Cincinnati, has been fighting as a pro for more than 13-and-one-half years.  However, that figure includes an eight-year layoff between his pro debut in 1992 and his second fight in 2000, as well as a 37-month layoff from October 2002 to November 2005.  
The once-beaten fighter's father, Aaron Pryor, was the 140-pound world champion from 1980-84. Considered by many to be the best junior welterweight titleholder in history, "The Hawk'' retired with a record of 39-1 and 35 KOs. In 1996, he was inducted into the International Boxing Hall of Fame.  
Other than watching him fight on television occasionally, Stephan barely knew his father when he was growing up. Aside from the fact that Pryor was a great boxer, all Stephan knew about him was that, "I did not want to follow the direction he was going in.''  
The younger Pryor started to box at age 15 in 1990. "It looked easy from the outside looking in," he said. "I had a lot of street fights. The first gym I worked out at was the same one my father trained at.''  
When Stephan decided he wanted to take a shot at boxing, he turned to his father for help. Still dependent on drugs, Aaron Pryor had nothing to offer. "'I could not help him,'' Pryor said. "I could not help myself. As soon as I got my life together, I started helping him.''  
Pryor is proud of his father – from what he did in the ring to his recovery from the cocaine addiction that shortened his career. Along the way, he was shot by his wife, charged with assaulting his mother, arrested several times and jailed, and was in and out of rehabilitation centers.  He also had a detached retina that made him legally blind in one eye and ultimately forced him out of the ring.  
"Not many men could have done what he did,'' Stephan said. "We are tight. We have left the past alone. I am a grown man now. Nobody is perfect. Other coaches are just there for the sport. Let me learn from my father. He can teach me things nobody else could.''
Pryor has won ten consecutive starts since resuming his career in August 2000. Then 17 years old, he lost his pro debut on an opening-round TKO to Nathaniel Jackson on Aug. 21, 1992.
"That fight was a joke," said Pryor, who went 30-6 in the amateurs. "I got tricked into fighting a heavyweight in a toughman fight.'' In his last outing, Pryor scored a first-round TKO over Mike Stone on Nov. 23, 2005.  
"One of my first bits of advice to Stephan was to 'just attack'," Aaron said. "Boxing and weaving, and ducking and weaving are good, but what is wrong with throwing punches? That was my game. Stephan has a chance to have a good professional career.''  
Family secret: It was his mother, not his famous papa, who encouraged Pryor to box. "She was always telling me to go knock 'em out,'' said Stephan, who's Federal ID card is issued to "Stephen Mitchell" – his mother's maiden name.
Hearns, 27, of Detroit, has had an up-close and personal view of the life of a boxer since he came into this world in 1978. Now, he is experiencing that life first-hand. So far, he likes it.
"I love boxing," said the son of Thomas "Hit Man'' Hearns, who held seven world titles in five weight classes. "I have an opportunity to show what I can do, and show that I can do what my father did. I may not do as much as he did, but I can make my mark."
Hearns was one-and-one-half years old when his father defeated Pipino Cuevas to win a world welterweight title in 1980. He has seen tapes of several of his father's fights, and he also has heard people talk about him.
"People tell me that my dad was one of the most exciting boxers of his era,'' the younger Hearns said. "They talk about his fights with Sugar Ray Leonard and Marvin Hagler. They tell me he was a great boxer and a great champion.''
The 6-foot-3 Hearns played college basketball at American University and did not turn to boxing until he was 23.  Despite the late start, he managed to learn the basics quickly. After a brief, but dominating amateur career capped by the 2004 National middleweight championship title, he turned pro on April 2, 2004.
Hearns said his father has been very supportive of his career. He has helped him in the gym, even sparring with him on occasion.
"I learned that you need a good jab to be successful,'' Ronald said. "Everything works off the jab. My dad has shown me how to move around and cut off the ring.''
Thomas Hearns gives his son high marks.
"I am very proud of him," the elder Hearns said. "He has come a long way in a hurry, and is learning how to punch correctly. There is a difference between punching for power and punching to make the punches count. He is learning how to make punches count.''
On July 30, 2005, Ronald scored a first-round knockout on the undercard of his dad's comeback fight. Then, he sat in his father's corner for the main event.
"It was a lot harder watching my dad fight than having to do my own,'' said Ronald, who seemed visibly concerned each time his father got hit. "It has been a while since I have seen my dad get hit. It is not easy seeing that. He got it done again, but I have to give him all the credit.''  
The younger Hearns also is managed and trained by Kronk legend Emanuel Steward, the man who guided Hearns to his Hall of Fame career.  
Ronald Hearns fought a famous "name" in his last start when he scored a second-round knockout over Kirk Douglas on Feb. 4, 2006. After going down twice in the second stanza, Douglas was counted out at 2:12.  
Hernandez, of Mexicali, will make his 2006 debut after going 3-0-1 in 2005. In his last start, The Mexico native won a four-round majority decision over Tomas Padron on Nov. 12, 2005, in Phoenix.  
Paez, 18, of Mexicali, is the son of "The Clown Prince of Boxing" and former featherweight world champion, Jorge Paez. Always a huge box office draw, the colorful Paez was as entertaining and charismatic a boxer as you will see. Incredibly popular, he remained a tremendous television draw right to the end of his career. The older Paez, who fought from 1984-2003, had a 79-14-5 record with 51 knockouts. He was a world champion from 1988-90.  
"I was there as a kid when my dad won a world title, and remember that I also wanted to be a world champion," Paez Jr. said. "I am working very hard to be the best fighter possible.''  
All of the "Paez" potential and talent appear to have been passed on to his son.  
"When people see me fight, they tell me that I can box beautifully," Paez Jr. said.  "Those same people tell me that I am a warrior and can really punch.  I really can adapt to anyone and any style. I am a southpaw, but am also equally effective fighting in an orthodox style.  
"I trained with the Mexican Olympic Team, and am still very young. I have a lot of time to develop and learn the professional side of the sport correctly."  
The younger Paez, who goes by "El Maromerito,'' went 80-1 in the amateurs before turning pro on Feb. 4, 2005. He won his first seven starts by knockout before settling for unanimous four-round decision wins in his last two starts.  With his father watching at ringside, the up-and-coming teenage sensation remained undefeated by outpointing Travis Hartman on June 10, 2006.  
The intense pressures of having a famous father can be quite daunting. Many young men crack under that kind of stress. In Mexico, "El Maromero" is a legend and celebrity. He thrilled Mexican fans and earned their respect by showing his warrior heart in the squared circle.
Although he is well aware of his father's accomplishments and the expectation of the Mexican people, Paez Jr. seems to be comfortable in his own skin.
 "There are a lot of people that have expectations because of my father and what he did," Paez Jr. said. "It is great that he is my father. I am proud of what he did. I am my own man and work very hard. I will prove that I can fight. I always will try and give a great performance."
The telecast represents the 79th in the popular, critically-acclaimed "ShoBox" series, which debuted on SHOWTIME in July 2001. "ShoBox" features up-and-coming prospects determined to make a mark and eventually fight for a chance at a world title.  A number of fighters who have appeared on the series have gone on to become world champions, including Ricky Hatton, Juan Diaz, Leonard Dorin, Joan Guzman, Scott Harrison and Jeff Lacy.
Charles and Farhood will call the action from ringside and Al Bernstein will serve as roving reporter. The executive producer of the telecast is Gordon Hall, with Richard Gaughan producing.
 For information on "ShoBox: The New Generation" and SHOWTIME CHAMPIONSHIP BOXING telecasts, including complete fighter bios, records, related stories and more, please go the SHOWTIME website at
http://www.sho.com/boxing
.