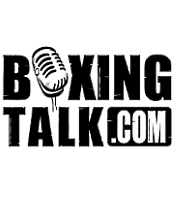 WBU Super Featherweight titlist Michael "The Predator" Gomez returns to action tonight against a tough Argentine opponent, Javier Alvarez, on Sports Network's big Manchester card. As well as Gomez's third defense of the belt, Steve Foster Jr, Michael Jennings, Steven Bell, Paul Smith and Andy Morris also see action at the MEN Arena with broadcasting honors going to Sky Sports on SS1 at 10pm local time. We were fortunate enough to speak with Gomez's conditioning coach, Bobby Rimmer, who helped the former two time British champion prepare for this dangerous defense. Read on for a closer look at Michael Gomez as he moves ever closer to a long awaited WBO title shot, with Boxingtalk.com continuing to cover the world as no one else can. 
During much of the 1990's, Michael Gomez, 32-5 (22), held the British super feather division under a reign of terror. Many of the top fighters in or near the weight class today were knocked out years ago by this tough, rampaging whirlwind of a fighter. It wasn't until 2002 when Gomez was still a notorious figure in the game, training by day, nightclubbing until the early hours leading up to a fight, that London's Kevin Lear
brought the curtain down on the whole show. 
After pledging to re-dedicate himself to the sport and joining no nosense trainer Billy Graham's Phoenix Camp, Gomez was back in the saddle. Since that time the twenty seven year old has ground everyone put in front of him to dust, stopping all seven opponents early. A huge showdown with the Golden Boy of British boxing circles, Alex Arthur, was among those victories, with Gomez doing his best young Mike Tyson impersonation. The contest was a back and forth war with both men in trouble at times but Arthur certainly bore the brunt of the punishment. After five rounds of life or death combat, the referee stepped in to protect Arthur from further abuse. Gomez had recaptured the British title and extinquished his biggest domestic rival in one thunderous performance. 
Completely re-invigorated, the Manchester native picked up the WBU title against overmatched African Ben Odumattey and made a successful defense. In his most recent outing Gomez faced a little known but highly powerful Russian light welter named Leva Kirakosyan, who somehow managed to make the super feather limit, and nearly lost everything he had worked so hard to regain. 
Using an uncharacteristic boxing style, Gomez cautiously picked the challenger apart with well placed shots until the midway through the fight when Kirakosyan countered the Dublin born streetfighter with two well placed right hands. Gomez was rocked and tried to fight his way back along the ropes, soaking up more punishment but steadfastly refusing to clinch. Amazingly he got through the round and shortly afterward began to open up his offense, shutting down the Russian. By the end of the fifth, Kirakosyan's corner had seen enough as Gomez's sharp left hooks and right hand leads had turned the opponent's face into a swollen, purple mass. 
Kirakosyan went on to starch excellent American based British prospect Carl Johanssen in one round, showing just how dangerous an opponent he truly was. Gomez's conditioning coach Bobby Rimmer sees
this bout against Alvarez, 31-4-1 (15), in a similar light. "This fight was taken without knowing anything about the opponent," said the trainer. "It's just like the last fight against Kirakosyan in that we don't really know what were going to have in front of us. We only have two fights on tape and Alvarez looks a bit slick.
He's a boxer but he'll come in and bang away, too. We see this fight like the last one, it's a hiding to nothing.
If Michael stops him or beats him severally, they'll say that this guy Alvarez has never done much. It's a dangerous fight while Michael is waiting for a big payday against Alex Arthur or a major world title shot." 
Gomez has fully prepared for this fight alongside his gym mates, the British stalwarts Ricky Hatton, Matthew Macklin, Paul Smith, Matthew Hatton, Steven Bell and Patrick Maxwell. Expert trainers Graham, Rimmer and strength coach/nutritionalist Kerry Kayes have helped the left hooking fireball polish his skills ever further. "Michael has looked fantastic in the gym," said Rimmer. "We did the last twelve hard rounds on the body belt earlier and we had someone with a punch counter at ringside. Mike threw 2,295 punches! I had to go to the physio (physical therapist) afterward and get my arms all sorted out afterward. It was absolutely phenomenal." 
This will be Michael Gomez's first time headlining the huge MEN Arena. As if that weren't enough, he has the additional incentive of likely getting a title fight against either WBO titlist Mike Anchondo or another Argentine, Jorge Barrios, who has already stopped Javier Alvarez, should he win this contest. Rimmer is fully confident that his fighter will do so and in style, but is wary of any backwards steps at this crucial stage in Gomez's career. "In boxing, a slip up can happen at any time and we would be set twelve months back at least. There's everything to lose and very little to gain in these type of fights for Mike, but that's what he's been getting so we just have to get in there and do this guy. It's like walking on ice. Any minute it could crack and you'd fall through. Then where would you be? Michael's weight is good for this one and Billy Graham has said that Gomez is getting better all the time. After this one we want to fight for the WBO title and we hope it's against Barrios. I remember when he fought Acelino Freitas, he was wiping a cut eye on the referee's shirt! That's the kind of guy we want to fight for the title." 
Boxingtalk.com would like to thank Bobby Rimmer and Billy Graham for making this article possible.
Send questions and comments to: thomaspointrd@aol.com