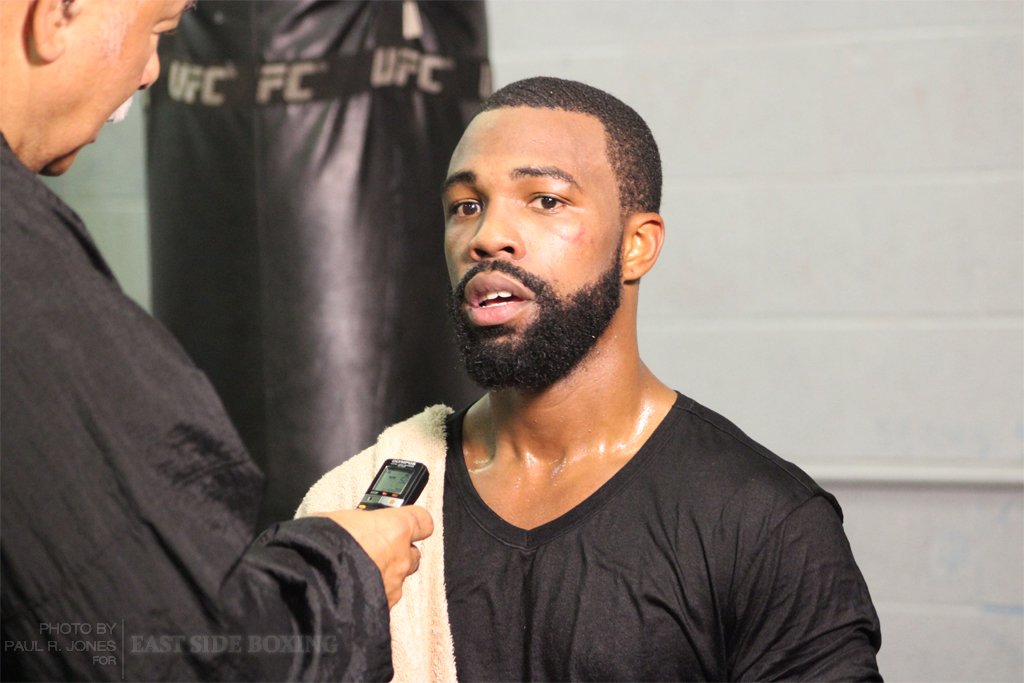 Free Agent Champion Gary Russell Jr. wants Tank Davis or Santa Cruz to step up and fight
Greg Leon: Congrats on your victory over a determined King Tug [Tugstsogt Nyambayar]. It was well earned. Can you give us some thoughts on your performance? Gary Russell Jr: "I got to get home so I can actually watch the fight, I haven't had a chance to watch it yet. I do know that I dictated the pace of the fight however I wanted to. I boxed when I wanted to box, I stepped to him and made it a dogfight whenever I wanted to make it a dogfight, I rested when I wanted to and I think I showed great ring generalship, hand speed, boxing I.Q. and my overall experience dictated the entire pace of the fight. He was definitely tough, we knew he was going to be tough, but once again he had everything to gain and nothing to lose. He had a lot of people supporting him in the arena, but at the end of the day it wasn't enough."
Greg Leon: He had a helluva lot of fan support. Are you surprised there were so many Mongolians in Allentown, PA?
GR: "No I wasn't surprised at the support he got. Every other ethnicity uses their ethnicity as somewhat of a weapon. They support one another. I remember watching him compete in New York and he was getting a lot of support there as well, so I expected them to come out and support him last night as well. Beating me would have been a tremendous victory for him, but I do think he's going to become champion one day. It just wasn't going to happen against me. He's a tough fighter and he fought his heart out and he deserves all the support he's getting from his people."
GL: How do you think the other elite level feathers will view this performance? Do you think that performance is going to help you get the big fights that have eluded you thus far, or do you feel that performance will continue to keep these guys at a distance?
GR: "Aw man I still think that they're scared. I ain't get a chance to watch the fight, but I can say that if you are a true connoisseur of the sport you saw that I was doing whatever I wanted to throughout the whole twelve rounds, the whole duration of the fight. It was boxing excellence on display so hopefully these guys go and grow some nuts, grow some cohones."
GL: Are you 100% certain that you're going to fight again this year?
GR: "We definitely want to fight more, I definitely want to compete again, but the thing is, I don't just want to fight anybody. I could have been fought twice but I don't want to fight Joe Blow, I want to fight the best, I want to fight the guys at the top. Am I going to be able to get one of these guys in the ring with me this year? I'm not sure, but I hope so. If not I'm definitely planning to move up in weight and try to get in there with some of these bigger guys."
GL: Was there anything about King Tug last night that surprised you during the action?
GR: "Not at all. I studied a little footage on him and with most of these boxers they're one dimensional and what you see is what you get. I took away whatever it is that he wanted to do. I took it away it from him, I knew he was going to be tough and I knew he was going to fight his heart out because he had everything to gain and nothing to lose, but it was a whitewash I dominated him from start to finish. There was nothing close about that fight. I do believe that if Tug keeps focused and keeps pushing he's going to become a world champion, it just wasn't going to happen for him last Saturday night."
GL: Out of all the guys you want to mix it up with is Leo Santa Cruz the fight you'd like to make the most?
GR: "It would make the most sense for me to fight him next because he's closer to the weight division I'm in. It would make a lot of sense to fight him first and then move up to go after Gervonta or one of these other guys."
GL: Are you hoping that the Wilder-Fury rematch does big business so perhaps Top Rank and PBC could do business again for a fight between you and Lomachenko?
GR: "I think it could happen. I mean Deontay Wilder is bound by certain contracts, but me I'm a complete free agent. I do have a great business relationship with PBC and Al Haymon, but we're not under contract with them so that gives me the wiggle room to make any fight happen. The question is do these guys want to get in the ring and fight. So far the answer has been no."
GL: Cloisng thoughts for the fans.
GR: "I want to tell all the boxing fans, thank you, I appreciate y'all. I hope some new fans saw me compete for the first time and have now became fans of mine. I'm here to fight the best and give y'all the fights you want, but I can't make these guys fight me."
Send questions and comments to: boxingtalkg@yahoo.com