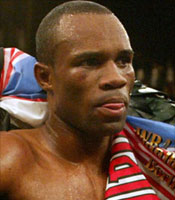 Harris Calls Em All Out: "Mayweather Is Scared Of Me!"
WBA junior welterweight champion "Vicious" Vivian Harris told Boxingtalk.com. "First of all, Berlin treated me well and I was happy to fight there. It was a good fight and we both came in very prepared and I was just more determined. In the early rounds it was a couple of exchanges, I started with my jab, we hit each other with a couple of shots. In the fifth round, Manny (Steward) told me, 'Viv, you got him, just keep taking the fight to him', so that's what I did because that's what I do, keep that pressure on and keep attacking."
"I didn't give him any breathing room in the late rounds and I wound up knocking him out."
GL: As nice as Berlin was, and as well as the people may have treated I'm sure you're hoping now is the time your career goes to that level on American TV, someplace you haven't been since knocking out Hurtado in two round for the title.
Vivian Harris: "I'm just hoping that a get a fight with one of these big guys on national TV so people can see who the true junior welterweight champion of the world is. Before the fight I didn't want to talk about anything but Urkal, but now that I'm done with Urkal it's time to talk about those other fights.
GL: Let's talk about it, Mayweather is the fight that most interests you, correct?
VH: "Definitely. Mayweather is the fight I want, but as you know this guy doesn't want to have anything to do with me right now. He's trying to protect his status and he doesn't want to lose so you know he's not fighting Vivian Harris. Unless he fights Vivian Harris he will not be the man at 140. Fighting Gatti won't do that for him either.
GL: Main Events also promotes WBC junior welterweight champ Arturo Gatti, what are the chances that fight EVER takes place?
VH: "Well, I would love for that to happen. Right now I want to unify the titles, I would love to take that belt from Gatti and unify against the winner of Mitchell and Kostya Tszyu. Gatti Vs. Leija is a fight that shouldn't be happening. People can say, 'who is he to say that?' but that's definitely not a fight I'll be watching.
GL: Who do you like in the Tszyu-Mitchell rematch?
VH: "You have to give Sharmba Mitchell an edge because Kostya Tszyu hasn't fought in two years and Mitchell has been very active. I think he'll win the fight by decision."
GL: Main Events recently made a big deal with ESPN. Have you been informed if you will be included on this series as well?
VH: "I haven't been informed, but I'm hoping they make me a part of and involve me in. I want to be seen in America, I'm already big in Europe why can't I be big in America? Now that I'm done with Urkal it's time to sit down with Emmanuel and Main Events to see what's next, but I want to stay busy and I want to fight the best. I'm the best junior welterweight in the world and I'm ready to prove it.
GL: Is there anything you'd like to say in closing?
VH: "Yeah, I want to tell my fans that after I won this fight I cried in the ring. I cried because I went through so much in training camp for this fight. While I was preparing for this fight I was getting emails from Shelly (Finkel) and I was getting served with court papers from Shelly to go to court, he was Federal Expressing me stuff and I think it was putting me through this to affect. I was trying my best to not let it effect me, but it did bother me because I was preparing for a fight and to have papers coming telling me he wants $125,000.
"Then when I told Shelly I'd give him the $125,000 he asked for an extra $10,000 in legal fees that he spent by trying to take me to court. I agreed to give him the $135,000 then the day before the fight, Main Events tells me I'm  going to have to pay taxes on the money I paid Shelly Finkel. At the end of the day everything was worked out, but it was a headache and I didn't need to be going through something like that right before the fight." 
CLICK HERE FOR THE REST OF THIS MUST READ EXCLUSIVE INTERVIEW!
Send questions and comments to: gleon@boxingtalk.net