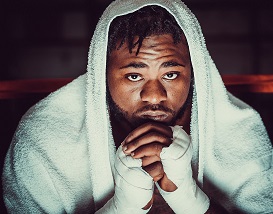 Adam Kowancki is up and comer's top target
Greg Leon: Congrats on Saturday's victory (W10) over Pavel Sour. Can you give us some thoughts on your performance? Jermaine Franklin: "I thought I had a good performance. I was fighting good and I'm just glad that I was able to fight my fight and stay calm. Overall I did a good job." GL: "You had him down in the sixth and the tenth, are you disappointed that you were unable to get him out of there? JF: "I am a little bit disappointed I didn't, yes. I think I played it right in the sixth round, I think I could have applied a little bit more pressure in some of the rounds after that and I probably would have been able to get him out of there."
GL: Is there anything else you feel like you need improve on moving forward?
JF: "The right hand. It was crazy, because I was kind of surprising myself because the left hand was working well and once I can get my right hand working like my left is, I'm not going to be a problem for everybody."
GL: This was your third fight of 2019. Will you look to get another one in or will we not see you until 2020?
JF: "I'd love to get another one in, but if not I know that Dmitriy is going to get me back into the ring as soon as possible."
GL: I know you and Claressa Shields are friends. Did you speak to her at all after her fight got cancelled?
JF: "Not really. We talked a little bit, but as a fighter I know bringing that up could be discouraging, I'm sure she's disappointed and hurt, and upset."
GL: Do you feel like you've finally given the Showtime viewers and boxing fans around the world a look at the real Jermaine Franklin?
JF: "I think I did in this fight, but me personally I know I've got a lot more to show. This was just a taste of who I am and what I can do and it's only going to get better from here."
GL: Where do you see yourself next year at this time?
JF: "Pushing for one of them belts and climbing the rankings."
GL: Who do you like in the Wilder-Ortiz rematch?
JF: "I like Wilder to win. Even though Ortiz is a good fighter and I think he's going to be busier, but once Wilder catches him with a good 1-2 I think it's going to be good night."
GL: Your Salita Promotions stablemate Otto Wallin had a great showing against Tyson Fury. What did you think about that fight?
JF: "Otto did damn good against Tyson Fury! There's critics everywhere and everyone is going to have their own opinion, but to come over here to America and have his first fight end right away because of a cut, then B.J. Flores fell out of his second fight at the last minute, so for him to go from that to a [big] fight, he fought damn good."
GL: Does a fight with Wallin interest you?
JF: "All fights that would put me in a better position interest me, but I don't think that fight's going to happen. I think I'm going to have to take my time with it and go in a different direction."
GL: Who do you want to fight to take your career to the next level?
JF: "I want Adam Kownacki, but I just have to stay patient and have faith in my team and trust them."
GL: Closing thoughts for the fans.
JF: "I think I just want to tell the fans to stay tuned and keep checking for me. I'm only 25 years old and I'm going to only get better each time I step into the ring."
Send questions and comments to: boxingtalkg@yahoo.com