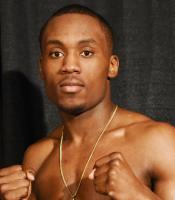 Greg Leon: Congrats on your victory over Courtney Pennington [12-4-3] on Saturday [a ten-round unanimous decision that lifted your record to 10-0]. Can you give us some thoughts on your peformance? Charles Conwell: "I thought it was ok, he's a crafty veteran, he knew how to survive and that's what he did. He survived longer than I thought he would, and he was faster." Greg Leon: You were fighting him in his hometown, do you think that the local support he had kept him in the fight? Charles Conwell: "I think that it for sure motivated him to stay in the fight, he was standing strong throughout the fight. I knew he was a tough fighter going in, but I knew that extra motivation would keep him standing up longer."
GL: This was your first ten rounder, you went ten, but it's also the first time you've been beyond the sixth round. What was that experience like?
Charles Conwell: "I felt good, it was a great learning experience. I felt strong, I didn't feel that winded and I feel like I can do it again."
GL: What do you feel you could have done better? What can you improve on coming out of that fight?
CC: "I definitely could have been jabbing more and letting my hands go with more combinations, more punches in bunches."
GL: You were stalking him all over the ring, but you weren't doing it behind the jab. Is this what you mean when you say jab more?
CC: "Yes. Exactly."
GL: You're now on the verge of getting ranked by the IBF at junior middleweight. Is the next step to get into an elimination bout as soon as possible?
CC: "It's going to come down to my team and what my team wants to do. I'm just trying to keep going up in the rankings, keep learning and keep gaining experience from my fights. Whatever my team decides we need I'm going to go with them."
GL: Any early indication on when your next fight will take place?
CC: "I'm probably guessing that I'll be back in the ring in a month and half or two months. I'm trying to stay active now. My hand is healed and I'm back. I went ten rounds last night and my hand feels brand new right now."
GL: How active are you trying to be?
CC: "I definitely want to get three more in before the year is out, that's what I'm really planning on doing, but if it doesn't go that way I'm trying to stay busy as much as possible, I want to get busy."
GL: What did you think of the main event last night?
CC: "What can I say? GGG did his thing, I think you can say he's back. He fought an undefeated fighter in Steve Rolls, he came out jabbing and tried to stay in the fight, but at the end GGG was just too much."
GL: Are you disappointed you didn't stop Pennington last night?
CC: "Yeah I am kind of disappointed I didn't stop him, but this is the fight game. He's an 18 fight veteran and he knew how to survive and do what he needed to do to stay strong enough to remain in the ring."
GL: Closing thoughts.
CC: "Look for me to be a lot more active now, stay following me and stay putting me in y'all prayers."
Send questions and comments to: Boxingtalkg@Yahoo.com