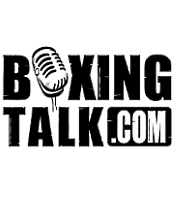 Press release:
Check out photos of WBC World Heavyweight Champion, Hasim "The Rock" Rahman, captured at last Friday's media workout in Rochester, NY. Rahman began the day addressing 700 students at the local East Ridge High School, advising them to work hard and stay in school. "If you apply yourself, you can accomplish all your dreams," proclaimed Rahman. "I am the perfect example." Photos courtesy of Jesse Schnorr.
Following the assembly, Rahman traveled across town to the Roc Boxing and Fitness Center, where he spared with legendary champion, and Rochester resident, Carmen Basillio.  Joining the crowd of media and fans were Rahman's personal guests, a group of Special Olympians, whom he gave an inspirational message of support to in exchange for their well wishes for his upcoming fight against Toney. 
Hasim Rahman will face James Toney for the WBC World Heavyweight Championship on March 18, 2006, in Atlantic City, NJ. Toney was named official challenger by the WBC in Rahman's first title defense since securing the forfeited WBC heavyweight belt from former Champion Vitali Klitschko in November 2005.  The bout will be presented by Top Rank and broadcast live on HBO.