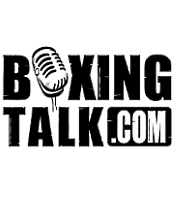 Press release:
One night before SHOWTIME offers the Jeff Lacy-Joe Calzaghe showdown, America's No. 1 Boxing Network will continue to commemorate its 20th anniversary of televising world-class match-ups with an excellent world title fight Friday, March 3, on "ShoBox: The New Generation'' (11 p.m. ET/PT on SHOWTIME, delayed on the west coast). In a battle of hard-hitting, exciting flyweights, unbeaten IBF champion Vic Darchinyan (24-0, 19 KOs) will defend against IBF No. 4 contender Diosdado Gabi (26-2-1, 19 KOs) from Chumash Casino Resort in Santa Ynez, Calif.
Darchinyan has won six consecutive bouts by knockout. Gabi, who has never been stopped, has won 12 in a row (eight inside of the distance). Here is what the challenger had to say Wednesday.  
DIOSDADO GABI
"I have waited five years for this opportunity and I am ready to fight. I am very eager and excited. I am confident and in great shape. I feel I have the style to win the title.
"I respect Darchinyan and know he is a strong, powerful puncher. He hits like a featherweight. I have a lot of knockouts on my record, but I don't have the one-punch power that he has. Nobody does.
"I feel I have good boxing ability and that is what I plan to (showcase) against Darchinyan. To stand and exchange would be a mistake. That's what he wants. I am not a runner, but I am faster than he is. I plan to use my speed to give him angles. I want to be elusive and make him work to catch up to me.
"Darchinyan is very confident and already looking past me, but he has some weaknesses and technical flaws that I believe I can capitalize on. I am very comfortable with my strategy and confident in my ability to outbox him.
"This fights means so much, not just to me but for my family and everybody from my hometown of Davao City in the Philippines. They have never had a world champion. It makes me proud to know that I have the whole city behind me for this fight. There are people there praying for me to win. They are so supportive of me. It makes me work harder. I train six days a week. I do 564 sit-ups a day.
"I left my wife and young son behind when I came to the United States last August to pursue a world title. I think about them all the time. I worry a lot about them. I worry they will run out of food. We come from a very poor family. My father is a fisherman. All we eat sometimes is what he catches. I try to send them as much money as often as I can.
"Twice, I was promised world title fights but they were postponed. I wish this fight was today and not next week. "I am so grateful for this opportunity. It is going to be a great fight on SHOWTIME. In my heart, I know I am going to win. But if I don't, I promise that I will leave everything in the ring."