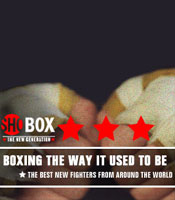 The amazing Peterson brothers, who long ago won their toughest fight – growing up homeless in Washington, D.C. –  will co-headline on "ShoBox: The New Generation" on SHOWTIME  on Friday, April 28 (11 p.m. ET/PT, delayed on the west  coast). In a 10-round bout, older brother Lamont (16-0, seven KOs) faces southpaw Jose "The Baby Faced Assassin" Ramos (16-2-1, three KOs). In an eight-rounder, Anthony (16-0, 13 KOs) take on undefeated Jermaine White (12-0, 7 KOs). Brian Young's Prizefight Boxing will promote the doubleheader from the 4 Bears Casino & Lodge in New Town, N.D.
Opening Comments
Hall:  We are really pleased to have Lamont and Anthony on the show. They are a great example of what "ShoBox: The New Generation" is about.  "ShoBox'' showcases young, talented fighters in tough match-ups which we believe helps to give young fighters the national exposure that they may not necessarily get, and it helps to escalate their career at a faster pace, and is good for the sport of boxing.  We have our unique definition and purpose, and certainly we would not be doing this series justice without showcasing two of the brightest prospects in the junior welterweight division in Anthony and Lamont.  Certainly, Anthony and Lamont are a great story, which a lot of people are familiar with, which is one small part of their life, overcoming adversity when they were younger.  But to attain what they have as amateurs is remarkable and to take that and move it on to the pro ranks where now cumulatively they are 32-0 with 20 KO's is also remarkable.  We are fortunate to have them on the series because, as I said, we certainly believe that they are two of the brightest prospects in the junior welterweight division today.
Question: Lamont, what are your thoughts on fighting on SHOWTIME, on "ShoBox,'' and meeting Jose Ramos? 
Lamont P.:    Well, it is funny because I was just watching him fight Demetrius Hopkins a couple weeks ago on TV and I recorded it, and I am glad I did. I am just happy to be able to fight on SHOWTIME.  I always wanted to fight on SHOWTIME and "ShoBox'' ever since I turned pro.  Now it is my time to do all the stuff that I wanted to do.  I am going to do it April 28.  I am just training hard and just hope everybody is ready for a good fight. 
Question: Anthony, what are your thoughts going into your fight April 28 on "ShoBox''?
Anthony P:    It is a pleasure.  Just like my brother said, it is a dream come true to fight on ShoBox and SHOWTIME.  It is a dream come true.  Fighting an undisputed fighter, which is another one of my dreams.  I always wanted to fight an undefeated fighter because someone's 0 has got to go.  It is not going to be mine.  If you never saw me and my brother fight, tune in on April 28th.
Begin Press Questions.
Question: Lamont and Anthony: What do you think you would be doing if you were not boxing professionally?
Lamont:  Well, it would not be too many things I could do.  Before I got into boxing, there were not many things that we could do.  My mind was set on mostly the street things and I thought that we were supposed to sell drugs.  But when I got into boxing, everything changed.   So it is hard to say what I would be doing, but it would not be anything good. 
Anthony:  Pretty much the same because whatever big brother did at the time, I was doing it too.   
Question: Lamont, because of your well-documented background, do you feel extra pressure or something more to prove or that you are representing more people than just yourself?
Lamont:  Not any extra pressure, I would not say that.  But I do think about all the kids that – you know, we are not the only ones that are going through it.  They come through the gym everyday.  So it is not any added pressure, but I think about those kids going through the same thing when I step into the ring, when I train, when I run.  I try to show them that it is another way out other than selling drugs or robbing people or things like that.  Just show them there is another way.  So I think about it, but I do not feel any extra pressure.
Question: What do you say to kids who are not going to be able to become professional fighters with undefeated records? 
Lamont:  We understand that everybody is not going to be given the gift to fight.  But whatever you do, just try to be the best you can be at anything you do. Whether it is at school, anything you do, just try to be the best.  Stick with it and try to be the best you can be at it. 
Question: Boxing has saved a lot of people's lives and a lot feel that without boxing, who knows what would have happened to them.  But you certainly would not have gotten as much success as you have now. What do you say to those that do not understand?
Lamont:  I feel as though boxing saved my life, and my brother's and a whole lot of others who turned to it instead of doing other things.  I think they should stop closing the gyms down and actually build more gyms for young guys to go to the gym. 
Question: Anthony, can you add anything on that?
Anthony:  To me, it has saved a whole lot of people's lives because this sport requires discipline. If you have discipline, you can go a long way. There are a lot of kids that do not have discipline and they end up in the streets.  So I also feel that if they opened up more gyms and stopped closing them, a lot of kids would be better off. We have always been taught discipline from day one. It was never about getting in and throwing punches.  It was always about discipline. And then my coach taught us a lot about life. 
Question: Lamont, Hopkins could not miss Ramos with the right hand. How difficult is it for someone like you, who brings a multitude of different skills to the dance, not to get too right hand happy early in the fight?
Lamont:  Well, of course, I am going to try to take from the Demetrius fight, but I am going to train for anything. I understand that he gets hit with a lot of right hands I might want to switch it up. So I am going to try to mix it up like I always do, throwing punches that I know how to throw, and if I get in there and he is susceptible to the right hand, then I am going to use it. But I am not going to go in there just trying to (land the right). 
Question: Anthony, what does Jermaine White bring to the table?
Anthony:  It really does not matter to me because I can adapt to any style that is out there. I am in the gym right now preparing. Come April 28, if he wants to slug, we can slug.  If he wants to box, we will box. 
Question: You guys are about a year and a half apart and fight at the same weight mostly.  Do you guys spar together?  Have you ever had any real fights against each other? 
Lamont:  We get along pretty good.  Growing up, of course, we got into it. You know if two young guys are around each other long enough, they are going to start fighting.  But now that we are older, we get along really good. We never get into it. But we spar everyday. We do not take it (go) light on each other. We understand each other and we are going to make each other better. So I know the next man is not going to take it light on him and he knows the next man is not going to take it light on me, so we go at each other like we are the other person. 
Question:        Barry, how much of an adjustment do you think Lamont and Anthony have had to
                         make since going from amateurs to pros?
Hunter: Not a lot because it used to get us in trouble a lot of time, especially when they were juniors in the amateurs, because I taught them how to fight like professionals at an early age.  So we never really had a so-called amateur bout. We had to actually learn how to fight like an amateur to be effective in the amateurs. You have a lot of kids that do not really know the basic fundamentals of boxing and had never been taught them.  So on the norm, they will get in there and just throw a whole lot of punches. When they turn pro, if you notice, like the Cubans, they master the computer system, but on average, when they turn pro, they stroke.  So when the brothers actually turned pro, it was like just putting the fish in the bowl of water. 
Question: In their maturation as a pro, where do you see them at this point, both having 16  fights apiece, yet really fighting sort of limited competition?
Hunter: Well, I am pretty pleased with where they are at this point in time in their careers.  In his last fight, Lamont fought Jose Moreno, who was a pressure style fighter. He was confident we thought.  He was not the same person that we scouted on the videotape.  He brought a little bit of a different fight to the table. So it made us think a lot and I like that because I commended him a whole lot when they were in that adverse situation rather than seeing them in a situation where they were totally in control at all times.
Question:       Is there anything in particular you are working with in the brothers' maturation?
Hunter: Well, in the adjustment state that we are in right now – and of course, you are fighting guys that are used to being hit by bigger guys.  Some of the guys are coming down from weight to make a certain weight.  In all fairness, in Lamont's case, we fought one guy who came in almost at a middleweight weight.  You know, his skills were limited, but it kind of balanced out because he had experience.  At that particular time, we virtually had none. And he was a bigger guy. And the brothers are used to fighting guys in the amateurs at the same weight that could not take that pop.  But these guys that are used to being hit, a lot of them are professional. I would call them professional sparring partners almost.  And they are used to being beat.  So therefore, you are not going to get them out as much.  So in Lamont's case, because he works on sitting down on more punches, he does pretty well as far as the defense is concerned and rolling punches, but sitting down and not moving back as much.  Especially straight back.  In Anthony's case, Anthony does not have that particular flow of pulling back.  Every once in a while, when he is launching his hook, he will pull back on it.  Or he intends to go to the hook, which is his primary punch in his arsenal, a little bit more than I would like him to.  So therefore, just trying to build an all-around game for both of them. 
Question: It has been a whole six months since the two of you have shared a card together.  Have you been able to learn from each other in that time?  Has it been easier to learn from each other while sitting in the crowd watching each other fight than it is to be fighting on the same card?
Anthony:  Yeah, because when I watch Lamont fight, I relax.  If he can do it, I can do it.  So I see how relaxed he is in there. I try to be just as relaxed as he is too.
Lamont:  I always learn from him.  Even if we fight on the same card, I go back home and watch his tape to see what he is doing right and what he is doing wrong, so we can work on it.  Or if he is doing something right and I like it, I will use it.  I am pretty sure he does the same thing.  Yeah, of course, we learn from each other.  I try to learn from every fighter that I watch. 
Question: Anthony, Lamont had his big showcase about a couple of months ago.  He had a tough time, but still came out shining against Moreno.  You, on the other hand, had a big disappointment.  Is there any letdown that you are going into this fight without that showcase?
Anthony:  No.  To me, I try to block it out and do not even think about it.  Just come April 28, I will be in shape physically and spiritually.  
Question: Anthony, how satisfying is it knowing that even though there was a letdown with both of you being robbed in the Olympic Trials back in 2004 that you both remained on course with your goals? 
Anthony:  Well, it feels great. Right after the Olympic Trials, it hurt because you push for that. That was part of my dream. But after that happened, it kind of hurt and made me question whether I really wanted to do this. But I took some time off and my coach asked us both what we wanted to do and we both said we wanted to turn pro and we just gave it our all.  I am satisfied where we are at now. Getting to 16-0, fighting on SHOWTIME.  It feels real good.
Question: You guys fight in the same weight class; does that have an effect on your long term goals?  Do one of you want to move to a different weight class or do you plan to stay and compete against the same competition for the duration of your careers?
Lamont:  Well, actually, we are not the same weight.  Sometimes Anthony will move up to my weight, but actually he is a lightweight (135), and I am 140.
Question: Is Anthony's contracted weight for this fight 138 max? 
Hunter: Yes, 138 max. 
Hall: That is why we are making it a junior welterweight, so they are both junior  welterweight match-ups. 
Hunter: Like Lamont said, Anthony generally fights lightweight, but as we go up this ladder it is becoming harder and harder to find quality opponents to go up against. Before the guys started fighting on television, it was easy to get a fight.  But now it is not easy to hide them anymore.  And then you do not want to push them out too fast.  So it is becoming kind of difficult.  So we have to move up and drop down sometimes. 
Hall:  It is funny because you are in a bit of a dilemma because being involved and trying to make these matches and get the fighters, when you come out of the amateurs with the credentials that you have, people know about you.  Then they start to see you and they know about you, and then they find out where you were and where you are.  It does make it difficult for you at an early age to try to get those tougher fights because there are a lot more reasons for people not to fight you. 
Hunter: That is right.  As of late, like I said, before we used to get phone calls or they would call the promoter about bouts with the boys, but it became a point in time where there were no calls and we had to do all the calling and then once we lock in on someone, then for whatever reason, they would find an excuse.  Just like what happened with Anthony.  The guy did make the weight and we took the higher weight, and then just before we got to the ring, he discovered his hand was broken.  So you are going to get that sometimes.  It comes along with the program.  We just have to stick to our goals and our path and try to make it happen as best we can. 
Question: Barry, where do you think Lamont and Anthony are at in terms of when they could start fighting some of the top 10 guys?  Both the junior welterweight and welterweight are really some of the very toughest divisions today in boxing.
Hunter: I think, realistically, we are a few fights out.  If a knockout comes, it comes, that is great.  If not, that is even better because it gives us a chance to really learn and kind of get our teeth sunk into what it is we are doing.  They grew up sparring pros around the DC area, so it is not something that we are not real familiar with.  I know sparring is a little, if not a lot different from the actual bout, but I do believe in my soul that because of the way they have been raised in this game that they would have a real hard time making adjustments to a person who is a little bit more deeper as far as skills are concerned.  In fact, we just left camp with Zab Judah.  So I think they will do fine.  And I actually think toward the end of this year we should be ready for that type of competition. 
Question: So you think that despite the brothers are still young and pretty early in their careers, they are going to be able to start to challenge some of the top guys?
Hunter: Yeah, I definitely think pretty early in their careers that they should be able to challenge some of these guys.  What can I say?  Some babies walk and run faster than the others and I think they will be one of the ones that kind of get it a little bit faster than the norm.
Question: Is there anything about the story behind what you have been doing with the young people in DC that you want people to talk about or emphasize more? 
Hunter: Yeah, like something Lamont said earlier. He referred to some of the other kids that are in the area or around the United States -- because this is really a war. And I think this war is more spiritual than it is physical.  But we see it daily through this gym alone. You have a lot of kids that come through.  We have some that are in the shelter right now. We have some that if they were home, they are just fine at home. A lot of times, what they do not talk about in these papers and magazines is any given Saturday or Sunday, Anthony and Lamont will have at least 10-15 kids over to their house, taking them to the movies, to the stores. It is real deep. I think it is a time now that the average person that is out there needs to not sit on the sidelines and talk about the problems.  We need to get to it and address the problems and come up with a solution because it is getting worse and worse out there everyday.  The problem is huge and it is many.  We have to combat this thing right there in the front or we are going to lose.
Question: Anything you want the fans in particular to do in terms of taking action?  Is it working with kids?  Working in gyms or projects with young people?
Hunter: Yeah, I definitely think you need to be hands on because you have a lot of kids out there.  Some of them just need an arm around their shoulder and to have someone point them in the right direction, and that can make all the difference in the world.  I would like to see a lot more mentoring programs.  I would like to see a lot more of these programs that they came through – boxing programs – if it is mentoring the kids to school, in school or helping them out on these corners that they are standing on.  And I am not talking about just riding past and saying what they should do.  I mean, actually get out there.  Go to these spots that you know they are struggling in and snatch these kids up off the corner and point them into a direction that would be a good direction for them and for all.
Hunter: You guys really had Barry come into your lives at a critical time and used boxing to help really get you guys on a path towards the great careers that you are having so far.  Do you guys see yourselves continuing to do for youngsters what Barry has done for you? 
Anthony:  Yeah, it has been put into us from day one.  Once we saw him do it and how it turned out and then we see those that did not get it, that did not have the same teachers that we had, and how they end up.  We do not want that for the kids right now because they are all sweet kids, all of them.  So we try to do our best and try to keep them straight, and at the same time keep ourselves straight. 
Closing Comments.
Anthony:  I just hope everybody will tune in on April 28 because it is going to be a blast.  I am going to have fun.  I know that for sure. 
Lamont:  I just want to thank SHOWTIME for having us on.  We are going to try our best to give it our all.  I hope everybody will come out or watch it on SHOWTIME.  You are going to see a great show on April 28.