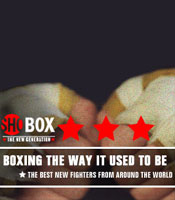 Brothers Lamont and Anthony Peterson of Washington, D.C., grew up homeless, but they feel right at home in the ring. The up-and-coming, unbeaten junior welterweights are a combined 32-0 with 20 knockouts. Lamont, who at 22 is 14 months older than Anthony, is 16-0 with seven KOs. Anthony is 16-0 with 13 KOs. In their SHOWTIME debuts, the talented three-year pros will co-headline an excellent fight card Friday, April 28, 2006, on "ShoBox: The New Generation'' (11 p.m. ET/PT, delayed on the west coast).  The bouts will represent the 11th time that the Petersons have appeared on the same fight card.  
Both Petersons have been matched tough. Lamont will face Matthew Strode (20-1, 9 KOs) of Greensboro, N.C. by way of Philadelphia, in a 10-round bout. Anthony will meet Jermaine White (12-0, 7 KOs), of Gary, Ind., in an eight rounder. The card will originate from the 4 Bears Casino & Lodge in New Town, North Dakota, and will be promoted by Brian Young's Prizefight Boxing.  
Two of 12 children, Lamont and Anthony are well-acquainted with the trials and tribulations of inner-city strife.  
By the age of 10, the brothers were left to fend for themselves on the mean streets of D.C. With their biological father in prison and their mother battling personal demons, the Petersons spent days washing windows of cars at intersections and nights sleeping in bus stations or breaking into a basement to find shelter. For two years, they bounced between foster homes and lived in cars. Forced to survive on a day-to-day, meal-to-meal basis, their youth was effectively stolen.  
"We lived in a big house we owned," Lamont said. "There were seven of us kids living with my mother and father. Then my father started getting into drugs. He got caught and went to jail. He wound up coming home to take the rent money. First the lights went out, then the water. So, we ended up living in a house without lights or water.  
"Eventually we got kicked out.  The seven of us had to sleep in the station wagon for two or three days before we could get into a shelter home. After we lived there for two years, we ended up back on the streets. Some nights we walked the streets, some nights we stayed in greyhound stations. We did whatever we could to survive.''  
Fortunately, the brothers now have a roof over their heads – they share an apartment - and their father is back in their life.   
Much of the credit for the Petersons making it through the most turbulent of times and getting to this point in their lives and careers goes to Barry Hunter, a trainer and confidant who met Lamont when he was 10 and Anthony was eight.  
Hunter treated the Petersons as his own sons. Both blossomed under Hunter's watchful eye and today are well-spoken, humble, and joyous young men who also happen to be terrific fighters.  
"One look at the Peterson brothers brings a single word to mind: class," ShoBox analyst Steve Farhood said. "Their boxing skills are superb, and they are technically sound. Lamont is so dominant as a boxer that he can dig his toes into the canvas to improve his power without leaving himself vulnerable. All that is missing is fight-ending power.  
"Being brothers might work against these guys because the public initially will have trouble separating them. Their styles are similar, they have been fighting on the same cards, and, at most, they are one weight class apart.  
"That aside, they belong on 'ShoBox' because any talk of sizzling prospects has to include the Peterson brothers.''  
Lamont has been fighting for nearly half of his life.  
"I used to fight in the streets a lot." Lamont said. "My brother-in-law took me to the gym when I was 10 or 11 years old after my brother and I got out of foster care. I wanted to start boxing when I was eight, but we went into foster care for two years. They did not let us box there."  
Both Lamont and Anthony, who are co-managed by Shelly Finkel and Brian Young, made it to the finals at the 2004 United States Olympic Trials before losing to the eventual U.S. representatives at 132 and 141 pounds. In a classy move, Lamont had elected to vacate his spot at 132 and move up to 141, freeing up a slot for his younger brother on the Olympic team.  
Lamont, the nation's top amateur boxer heading into the Trials, lost a disputed decision to Rock Allen. A five-time national Golden Gloves champion who compiled a 168-20 amateur record, Peterson was forced to be an alternate.  
While the Petersons excelled in the amateurs, their styles seem more suited for the pro ranks. Behind a stiff jab and solid body work, both dole out punishment in a methodical, workman-like fashion.  
"When Lamont and Anthony first came into the gym, I never trained them like a regular junior or amateur," Hunter said. "They used to get into trouble when they were younger fighting in the juniors because they fought so much like pros."  
While a championship remains the ultimate goal, a higher ideal appears to resonate in each step the Petersons take.  
"We are not in this for the money'' Anthony insisted, "or even the history books. We are doing it for the kids from where we come from. Because we come from nothing, we can show the kids there is a way out. You can do it if we can do it.''  
The drive to succeed on multiple levels fuels both fighters.  It is this willingness to give back which may serve as inspiration when the Petersons face adversity on the championship level.  
"My brother and I always knew that we should never give up," Lamont said. "No matter how hard it is -- we went through harder things. So we will never give up''  
The Petersons turned pro on Sept. 25, 2004, in Memphis. Lamont scored a first-round TKO over Nicholas Dean and Anthony stopped Toris Smith in the second. In his last outing, Lamont captured the World Boxing Council United States (WBC/US) 140-pound belt with a 10-round decision over Jose Morena on Feb. 17, 2006, in Memphis. In his most recent start, Anthony registered a third-round TKO over Steven Verdin on Match 11, 2006, in Tunica, Miss.  
Strode, who resides in Greensboro, N.C., will make his first start outside of the Carolinas. A winner of 10 consecutive bouts, the 23-year-old spent some of his career campaigning as a welterweight.  However, Strode weighed 137 pounds for his last start when he scored an eight-round decision over Ruben Galvan on Jan. 19, 2006, in Charlotte, N.C.  
White, who will make his 2006 debut after fighting six times in '04 and '05, does not think the long layoff will affect him.  
"I have been doing a lot of sparring against guys preparing for fights, so they held nothing back," White said. "I am ready to go. I will not back down from anybody in the junior welterweight division.''  
A speedy sort known for excellent boxing skills, White has won his last two inside of the distance, including a third-round TKO over Ike Ezeji on Nov. 3, 2005, in Hammond, Ind.  
"I am an all-around fighter," White said. "I do what I have to do to win. Because of my speed, I get on my toes and box. I have been fighting since I was 12 years old. Fighting on "ShoBox''
is a great opportunity. I am in top shape.  Fight fans will see all of my talent.''  
The telecast represents the 75th in the "ShoBox" series, which debuted on SHOWTIME in July 2001. "ShoBox" features up-and-coming prospects determined to make a mark and eventually fight for a chance at a world title. A number of fighters who have appeared on the series have gone on to become world champions, including Jeff Lacy, Ricky Hatton, Juan Diaz, Leonard Dorin, Joan Guzman and Scott Harrison.  
Nick Charles will call the action from ringside, with Steve Farhood serving as expert analyst.  The executive producer of the telecast is Gordon Hall, with Richard Gaughan producing.  
For information on "ShoBox: The New Generation" and SHOWTIME CHAMPIONSHIP BOXING telecasts, including complete fighter bios, records, related stories and more, please go the SHOWTIME website at
http://www.sho.com/boxing