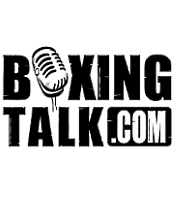 PRESS RELEASE:
One of the hottest heavyweights in the world, unbeaten contender Samuel Peter (24-0, 21 KOs), is Thursday night's special guest on the two-hour New England Ringside Boxing Radio Show, airing 6-8 PM/ET on Boston's Boxing Station, The Zone (1510 AM). The show is part of the New England Ringside Radio Network, which broadcasts boxing radio shows six nights a week throughout New England. 
Thursday night's regular radio show hosts are Ted Bodenrader, George Kimball, Rick Brutti and Joe Bills. 
Peter will talk about his IBF & WBO title elimination bout Saturday evening on HBO against Wladimir Klitschko (44-3, 40 KOs) in Atlantic City, as well as his projected role in the heavyweight division. 
Scott "The Sandman" Pemberton (29-3-1, 14 KOs) also will be a guest. He'll discuss his IBF title fight against Jeff Lacy (20-0, 16 KOs), November 5 on Showtime, in addition to his two ESPN Fights of the Year against Omar Sheika and his frustrations leading up to this world title fight.
Another topic will be a review of last Saturday night's "Mayhem in Mansfield," headlined by Irish middleweight sensation John Duddy's (12-0, 11 KOs) 61-second knockout of Joe "The Assassin" Brady (13-5-1, 6 KOs). 
NER Radio Network 
1510AM The Zone in Boston
Thursday 6-8 PM
Saturday       7-9 PM
Call in number: 866.337.9663 
1320 The Drive in Providence
WXTC 990 AM in Hartford*
Monday 6-7 PM
Tuesday 6-7 PM
Wednesday 6-7 PM
Thursday 6-8 PM
Friday  6-7 PM
Call in number: 866.854.9275