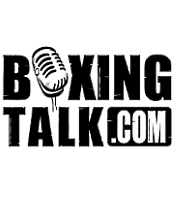 "Watch me knock Nate out again!"
While Robbie Peden is fine tuning his regimen in preparation for his rematch with Nate Campbell on February 23rd, Boxingtalk spoke to Peden (Boxingtalk's #14 junior lightweight) from his camp in Melbourne, Australia to get his thoughts on how this fight will compare to their last match up when, Campbell inexplicably dropped his hands and allowed Peden a free shot. Campell learned ten seconds later never open up to a fighter with "The Bomber" as his nickname. Peden explains to Boxingtalk why the outcome will be the same in the rematch as it was last March, and why Campbell (Boxingtalk #20) has another thing coming if he thinks he is going to travel to Peden's soil to capture the vacant IBF junior lightweight title.
Boxingtalk: Robbie, is it good to be home in Australia?
Robbie Peden: Yeah, mate it is good to be home. I haven't had a chance to see many friends and family yet. I've mostly put my head down and trained hard for this fight with Nate Campbell.
BT: How will this fight with Nate compare to the last one you had with him?
RP: I know the outcome won't be any different. I think if Nate listens to his people then he will have a false sense of security. If he thinks he's going to come over hear to bowl me over, then he's got another think coming.
BT: What have you been working most on to prepare for this rematch?
RP: The main thing is to be in tremendous shape. I've been training really hard for this fight. I've been training since I went to New York with Jameel McCline when he was preparing for his fight with Chris Byrd last November. Now I'm just waiting for the fight to happen. I'm haven't opened my mouth, I've let my promoter to his job, and I'll do mine on the 23rd.
BT: In your first fight with Nate, you knocked him out when he had his hands down, and you know he's not going to do that again. How will you be able knock him out if he put pull that stunt again?
RP: We both don't know that yet. Nate puts his hands down on the time, and he has done it in previous fights. He makes little mistakes all the time. I'm a professional and I'm going to capitalize on any mistake he gives me.
BT: Do you think he will put his hands down again the way he did in your first fight?
RP: We'll see. I think he knows he's changed for the good, and I think he's fooled the public for long enough, and I think they know that he can be knocked out just like anybody. Watch me knock Nate out again.
BT: How much of an advantage is it for you to be fighting in your home country?
RP: It doesn't matter where we fight. We could fight out on the street. We could talk as much as we want to talk, but what it comes down to is that it's me against him and that's all that matters.
BT: With they way you are preparing for this fight, do you feel the fight will get into the judges' hands?
RP: I honestly don't think it will. I think it could even end quicker than it did last time. I know he's going to come out angry from the last fight, he'll come straight out at me, and I have something waiting for him.
BT: How bad were you hurt in your first fight with those body shots Nate was landing?
RP: One body shot really hurt, but you have to realize is that it takes more than one body shot in order to beat me.
BT: Have you been working on defense so that he doesn't get those shots in this time around?
RP: Well, I feel I took Nate a little light last time and I thought he was an eight round fighter. He showed in the Casamayor fight and in my fight that he threw as hard as he could and couldn't make anything happen.
BT: What will you be working on between now and February 23rd?
RP: I'm ready to go right now. The fight now is just a formality. I just have to show up now and do my job. I've done all the hard work. I've been working for two and a half months straight now, and now I'm just focused on beating him up and shutting his mouth up once and for all.
BT: What do you want to do after this rematch with Nate?
RP: I'm not looking past the 23rd and I'm not looking past Nate Campbell. He's a very good fighter, he's very strong, but he is up against a superior fighter. I showed him last time that I was the better fighter, and I'll show him again. If he wants to make another mistake, I'll make sure he pays for it.
BT: There are a lot of great boxers from Australia that have made the news this past year: Anthony Mundine, Danny Green, Lovemore Ndou, Jeff Fenech, and Kostya Tszyu. How do you feel you compare to your mates?
RP: I just want to be part of the Australian world champions. I know I'm destined to be there. I've worked for the last eight years, and I've sacrificed a lot. So if anyone thinks they can come here to Australia and beat me for the world championship, they have another think coming. That's how hungry I am. This is my life.
BT: I know Nate Campbell is an avid reader of BoxingTalk, do you have a message for him?
RP: Just beware. Don't think you're going to come over here and have your way with me. It's not going to happen.
BoxingTalk thanks Mr. Pedan for taking the time to speak with us. We wish him continued success both in and out of the ring.