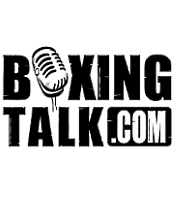 CES Press Release-Promoter Jimmy Burchfield of Classic Entertainment & Sports, Inc. announced that Vinny Paz, Marlon Starling and Micky Ward will be the first inductees into the CES Ring of Honor. Official ceremonies will be held during the April 1 "Homecoming" Pro-Am boxing show at the New Haven Athletic Center. The main event that night will feature "Bad" Chad Dawson (16-0, 11 KOs, 1 NC), rated No. 14 by Boxingtalk, against Efrain Garcia (17-4-1, 11 KOs), of Texas, in a 10-rounder. "Homecoming" marks Dawson's first fight in New Haven, as well as the first pro boxing show there in nearly four years.
"Not only are we putting on a first-class boxing show," Burchfield said, "we're also going to honor three of New England's greatest and most popular boxers of all-time. Vinny Paz is one of my dearest friends. He'll always be a champion to me. What experiences we had together promoting his fights all over the world. Next to Willie Pep, Marlon Starling may be the best fighter to come out of Connecticut. Marlon's as good a man outside of the ring as he was a fighter inside the ropes. Micky Ward's always been one of my favorites. Nobody had a bigger heart and fans always got more than their money's worth at his fights. 'Homecoming' is much more than just a boxing show; it's a major league event, the party of the year in New Haven."
Paz (50-10, 30 KOs) retired last year after winning his 50th pro fight. His 21-year career was highlighted by five world titles, including the WBA light middleweight
and IBF lightweight crowns, as well as his courageous return from a broken neck  suffered in a car injury. Paz defeated legendary Roberto Duran twice and he won two of three against Greg Haugen in their celebrated trilogy. Vinny also defeated the likes of Harry Arroyo, Gilbert Dele, Lloyd Honeyghan, and Dana Rosenblatt.

Starling, the pride of Hartford (CT), fought from 1979 to 1990, and he registered a 45-6-1 (27 KOs) record. Marlon captured the WBA & WBC welterweight titles and beat Floyd Mayweather, Sr. twice, Mark Breland, Simon Brown, and Honeyghan,

Ward (38-13) capped his 18-year career (1985-2003) with his memorable trilogy against Arturo Gatti. Micky was involved in an unprecedented three "Fights of the Year,' awarded by The Ring magazine – 2001 (W10 against Emanuel Burton), 2002 (W10 against Gatti) and 2003 (L10 to Gatti).  

"Homecoming" will be taped live and air on "Guilty Fight Night" (check television listings) and CN8, The Comcast Network.  Also scheduled to fight on the card is Providence's unbeaten super middleweight Joey "KO Kid" Spina (14-0, 11 KOs), now fighting out of Las Vegas, in the eight-round co-feature, as well as former four-time U.S. National amateur champion, undefeated cruiserweight Matt Godfrey (6-0, 4 KOs), in his first six-round match.



Also slated to fight in separate four-round bouts are 2004 U.S. Olympian, heavyweight Jason "Big Six" Estrada (1-0), of Providence, against Jerry Lee Simpson (2-1), of Tallahassee (FL); two-time Everlast Under-19 champion Matt "Sharp Shooter" Remillard, of Manchster (CT), in his pro debut versus Arlington Pandy (0-1), of Brooklyn (NY); Irish super middleweight Joe "Sugar" Rea (2-0, 1 KO, 1 NC), now fighting out of South Boston, making his CES debut. All matches and fighters are subject to change.

Four amateur matches, featuring New Haven's Ring One 65-pound National Silver Mittens champion Tramaine Williams, the 12-year-old affectionately known as the "Mighty Midget," New Haven's 10-year-old Georgie Nacierio, USA rated No. 4; Manchester's Melissa Roberts, 2005 New England Golden Gloves champion; New London's Ricky Ledesma.



Tickets my be purchased at the following outlets or by calling CES' corporate headquarters (401.724.2253/2254): Greater New Haven Convention & Visitors Office (203.777.8550), CES' Connecticut office (860.432.4253), Humphrey's East (203.782.1506), Fireside Restaurant & Bar (2-3.466.1919), Ring One Boxing Gym (203.787.1200), Manchester PAL (860.645.6261), Taino Boxing (860.645.6261), Jimmy's Urban Clothing (203.333.3939 & 374.7172 in Bridgeport, 203.934.2900 in West Haven, 203.907.0384 in Hamden, 203.855.1799 in Norwalk, 203.323.9200 in Stamford); Sports Stuff (203.787.2293 in New Haven, 203.630.0889 in Meriden, 203.757.9126 in Waterbury.

For additional information visit CES' web site at www.cesboxing.com. Doors open at 6 pm, first bout at 7 pm. Call TransMedia Entertainment Group at 610.627.0606 or 203.288.7111 for television advertising or broadcasting opportunities.