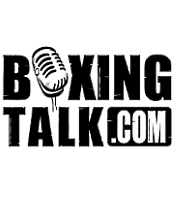 British middleweight prospect Paul Smith gets a litmus test tomorrow night against resurgent journeyman Jason Collins in a scheduled six round matchup taking place at Manchester's MEN Arena as part of Sports Network's massive early autumn bill supporting the Ricky Hatton - Mike Stewart IBF Title Eliminator. Joining Smith are Michael Gomez, Matthew Hatton, Steven Bell, Steve Foster Jr., Michael Jennings, Andy Morris among others as Sky TV broadcasts the primary matches as the happen on SS1, airing at 10PM BST. Boxingtalk.com had the occasion to interview both Paul and Phoenix Camp trainer and conditioning coach Bobby Rimmer about many things surrounding the Liverpool middleweight's career and his advancing campaign on the English title. Don't miss this fascinating inside examination of the fan favorite twenty year old who is dead set on dominating his weight division in Britain during the years to come.
Paul Smith, 10-0 (4), is set to participate in his first six round bout and he couldn't be happier. The hero of the 2002 Commonwealth Games knows full well the dangers of the deceptively innocuous four round fight and has also been burning to leave behind the novice status associated with the entry level contest length. "I can't wait to have my first six rounder," said the Liverpool native, "my last two were supposed to go six but they were cut back to four at the last minute. It's important for me to get past being in four rounders because any mug can win one of those. All they have to do is win two good rounds and you've got a draw on your hands. If the opponent is fit and can keep up a good pace with you, they can steal a couple of rounds and all of a sudden you've lost a fight. Six rounders aren't much better but it is two extra rounds and that means you have to win four to win the fight. Six rounders are a bit harder
for a journeyman to steal."
As far as journeymen go in Britain, Smith's opponent Jason Collins is potentially dangerous. While he has thirty losses against fourteen wins and six draws, many of those losses have been to quality opponents and recently Collins has improved his resume by posting wins over a promising prospect. Smith is familiar with Collins and understands that if he loses, it'll be more than just the fight at stake, he'll be separated from his "promising prospect" status as well. "Collins has already beaten one of the fighters in our gym, Patrick Maxwell, and two weeks ago he beat Matt Thirlwall, a good prospect," said Smith. "Those are very good wins so he's a bit of a spoiler. Collins has been knocked out a few times but the fighters who have done it, people like Jeff Lacy, Gary Lockett and Takaloo are all big punchers. My trainer Billy Graham seems confident that I'll knock Jason Collins out as well but I'm not trying to put myself in the same league as fighters like that. I wouldn't be that disrespectful as of yet but I am a puncher and I'd like to see if I can carry my power up to that level, the way those fighters did, and hopefully if I catch him he'll go."
Bobby Rimmer, who along with trainer Billy Graham and strength coach/nutritionist Kerry Kayes form the nucleus of Manchester's premier training team, Phoenix Camp, knows firsthand the kind of power Smith can apply to his punches.  "Paul has been looking great leading up to this fight," said Rimmer. "I did eight rounds with Paul the other day on the body belt and he's punching really, really hard. He's realized now that he's got a lot of power and he can land those shots. He's been breaking my hands on the pads. I've had to really make sure that he's hitting the pads properly because when he's punching that hard and doesn't hit the pads perfectly, he's doing damage to my hands. Paul's fitness has really come up by leaps and bounds as he's maturing."
"Paul's really got a professional attitude now towards boxing. Before, he was doing everything that was asked of him but he still had a little bit of an amateur mentality as to how he approached things. Now, he's really, really knuckled down and realizing that his potential is unlimited. Billy Graham is always saying that Paul has so much talent but I think the lad was fed up with boxing for awhile. He had been promised six round fights but they kept getting cut back to four and that wasn't helping things at all. I think that after this fight he's going to be let off the leash, so to speak, and really go for it. He's becoming a man in the ring now and we're really looking for big things from him."
Paul Smith is fighting at 160lbs for this bout but in the near future plans on campaigning a division lower as he feels he'd be more effective at light middle until his body matures into that of a full middleweight. It's not all just hard work for the twenty one year old, however, as he expresses his creative side in a venue other than then squared circle while still pursuing his fistic goals. "I used to DJ at a very big and popular club in Liverpool," recalled the Commonwealth Games Silver Medallist, "but it was keeping me up too late and at odds with my training schedule. The place I spin at now is a bar and it's better for me as the people there understand that boxing has to come first, so whatever my schedule allows me to do, that's okay. I always do the early shift which just warms the crowd up and then I go home."
"Being a DJ is great fun but I've got to keep focused on my boxing. My goals right now are going after the English title at light middle, or maybe even the Central Area title, whichever one is available. By December I should be out again and down to about 157lbs and then by February when I hope to compete for a title, I should be at 154. I'll eventually go back up to middleweight and I'll be a big middleweight as I keep working with Kerry Kayes and his weight program. Long term, I hope that Ricky Hatton (a stablemate of Smith's) gets to go over to America and fight so the rest of us Phoenix Camp fighters can come over ourselves on the bill!"
Boxingtalk.com would like to thank Paul Smith, Bobby Rimmer, Billy Graham and Richard Maynard for making this article possible.
Send questions and comments to: thomaspointrd@aol.com