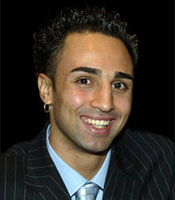 Paul Malignaggi (21-1) suffered a fractured right cheekbone during last Saturday's title fight against WBO light welterweight champion Miguel Cotto (27-0, 22 KOs) at Madison Square Garden. Cotto won a 12-round decision.
Dr. Steven W. Margles, from the Lahey Clinic in Burlington, Massachusetts, who in the past performed two successful surgeries on Paulie's hand, is Paulie's personal physician. Dr. Margles explained," Paulie is being treated to reduce swelling and the evaluation of bones is ongoing to determine whether or not surgery will be necessary to achieve the best healing. We need to determine whether the breaks are in good position or not. The most important bones aren't seen very well on the CAT Scan we have now.
"With or without surgery, he will not be able to begin sparring for at least three months, but he could start training sooner. We expect him to be good to fight within six months with no long-term residual problems of any kind. The cut under his left eyebrow was sutured and it will be no problem in the future. When his recovery is complete, he'll be as beautiful as ever."
Lou DiBella, David Itskowitch, Josh Dubin, Ron Scott Stevens, Dr. Linda Dahl and Sal LoNano, all went to the hospital with Paulie after the fight as well as Paulie's friends, girlfriend and family members. "Paulie was concerned because he felt he let everybody down," LoNano said. "How many guys would have fought with injuries like that? A lot would have quit and nobody would have blamed them. Paulie's tough! He'll be back, stronger than ever, and Paulie Maligaggi will be a world champion. Everybody saw what he's made of. He had trouble seeing because blood was going in his eye and a problem breathing because blood was in his nose and mouth. Cotto's a great champion, fast and tough. He knocked out just about every fighter he's been in against. But Paulie went the distance, despite the injuries, and only one other guy (Lovemore N'dou) has gone 12 rounds with Cotto.  
LoNano and Paulie's promoter, Lou DiBella, will discuss Malignaggi's future plans when they meet after DiBella returns to New York City from this weekend's Jermain Taylor-Winky Wright championship fight in Memphis.
Fans may email their best wishes to Paulie at
fullcourtpress_143@hotmail.com
or send mail to him in care of Full Court Press, 14 Mill Street, North Reading, MA 01864.