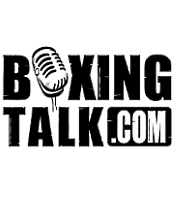 Not surprising to Boxingtalk Readers!
Press release:
Undefeated Owen "What the Heck" Beck will face the toughest challenge of his career when he squares off against Monte "Two Gunz" Barrett in a 12-round IBF/WBC heavyweight championship elimination bout presented by Don King Productions as part of the Spinks vs. Judah II: Arch Rivals…Meet Me in St. Louis card at Savvis Center on Feb. 5.  Beck vs. Barrett will also be featured on the SHOWTIME telecast of the event at 9 p.m. ET/PT (delayed on the West Coast).
Beck (24-0, 18 KOs), from Jamaica now living in Nashville, is the No. 4-ranked contender by the World Boxing Association and the World Boxing Council while Barrett (30-3, 16 KOs), from Queens, N.Y., is ranked No. 3 by the WBC, No. 4 by the World Boxing Organization, and No. 7 by the International Boxing Federation.  This match has been sanctioned as an elimination bout by both the IBF and WBC, with the winner moving closer to a coveted world title match.
While Beck boasts the unblemished professional record, Barrett has faced stiffer competition.  Barrett's three loses came against world-class opponents Wladimir Klitschko, Lance "Mount" Whitaker and "Baby" Joe Mesi.  Beck, however, remains undaunted.
"My strategy is that I'm not concerned about the scorecards," Beck said. "I plan to work Barrett with my speed and knock him out.  I'm turning over my over my punches very well right now."
Barrett scoffs at Beck's optimism.
"Owen better stop believing all that undefeated hype," Barrett said.  "He has no chance against me.  His nickname is 'What the Heck,' but I'm going to change that to 'Hit the Deck.'"
Tickets priced at $25, $50, $100, $250 and $500 are on sale now at the Savvis Center Box Office, all Ticketmaster Ticket Centers including Famous-Barr, Schnucks Video Clubs, Streetside Records, the BlueNote Sports Shops and the IceZone at St. Louis Mills or by speaking to a sales representative by phone at (314) 421-4400 or (618) 222-2900.  Tickets can also be purchased on the automated phone line at (314) 241-1888 or online at
www.ticketmaster.com
.