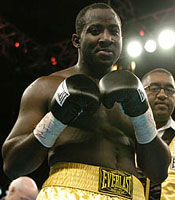 A Boxingtalk interview
BT: What is new with you since the last time we talked Owen? 
OB: I just have been hanging out man. I am just waiting to get my shot at one of the titles. I do not have much to say.  I just want to say that I am blessed and I am ready to go again.
BT: Do you know who you are fighting next?
OB: I am supposed to be fighting Sergei Lyakhovich on January 7th (at New York's Madison Square Garden). There have been rumors about us fighting and there have been rumors that he might be fighting someone else.
BT: Do you think this fight can propel your career?
OB: Well I just want to get back in there and fight and we will see where it plays out after we fight.
BT: If you were to give yourself a grade for 2005 [losses to Monte Barrett and Ray Austin], what would it be?
OB: Well I think that I would have to go back to the drawing board and see where I am at. I had to get myself right spiritually. That is what I been really concentrating on since the Ray Austin fight. I am going to come back more focused than ever before.
BT: How is training been for yourself?
OB: I am going into my second week of training right now. I have always been staying in shape and right now I am just getting myself ready if the fight comes up with Sergei Lyakhovich.
BT: Do you expect bigger and better things for you in 2006?
OB: You are going to see the blessing that God is going to bestow upon me in 2006. I am ready to go at Madison Square Garden and you will see what my God is capable of. You are going to see what he is doing in my life.
BT: After the fight on January 7th are you looking at fighting for a world title?
OB: Yeah I hope so. After the fight we have to sit down and talk things over with [promoter] Don [King] and see what the plan is from there.
BT: When was the last time you and Don spoke?
OB: I talked to Don about a week ago briefly. When I get to see him, which it will be shortly, I will see what he has for me.
BT: Is there anything that you want to say in closing Owen?
OB: Yeah I always want to thank the fans for the continued support and very soon you will see me back up top in the heavyweight division!
Send questions and comments to: aldenjimmy@cox.net