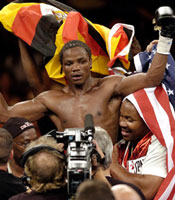 After reading what current IBF Jr. Middleweight champion Roman Karmazin 34-1-1(21) said when commented on a potential rematch with former IBF champion Kassim Ouma 22-2-1(14) stating "If we fought ten times he'd lose just as badly ten times" and added fuel to the fire by saying "A lot of people thought that Ouma was the cream of the crop and I beat him like a bad sparring partner." Ouma's Manager, Tom Moran spoke with Boxingtalk.com to respond to what Karmazin had to say. "If Roman Karmazin wants to fight Kassim and he is so confident that he can beat him 10 out of 10 times, then let's do it." Moran even goes as far as breaking it down for Karmazin explaining that he can Fulfill his mandatory obligation against Ouma (ranked #3) being that he is currently the next available leading contender in the IBF. Which will not only give him a chance to prove his July victory over Ouma wasn't a fluke, but also prevent him from what he says can be a "financial catastrophe" if he had to face the winner of Raul Frank-Rodney Jones IBF eliminator match up. Adding "Roman Karmazin can make twice as much fighting Kassim Ouma, far more than he will if he fights the Frank-Jones winner."
RC: Tom what are your thoughts on what Roman Karmazin had to say about Kassim in his recent interview conducted here on Boxingtalk?

TM: Well I have all of the respect in the world for Roman Karmazin because he is a world champion and obviously because he beat Kassim Ouma, but really he beat the ghost of Kassim Ouma. He didn't beat the real Kassim Ouma. We know that, and there is no doubt in my mind that Roman Karmazin and Kassim would be a terrific fight, and Kassim would knock roman out.
RC: Karmazin makes its clear that he would fight him again, and we know Ouma will fight him again, but what is the likely hood with Karmazin not being a sort of recognized name that a big network actually show interest and make the…
TM: (Cutting in) I think the real big problem with Roman Karmazin, with all respect to Karmazin, but he is not a marquee fighter. He doesn't bring a lot of marketing potential to the table. He is not a high profile guy and he obviously needs to raise his marquee. I am concerned that he hasn't fought anyone since he won the title. If he was going to do that and just sit around, he should have just fought us because we would have taken him right away on the first one back.
Kassim made it clear from the very begging that he wanted Karmazin again and it is clear to anyone that knows Kassim and seen Kassim fight, that the Kassim that fought Roman Karmazin is the worse that Kassim could possibly fight, and the guy that fought Freddie Cuevas is Kassim getting back to Kassim. There are a lot of things and no excuses, he lost to roman Karmazin, all respect to Karmazin, but the fact is I would love to see him fight Kassim at his best. I think it would be a terrific fight and I am confident that Kassim comes out ahead. I think the real concern with our promoter is that Is Roman Karmazin is just not a high profile guy.
The other thing I can tell you is the one concern I would have is we would absolutely not give don King any options on Kassim Ouma. With all respect to the IBF belt, and Kassim wants his belt back, but we are not about to make it like we need it desperately, because Kassim is going to go on, and he is going to show what he is made off. He learned from his mistakes, and I think it is situation where whatever opportunity comes up for Kassim, that is where he has to prove himself. But the day will come when that fight is makeable.  If Roman Karmazin wants to fight Kassim and he is so confident that he can beat him 10 out of 10 times, then let's do it. Tell his promoter, he gets no options it is just Ouma and Karmazin. We will fight roman Karmazin again after we….
RC: (Cutting in) According to Karmazin he has tried to contact Golden Boys Promotions and they won't return his calls about a potential rematch, I mean I know you work for Kassim and not Golden Boy, but can you tell us what that is about?

TM: The one thing with Golden Boy, is we have all of the confidence in the world with them as our promoter, and obviously the first fight we had with them Kassim came stumbling out of the blocks and Golden Boy may not feel exactly the same about Roman Karmazin as we do, but I think Golden Boy realizes that the Karmazin fight is the fight that gets Kassim back to where he was and I think they know that that's a fight that we want. The obvious problem is, is that it is not a fight that the T.V. people are clamoring for.  We would love to see it; if HBO wants that fight then we can do it right away.
RC: Well many will say being that Karmazin isn't a marquee name and…

TM: (Cutting in) You know Boxing is a business and Roman Karmazin has to realize, that as a business he needs t be able to bring something to the table to make fights happen. Kassim would love to fight Roman Karmazin, he would tell you that if he was to fight Roman Karmazin he would take the short money on Roman Karmazin because he is that confident that he didn't show up, and that on his worse day, the worse he as ever been Roman Karmazin couldn't stop him.
Kassim will tell you that because he thinks that fighter that showed up should have been stopped. Kassim feels completely confident and he will be completely on his best. No excuses Kassim loss the fight, BUT….. Kassim Ouma will beat Roman Karmazin. We want that fight, we absolutely want that fight. The economics of that fight, has to be is if Roman is realistic and realizes there is aren't any significant dollars on the table and let me tell you, we will look to take that fight even if there isn't a lot of money in that fight.  The whole thing is Roman Karmazin can't think that he is worth a fortune when the television people aren't even clamoring for him. Why hasn't Roman fought? I mean he should be talking to his promoter about it, but we absolutely want the fight.
RC: By you guys willing to take short money on the fight, it is clear your side is confident things will go differently the second time around. So tell the people what you feel would be different in a rematch between Ouma and Karmazin?

TM: Well I tell you exactly what would be different in a rematch, Kassim Ouma would show up. Kassim Ouma didn't show up the first time. Everybody that watched that fight ands saw what happened knew that Kassim wasn't mentally on his game. There were a millions things that I know about and what happened and how everything took place. I will tell you this, Roman Karmazin present the ultimate challenge in Kassim's career. If he can't beat Karmazin, then his career may stall out.
Really what happened is, now…Roman is a world class fighter, he is a great fighter. He is a world champion, but he didn't fight the best Kassim Ouma, and I am confident that the best Kassim Ouma, the guy that fought (J.C.) Candelo, the guy that fight (Kofi) Jantuah shows up, then it is an entirely different fight. And if he thinks he's got Kassim's number then he should be fully confident that no matter what and no matter what the money is, he should take the fight, take the payday, take the visibility, and prove himself, we are wiling to do it. Even though there is not a lot of money is a rematch right now.
Look at it this way, Roman Karmazin is sitting on like a financial catastrophe, because if Roman Karmazin sits around and wait for his mandatory fight, his mandatory fight is going to be the winner of Rodney Jones and Raul Frank. Is anybody clamoring for that fight? Right now Kassim Ouma is the number one available contender in the IBF. Roman Karmazin can make a world title fight and fulfill his mandatory requirement with Kassim Ouma.
RC: Now with Kassim being ranked #3 in the IBF, many might not understand why he can be fulfilled as the mandatory being that he is not in the number one position and that #1, & #2 are currently vacant, explain it to them…
TM: Basically we know that the champion has to fight the number one available within nine months that is his mandatory he has to do that. Roman Karmazin's mandatory is due by March. Raul Frank and Rodney Jones are fighting in Late February, and if he doesn't fight his number one contender by that point, the winner of that fight will be the number one contender. So being that the number one and number two spots are vacant right now he can fight Kassim, and he will fulfill his mandatory obligation. And I can tell you this; there won't be a lot of competition on a purse bid on that one (Winner of Jones-Frank versus Karmazin). The economics of boxing right now are if he was fighting the mandatory of Jones or Raul Frank, it is not a big money fight. It is an ESPN fight, so at best Karmazin will get $75,000.
RC: If Kassim is Successful on January 27th, what do you think
…
TM: (Cutting in) Roman Karmazin can make twice as much fighting Kassim Ouma, far more than he will if he fights the Frank-Jones winner.
RC: What type of television do you think will pick up the Karmazin-Ouma rematch, if Ouma is successful and looks good against Mora on January 27th?
TM: The one thing is, Kassim said he will do, and he has done it before, he has put economics aside and taken fights to get him back in the mix. He wont sit around and wait for a big payday, Kassim would love to get Jermain Taylor, he would love to get Winky Wright, he wants to prove himself, he wants people to realize that it was a fluke and that what happened with Roman Karmazin was the not the real Kassim Ouma, he is willing to do that. He is fighting on ESPN, it is going to be a terrific fight, a terrific fight for ESPN because he is fighting a tough guy, a guy that is going to come right at him and look to war, and I think Kassim Ouma  is going to be completely on his game. So what happens is after that is, we are with a big promoter, I believe we are with the best promoter in boxing and they are going to create an opportunity for us. That is what this is all about, if Roman Karmazin wants to be that opportunity, if he wants to get in that mix then he should definitely make it clear to Golden Boy because we are ready, willing and completely confident in that fight. The thing is, we will absolutely not give Don King any options. We don't need to share anything with Don King.
Kassim will fight anybody at Jr. Middleweight or Middleweight, and we are hoping that HBO and Golden Boy will find somebody that they would like and we will fight whoever. The day will come when he will get back with Karmazin and they will have a fight, as long as Roman is doing something, I mean hopefully Roman keeps doing something. If Roman would have done something and had a fight and raised his profile a little bit, it would have helped all of us, and that is really what it is. The reason that fight might not get made right now is the economics of boxing. What Roman wants and what Roman things he deserves and what the boxing world is willing to pay him may not be the same. If Roman is willing to be realistic and look at the economics and realize that he is not a high profile guy, Kassim will fight him right away. Again we are not clamoring for big bucks to fight roman Karmazin, we want that win back. We want to be back where we were before the Roman Karmazin fight, and the only way we will get back there is to beat him, and beat him impressively.
RC: So if he is successful, realistically speaking what are the chances of the fight landing a big network fight right away?
TM: I can't speak for the networks; I mean we would love to see that fight get made right away if Kassim looks good on ESPN. But look at it like this, who is raising the profile? Kassim is. So Roman is still going to have to face the fact that he doesn't bring big dollars to the table. That's the economics of it and that is just being real. He needs Kassim Ouma, and we are happy to give it to him. If he is so confident that he can beat Kassim if he once and for all were to beat Kassim everyone would think he is the real thing. Right now is Kassim is focusing on Francisco Mora as he should be, and he is doing what he has to be doing that is why he is not talking about Roman Karmazin.
We all know Kassim will fight anyone, we know it, Golden Boy knows it, and everyone else knows it. On the list of priorities, Karmazin is at the top of Kassim list. As much as he wants the big money fight with Jermain or Winky and realizes that would prove things, I can tell you this if he beats a Jermain Taylor or a Winky Wright in his next fight, he would want still want Roman Karmazin right after that. He wants to erase that memory of that fight. His body was in Las Vegas but his mind was somewhere else. But that Kassim won't be showing up again.
Send questions and comments to: ray@Boxingtalk.com