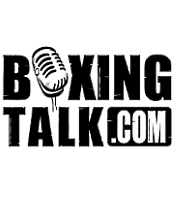 Former IBF Jr. Middleweight champ Kassim "The Dream" Ouma 22-2(14) recently checked in with Boxingtalk.com from his training camp in Texas. Where he is currently preparing for his January 27th, 2006 ESPN showdown, against WBO Latino Middleweight champ "El Chino" Francisco Antonio Mora 50-9(34) of Córdoba, Argentina. The always fun to talk to 27 year old Ugandan readily admitted, "I can't tell you much about him because I have never seen him fight" but confidently added "I am just going to go in there knock his head off". Read on as Kassim talks to us about former welterweight champion Vernon "The Viper" Forrest being afraid to fight him
RC: Kassim what's going on?
KO: I am good and I am feeling fresh. 
RC: You'll be fighting January 27th against Francisco Antonio Mora, what can you tell us?
KO: I m can tell you that I am ready to go. I am ready to go right now. I am going to start off the New Year with good fight, so I am grateful, I can't complain.
RC: What can you tell us about your opponent Francisco Mora?

KO: Well, I can't tell you much about him because I have never seen him fight I haven't seen the tape yet, but I heard he is a tough fighter and a tough cookie and when I look at his record, he has 50 wins with 9 losses so he seems pretty tough, and I am ready for the fight.
RC: The last time you had what you referred to as a tough cookie in front of you, it was Freddie Cuevas, who until you stopped him in four rounds, had never been stopped. Is that the same Kassim Ouma we can expect come January 27th?

KO: Expect to see Kassim Ouma knock somebody's head off.
RC: So in other words, Francisco Mora won't go the distance?

KO: I am going to knock off Francisco Mura, Moura, Mora whatever his name is, and I am just going to go in there knock his head off
RC: This guy has only been stopped once, and it looks like it was early on in his career, does that serve as extra added motivation for you to get him out of there?

KO: I am going to stop him, I am not going to tell you what round, but I am stopping him. It is not going all the way with me. Ray, trust me it won't go all the way
RC: On paper he looks to be the bigger guy, which means once again for the second straight time, you'll be stepping in with a bigger guy. In your last fight, you took on Cuevas who is also a middleweight, and I remember you saying you were willing to move up to Middleweight if need be, for a big money fight. With this being your second fight at Middleweight in as many fights. Can you tell us… are you testing out the big boys because you plan on campaigning at Middleweight sometime in the near future?
KO: Well it looks like maybe it can be that way. I signed with a big promoter (Golden Boy) so that I can get big fights, so I guess they are testing me with guys that fight at Middleweight, to probably see if I can go against a guy like Winky, or Jermain Taylor, I have the promoter than can make it happen, and if any of those guys want to make fast money then I am right here.
RC: Taylor and Wright both just finished fighting not too long ago, and if all goes well with you on January 27th, it is a possibility that your name will be in the Jermain Taylor–Winky Wright sweepstakes, as of now have you heard anything about your name possibly being mentioned to take on one of those guys before they take on each other?
KO: I want to fight anyone of those guys, of course right now that is the fight I am looking for after I fight Mora. The industry needs me, and if they are still looking for somebody for Jermain Taylor or Winky Wright to fight, I am right here. 
RC: From what I understand, you asked for a match with Vernon Forrest, how did that work out, is that true?
KO: Yeah, he is scared of me.
RC: What makes you feel that Vernon Forrest is afraid of you?
KO: I know he said something about I don't have enough of name to fight me, so he can't make million dollars. But I think he is scared, I don't know why he won't give me a fight.
When he fought Mayorga he was a nobody.
RC: But that was also for a unified title, do you think……
KO: (Cutting in) He thought it was going to be an easy fight but it wasn't easy.
RC: There are still fight a few big fights for you at 154lbs, you can possibly fight the winner of Shane Mosley versus Fernando Vargas or you can fight Ike Quartey

KO: I could fight the winner of Shane Mosley, or Fernando Vargas, Ike Quartey is there doing nothing, I will fight him but they don't want to make that fight. And you know Karmazin is still out there, and I still want a piece of him.
RC: Is there anything else you would like to add?
KO: Good luck Jermain Taylor, and good luck Winky Wright and those guys, all of them. Let them win, if they want to fight me they don't have to wait, I can fight them at Middleweight right now. They are trying to do me like they did to me at Jr. Middleweight, but I coming, I am not joking with those boy, I am going all of the way to the top.
RC: Kassim, can you thinking of all of these other fights mean that you might be over looking Francisco Mora?

KO: I am not looking past; I am looking forward to fighting him and showing the people the real Kassim Ouma. I don't want the people to think that I am not taking this fight serious, because I am. And if they don't believe me, tell them to watch and see me on January 27th
Send questions and comments to: ray@boxingtalk.com