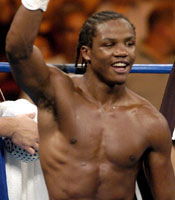 "I always go in there to knock peoples head off"
RC: Kassim what's going on?
KO: Everything is going good. I have been training in Houston and trust me I am making it happen, I am definitely doing it. You know how your boy do.
RC: This is a pretty big fight, as you will be featured right before a highly anticipated match up between De La Hoya and Mayorga in front of a large pay per view audience. With that said, what has your motivation been like going into this fight?
KO: I am very motivated, I am in training and focusing on this fight very hard, things have been really good.
RC: Tell us a little bit more about your preparation for this fight?

KO: It has been going great; I had Carlos Bojorquez over working with me. He likes working with me and I like working with him, so we have been working real hard.
RC: How excited are you to be fighting on a card of this magnitude?

KO: It's a major event and I have wanted to fight on a card like this for a long time. It is a good thing for me, this is a BIG event. You know how I do, just like the rest of my fights; I always go for stealing the show.
RC: So your plan is to go out there and…..
KO: (Cutting in) I don't want to go out there and start anything but I feel like I have to steal the show. Right now that is how I have been thinking and what I have been training for.
RC: So what are you…
KO: (Cutting in) What do you think I need to do to steal the show?
RC: If you are talking about stealing a show from De La Hoya and Mayorga, against a guy like Rubio it's not going to be an easy task but you are going to have to be pretty impressive with quick start and do your best to get him up out…
KO: (Very excited, cutting in again) Well then that's wassup, that is what I am going to go for. I am not going in there to sleep on him, and I don't want to put him down or anything like that, but I always go in there to knock peoples head off, so that is what I am going to go for. What do you think will happen if I knock his head off?
RC: (A little confused because although I knew he was joking, he asked the question with such seriousness) Umm, well I think that will do it…
KO: Yeah that's wassup, I am going to let the whole world see the real Kassim Ouma in this fight.
RC: In training in Houston with Ronnie Shields, you seem to have been getting really good work in preparation for your last couple of fights. How much of that do you credit to you looking spectacular in your couple of outings?
KO: I always try to look good in all of my fights, and I always train hard. I worked with Raul Marquez, he is a southpaw but he was good work for me.  I worked with a couple other guys, one of them is a Light Heavyweight, and before I left Evans Ashira, he is from Kenya but he lives in Denmark. I worked with a lot of strong guys. This should be a good action packed fight.
RC: What can you tell us about Marco Antonio Rubio, the guy you will be facing?
KO: I can tell the whole world that Marco Antonio Rubio is a tough cookie. He has more knockouts than the fights that I have won.
RC: Seeing as how you worked with a few bigger guys for this fight, has his punching power been a big concern for you going into this fight?
KO: It is concerning, even though he got knocked out by a guy (Kofi Jantuah) that I fought for twelve rounds, and beat, but that doesn't mean nothing because styles make fights. So I know, Rubio is going to bring his "A" game, he has been in camp looking and feeling good. He has been talking about how he is going to knock me out.
RC: Interesting… when one looks at your track record. It's clear you have done very well against guys that talked a lot of smack to you leading up to the fight. Going into the Rom….

KO: (Cutting in) I don't ever take it easy, I go in there to… In the Roman Karmazin fight, I cannot explain too much as to what really happen, as far as what went wrong and what went right, but it is okay. He won the fight, because you know how things go in boxing. They are only two people in there. There is no…. You see, say like in Basketball if someone is injured you sit him down and get somebody else in there. In boxing, there is only me and one other person in the ring, along with the referee. So there is really no excuses…
RC: Knowing that and by looking at his record 32-2-1(29), it doesn't take a brainiac to tell he is a big puncher, has that changed your strategy any going into this fight?
KO: I am sooo motivated… you know since I lost the fight to Roman Karmazin, I am so motivated because I promised myself that I wont loose any other fights. I lost to Agustin Silva, but that was no big deal to me, I wasn't even counting that fight as a loss. The first lost of my career was against Karmazin, so I am still motivated from that fight. My record is not going to be like a Floyd Mayweather but I am not loosing anymore. He is the only top undefeated fighter right now.
RC: If all goes well in this fight and the opportunity came up to fight Floyd Mayweather, is that a match that would interest you?

KO: I wouldn't say that, but I would LOVE IT. One day it is going to come, but first I have to beat my guy and then worry about other fights afterwards.
RC: What did you think about the fight between PFB, and your good friend Zab Judah?
KO: I think it was a good fight, but I Mean Floyd was the stronger guy out there. That is why Floyd says working hard pays… but my boy Zab looked like he wasn't working hard. But you see I am going to work hard if I ever get that kind of fight, because Mayweather is a good fighter. I wont talk much about him, he is a big name fighter and he is doing his thing.
RC: You name has never been mentioned in the possible future opponent in the Mayweather mix, which would you prefer a fight against Mayweather or a match up against the winner of Winky Wright and Jermain Taylor?
KO: well right now I am a big boy. Mayweather is still moving up, when he moves up to Jr. Middleweight then we can talk Mayweather. He is still a welterweight right now; he has guys that want him down there like Mosley and them. So I will let him take care of them and then when he is ready he can come up in weight then he can come and work with the big boys. Hopefully God can bless me, and I can become world champion again and he can have a reason to want to fight me.
RC: Who do you pick in the upcoming Taylor-Wright matchup?

KO: I pick Winky because I am going with my southpaw buddy.
RC:  I don't want to keep looking past Rubio, but how would you feel if you had to opportunity to fight your promoter Oscar De La Hoya…
KO: (Cutting in) I would love to... that is like a big dream. No disrespect to him he can feel good knowing that I respect him and I have been a fan of his for a long time but I would love to fight him.
RC: Is there anything else you would like to add in closing?

KO: I just want to let all of my fans around the world, let them know that Kassim "The Dream" loves them, because I would be nothing without them.
Send questions and comments to: BksCam@gmail.com