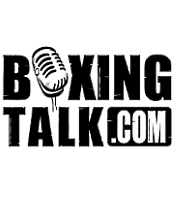 PRESS RELEASE:
Last Friday at the Thunderbird Wild West Casino in Norman, Oklahoma, 23-year-old Duva Boxing prospect Oscar "El Torito" Diaz, 22-1 (11 KOs), took his game to a higher level, physically and mentally. Not only was Diaz's ten-round unanimous decision over Thomas Davis the most complete performance of his career, it was also his first at his new weight class. "I thought he looked good," said hall-of-fame manager Lou Duva. "He fought a very tall, tough guy that could punch, so we had to change his style a bit, Tommy (Brooks, his trainer) did a great job with him. He was bobbing and weaving like we planned."
Duva says the decision to move Diaz up to the 147-lb weight class seems to have paid off. "We talked it over and he could stay at 140, but he's stronger at welterweight. One of his main problems was that he was getting weak in the later rounds. We put him together with a personal trainer who is doing a great job with him. He's stronger at 147; he punches harder and takes a better punch and he's still strong in the last few rounds."
In his lone loss, Diaz faded late against top-rated contender Ebo Elder. "He wasn't himself that night. Tommy and I suspected that he was drying out too much to make the weight and not really going into fights strong. I think that drained him because the last half of the fight, he was running after the guy and just wasn't acting like himself."
With those problems behind them, Team Diaz will be looking to establish a presence in the new weight class. The route the New Jersey-based Duva says he'd like to take leads down the road, to Jersey City, and fellow 140 – 147 slugger Arturo Gatti.
"If people want to see a war in Atlantic City, I would be more than happy to put Oscar in with Arturo Gatti. Gatti talking about moving up to 147, so I'd like to challenge him. Gatti is also a better fighter at 147 lbs. People are saying he's at the end, but I don't think so. He's tough. Style wise, he and Oscar Diaz is a war people want to see. They both walk in and throw bombs."