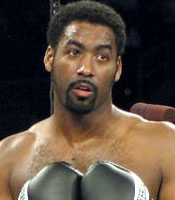 Heavyweight Calvin Brock (24-0, 20KOs) will take one step closer to his dream of becoming heavyweight champion this Saturday night. Brock, a 2000 Olympian, will take on the 6'6" Jameel McCline (31-4-3, 19 KOs) in the biggest fight of Brock's career. Boxingtalk recently spoke with Brock and discussed his upcoming fight.
BT: Calvin, thanks for taking out some time to talk to me. You have a big fight coming up against Jameel McCline, how is training camp coming along?
CB: Man, I have the perfect camp. I am more ready, and better than I have ever been in my life. I am ready to rock and roll.
BT: You have been the recipient of some smack talking from McCline as of late, do you have any comments on that?
CB: Smack talk don't mean jack, the only thing that is going to matter is when my fist lands to his body, and his head. My hands will be doing my talking. People can talk all they want, but it's all a matter of producing. As you can see, I produce. I am a 5 time national champion, former Olympian, I have been producing in the pro's with 24 wins, and 20 knockouts. Calvin Brock doesn't know how to lose, McCline knows how to lose. McCline is going to know how to lose even more next saturday.
BT: Calvin, a win against this big fella puts you in much nicer position to challenge for the heavyweight title. Give me your thoughts on that.
CB: Yeah, I mean I deserve a world title shot after I beat McCline. I want to fight again sometime in June, or July against somebody as well. But, with that said I want a world title shot before the year is up. Whoever gets into that ring with me as heavyweight champ at that time, will turn it over to me, the true heavyweight champion.
BT: You mentioned that after a win against McCline you would be interested in fighting one more fight before a title shot. Do you have any names in mind that you would want?
CB: No names in particular, if it's not a title shot, I still want to fight in June or July.
BT: McCline will more than likely want to press you when you two get in there. If McCline does press you, do you feel as if that is an advantage for you, or a disadvantage?
CB: Man, it's an advantage for me no matter how he comes into the ring. I bring the pain to everybody, I am coming to fight, I don't run from anybody. I am going to take him out of his game, actually he doesn't have any game.
BT: Calvin, we have talked before about how you don't usually look at film of your opponents. Does this apply to McCline as well?
CB: Same rules apply, I mean I saw a little clip of him fighting Chris Byrd. McCline has not shown me anything, that's why I am taking this fight. I am the real heavyweight champion of the world, he hasn't shown me anything to give me problems. I have been in there with much better fighters than Jameel McCline, and he is going to see that when the bell rings too.
BT: Calvin, we all know that you are conditioning yourself well physically. How do you condition yourself mentally, especially for a big fight like this?
CB: I constantly think about fighting. I eat, sleep, drink beating up my opponents. Losing is not an option for me, there is no stopping me once I get into the ring.
BT: What are your thoughts about fighting a guy this size?
CB: It's the same fundamentals as when I beat everyone else. I have fought guys bigger and stronger than McCline. They hit harder than he does too, when I get into the ring with him, his size won't mean anything to me. In fact, my size will be an advantage for me. The best heavyweights in the world are around 220 or 230.
BT: Can you talk a little more about what it's going to take to beat a guy this size?
CB: The only thing I see in McCline is that he is a big and strong guy. But, that doesn't mean he can hit hard, and knock people out. I am the puncher in this fight, he's going to come out and try to be someone or something that he's not but it's not going to work for him. I hit way harder than McCline hits, I have more KO's than he does. I am the best, and I have better skills, and I am better all the way around. He had his two title shots, his time has come and gone. When he gets into the ring with me, he is finished, I am trying to tell you.
BT: Does McCline bring ANYTHING into the ring that concerns Calvin Brock?
CB: Man, he doesn't bring NOTHING into the ring that concerns me. He wants to know why I want to take this fight?  It's because he brings nothing into the ring that concerns me. That was before I even sparred with this guy, I went in there and sparred with this guy some time ago and I put myself at a disadvantage sparring him as a southpaw, because I knew he couldn't do harm to me. I gave him the best work he ever had and I was an untuned up southpaw at that, spur of the moment.
BT:  Basically, you are saying that people better not judge you based on your sparring sessions with this McCline.
CB: I hope McCline does exactly that. It will give him a nice false sense of confidence.
BT: A win obviously is huge for you. But, what about a knockout? what does knocking Jameel McCline out do for Calvin Brock?
CB: Well, I have knocked people out. I go into the ring to knock people out, that's what I do. Jameel McCline is talking about knocking all these people out, his history doesn't prove that! He doesn't have that track record, he's trying to make something out of himself that he's not, he is fooling himself. I am not fooling myself, I am the one that is 24 and 0 with 20 knockouts. I have been knocking people out since my amateur days, and I am knocking people out in the pro's.  It shouldn't be a shock to the world to see me knock out Jameel McCline.
BT: Calvin, any predictions as to when you think you will knockout Jameel McCline
?
CB: I am not going to predict a knockout, I will predict a win. I am going to dominate this guy. The last time I predicted a knockout was against Terry Smith and I didn't knock him out.
BT: Calvin, lastly talk to your fans. Tell your fans what they can expect from Calvin Brock this saturday, and in the near future
.
CB: I am the truth. I am the true heavyweight of the world. I want to go on and bring the heavyweight championship back to the United States Of America. I am a patriotic citizen, I want to represent the United States to the best of my ability. I want to win the heavyweight championship, and be called the true heavyweight champion, and being an American!