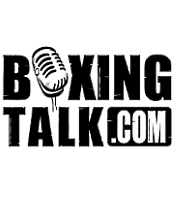 "Raul and Kassim would be one helluva fight!"
After speaking with USBA Light Middleweight champ Raul Frank. Boxingtalk briefly spoke with his long time trainer Bob Jackson, recipient of the "Good Guy Award" issued by the Boxing Writers Association of America in 1999, to get his thoughts on Frank's most recent victory over Fernando Hernandez. In this one on one exclusive, he gives us his thoughts on which of the three major title holders in the 154lb division he'd like to see Frank in against sometime in the near future. Read on to see what one of the better, but least acknowledged, trainers in the sport had to say. 
RC: Bob, why don't you give us your thoughts on Raul's performance?
BJ: Raul's performance was excellent, he gets on a 1-10 he gets a nine. He was in there with a guy who has a lot of experience, and has fought for titles (Minor) and just did not want to fight. Raul hit this guy with a body shot in the first round, one of my favorite punches, a left hook to the body, the guy bent double, and never really got into the fight after that. He was so afraid of those body shots that it limited his ability to get off and he was getting punished. I mean destroyed, getting hit with punches, and combinations. Raul was just really getting warmed up; he started getting loose in the third round and started ripping combinations.
In the sixth round, Raul hit this guy with combinations and the guy staggered away from him and the ref should have stepped right in and waived it off because the guy had already been telling him "Disqualify me then" But instead of doing that he took him to the commissioner and they disqualified, but the guy was beat half to death, he was going out. If they didn't disqualify him he was getting knocked out, I mean punished.
RC: How many fights away would you say Raul is from taking on one of the bigger names in the division?
BJ: Well we are not going to go from this fight right to a big guy; we need like another mid level fight, and then after one, maybe two the max.
RC: Right now they are three (Major) title holders on the 154lb division in (Kassim) Ouma, (Travis) Simms and (Javier) Castillejo, and it is clear that he wants Simms and feels that he is the best, would you agree?
BJ: No, I would say Kassim Ouma
RC: So who would you like to see him face?
BJ: Logically, let's be logical, Travis Simms is with King, we just riffled our way through King. King could have had Raul but they choose not to pick up the ball, Roy Jones did, now what would you say the chances are of getting Travis Simms in the ring.
RC: Slim, but…

BJ: (Cutting in almost simultaneously) Slim to none. You know what is involved, options, and this and that, but we just been through that. So I would say that that's almost and impossibly, almost
RC: (Cutting in) Well Don King is about making things happen and more importantly making money so ..

BJ: (Cutting back in) that is why you never say never. Now, if this was a fight that would attract big money, you see we have that going against us too, because Travis Simms is not well known, and most people don't know Raul even thought he fought for the world title twice. It would be a championship fight, but how would he sell it. And that leaves us to the other two.
RC: Castillejo is probably going to be fighting Ricardo Mayorga
BJ: Right, so the logical one for us seems to be Kassim Ouma, since our moves are in the IBF. The USBA title, he had the IBF Latino title also, and that is going to pop us up in the ratings. So it is logical to think that negotiating and the pressure from the IBF would indicate more Kassim Ouma than the other two. 
RC: How do you think Raul would do against someone like Ouma?
BJ: It would be a hell of a fight, Raul is a conditioned guy, strong, and he knows how to fight. Certain little adjustments and I wouldn't speak on them, but certain little adjustments and he is right there with Ouma, and that is one hell of a fight. We would have to find out what can do when he is in with a guy like himself instead of lie a regular guy. 
RC: Is there anything else you would like to add in closing?
BJ: (Jokingly) Hmm, let's see. I am 67 years old; I am very handsome for any women out there that might be interested.
Send questions and comments to: rayocampbelljr@hotmail.com