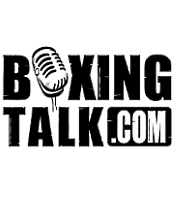 Bonsante: "Jessie's trainer admitted I deserve to win"
Boxingtalk.com managed to catch up with Middleweight Anthony "The Bullet" Bonsante 26-7-3 to get his take on his recent controversial rematch loss to Contender Season one final four finalist Jessie Brinkley on October 15th. "For five rounds I executed the plan to perfection, and we out punched him 3 to 1, out landed him 3 to 1, and the judges saw it differently than 13,000 in the stands and 1.8 million people that were viewing it on ESPN. So I guess I don't know what else I could have done to win," stated Bonsante. He also added, "Manfredo's old man (Peter Manfredo Sr., who trains Jessie Brinkley) even and came up to me and said, "You fought a great fight, you deserve to win that fight."" Read on, as the Contender star known as "The #1 Dad" gives us insight on some potential future matches ups for him, his predictions for possible upcoming Contender fights and his surprising thoughts Ishe Smith.
RC: Give us your thoughts on your fight that took place on ESPN over a week ago against Jessie Brinkley, a bout that you lost but many felt you clearly won?
AB: Well it was a five round fight against Jessie (Brinkley), it was a rematch and we all know what happened in the first fight on the show. I was kicking his butt for four and a half rounds and he landed a beautiful uppercut that put me to the floor. I got up and the referee thought it was in my best interest to stop the fight, which that is his call. But in the rematch it was at 164lbs, 4 lbs heavier than it was in the first fight. He said he wanted to move up to Super Middleweight and this was his last fight at 164lbs and then he was going to move up. And I said you know what? Fine, I am a middleweight, usually I don't come in over 160lbs, but I agreed to give him the weight. We had devised a strategy that… because Jessie has a lot of power, he can't box very well but he has got a lot of power. So we decided that if we stay on the outside and throw the jab, and throw 3,4 or 5 punch combinations and get out, and don't let him get set and get into a slugging match. Then we knew we were going to beat him. For five rounds I executed the plan to perfection, and we out punched him 3 to 1, out landed him 3 to 1, and the judges saw it differently than 13,000 in the stands and 1.8 million people that were viewing it on ESPN. So I guess I don't know what else I could have done to win. No disrespect to the California State boxing commission, but everybody at that fight thought I won the fight. Even Jessie after the fight, if you look at him after the fight on T.V., he looks dejected and disgusted in his performance, because he knew he loss. I mean Manfredo's old man (Peter Manfredo Sr., who trains Jessie Brinkley) even and came up to me and said, "You fought a great fight, you deserve to win that fight.
Again, the silver lining in that whole fight was everybody booed me walking in, and deservedly so from what I did to Ishe in the Finale, and that was not me in that Finale. I got frustrated with my corner, I got frustrated with my performance in the first round, and I kind of let my emotions take over and that was not me in that ring. And I vowed to the Contender people, and ESPN and everybody that they would see a totally different fight against Jessie. And I proved myself as a boxer, I proved to myself that I can still compote at that high of a level at 35 years old, and I still have the motivation and the desire and the heart to compete. So as long as I can keep beating 28 and 29 years old, I might as well keep doing it.
RC: What's next for you? Have you spoken to the Contender people? What was their reaction to the result of the rematch against Jessie? 
AB: Yeah, their reaction was very very good. Obviously they weren't happy about the decision either but there is nothing you can do about it. I was in a promotional contract with them and obviously once I loss, I thought they were going to release me. They were very happy with my performance, they know I beat Jessie and they are going to keep me under contract and keep fighting me. So hopefully they will get me another fight. They asked me if I wanted a rematch against Jessie and I said no, I have nothing to prove AGAINST Jessie.
RC: Are you interested in fighting outside of the contender Circle, or do you prefer to fight inside of the 14 other fighters?
AB: Yes I want to fight other guys. There has been talk about a me fighting a kid from St. Paul, Matt "The Pretender" Vanda. He only fights in Minnesota, he is rated # 3 by the WBO but he has not fought anybody. He did fight York Boy Campas, and Yory Boy has an excellent record, his legacy is out there, but I mean I am older than Yory Boy, and I know I can beat Vanda. There has been talk about Fernando Vargas. We had been offered the Jermain Taylor fight about a year and a half to two years ago but the money wasn't right. Now that he is the undisputed champ the money should be there, whether he wants to fight or not I don't know, I know he has a big rematch with Hopkins coming up, so I don't know.
RC: You have been fighting five round fights for your last four fights or so…
AB: (Cutting in) and I hate those five round fights
RC: (Cutting) It has been a long time ago since you fought past five rounds, how would you make that adjustment to go in and fight the undisputed champion of the world?
AB: I would have to train totally different because obviously it would be a twelve round fight. I mean I am a ten round fighter; I have fought a scheduled twelve round bout once with (Tony) Ayala, and I knocked him out in the 11th round for the IBA Middleweight championship. I know I can go ten, twelve rounds. My training regimen would have to change for Taylor because he is more of a slick boxer and he has got some pop in his punch obviously. He is young, he has youth, and he has everything going for….
RC: (Cutting in) Other than the fact that you are probably more popular than him to most Americans, what other factors do feel will come into play for them to want to give you a shot, other than your popularity factor? Because personally and…
AB: Realistically they have everything to loose by doing that
RC: Right, so my question to you is other than you being one of the most popular fighters in the country because of the contender's exposure, what makes you think you'll get a shot at Taylor?
AB: Well maybe after he either beats or looses to Hopkins, a lot of it depends on that, but if he is looking for an in between fight and he is not a world champion and he is just wants a ten round fight. They might say the guy (referring to himself) has a decent record, he has fought some legitimate contenders, I mean I fought Kingsley Ikeke (PTS6) I fought Rhoshii wells (4rd. Draw), I fought (Jessie) Brinkley, (Peter) Manfredo, Ishe Smith, all great guys so my record will hold it's own. Then they just might say "Hey you know what? Let's give this guy a shot" and I am thinking they might just come in for a warm up fight to beat my butt, but then I surprise them. That is the only real hope that I think I would stand a chance to get a fight with Taylor.
RC: How do you feel about Peter Manfredo…
AB: (Cutting in) I would love a rematch with Peter.
RC: Hold on…. (I Start to laugh)…. lets take it one step at a time. What do you about the match between him and Sergio Mora? Give us your take?
AB: I think Peter won the fight
RC: How do you think he won it?
AB: I think he was more aggressive..
RC: I mean score wise.
AB: It should have been a split decision for Peter in my opinion.
RC: How did you score it?
AB: I had it 6-2 for Peter. I mean you are in L.A., you are in Sergio's hometown, and you pretty much have to knock Sergio out in order to take that. And no disrespect to Sergio, he is a great guy but any other state, that fight would have been stopped because of that cut. No referee, or no Doctor is going to okay that fight to go seven more rounds.
RC: I cut you off before when you cut me off, you mentioned you would like to fight out of the contender but then said you would love to fight him in a Manfredo rematch, (First bout took place in Providence, RI prior to the Contender series) is that a fight you would want?
AB: yeah because Manfredo and Myself fought before the Contender, and he beat me a twelve round unanimous decision and I was not myself because I found out I was on some medication that took away every ounce of aggression that I had. Even Manfredo admitted on the Contender. He said "Boy I am glad I fought you when I did", because I am a totally different fighter now.
RC: Peter has came on the record recently here on Boxingtalk.com and stated that he no longer wants to fight for the Contender people because he felt he wasn't treated fairly leading up to the fight, what are your thoughts on that?
AB: Well you know that is Peter's decision and he felt as though the Contender took that fight away from him. I don't know whether they did or not, all I Know is the Contender has lined up that fights for us, treated us well, I mean Peter hasn't got paid as much as he has gotten paid on the Contender anywhere else.
RC: Aside from the money aspect, a lot of times fighters like Peter Manfredo and Ishe Smith's gripes are dealing with Principle and…
AB: (Cutting) Exactly…and Peter decided. I mean he has got Jimmy Burchfield to go fall back on also as a promoter. So Jimmy will get him quality good top-notch fights. And like you said that is Peter's choice and he felt as though he wants to go a different avenue I wish him all of the luck in the world. Peter is a great guy and deserves to be treated very well, and whether he thinks that is with the Contender or somewhere else, I wish him the best.
RC: Sergio easily beat Manfredo in the first bout, and many felt that he didn't deserve the rematch right away. However he did come out in the rematch and put on what many felt was good enough to win. Now do you think he should get another rematch against Sergio right away or should they match him with Ishe since he to claims his loss to Sergio on the show was very controversial, and the winner faces Mora?
AB: I don't think Peter would fight Sergio again. I don't know, I think he is disgusted and very upset with the way this last one went. I don't think he would actually fight him; if he did yeah he deserves that because he beat him this last time. But a lot of people want to see Ishe Smith fight Sergio because of like you said because of the controversial loss on the show.
RC: You were there on the show when that fight took place, what are your particular thoughts on the fight between Sergio Mora and Ishe Smith?
AB: It was a good close fight, I thought Sergio won; I thought Sergio took it to him. With five rounds you have to be aggressive. Ishe Smith, in all honesty……. Ishe probably had the most talent out of any of us. We had our differences but I gotta give the guy props when he deserves it. He had the most talent out of all 16 boxers, and he has got a legitimate shot at being a world champion. He kind of proved to me that he is not the man that everybody thought he was. I mean he came up to me after the fight and said "You know what Anthony, you did a great job, you boxed exactly how you were supposed to, you changed totally different from the way you were in Vegas (May 05)" and then he said "I applaud you" So I have to give him some credit, because he kind of swallowed some pride and gave me that credit.
RC: Some feel that it would be a great matchup between Manfredo and Smith; you have been in there with the both of them. Give us your take on those two going at it?
AB: (Rhetorically) Ishe Smith and Manfredo? Ishe wins, he is just…. he is stronger and he is faster, and he is the better boxer. Those fights should not be five rounds though. If Sergio and Ishe go at it, that too should also be at least an eight round fight.
RC: How do you think that rematch plays out?
AB: A lot of it depends on what size ring they use. In the contender fights they use a 17 square foot ring.
RC: In your opinion who does the ring benefit Ishe ort Sergio?
AB: Well in a bigger ring the advantage will go to Sergio because he has got those longer arms and he can move. I mean Sergio doesn't have knockout power. As you can see from his record he is 17-0 but he has only got three knockouts, and Ishe has got pop. He had me rolling in the Finale. (Check it out for yourself
http://contender.tv.yahoo.com/01/fanfavorites.html
) Ooh man, I thought he was going to take me out, and then I got frustrated but like I said that was not me. I got frustrated with my corner, and things just went in total disarray after that.
RC: So who do you think wins the Sergio versus Ishe rematch?
AB: I think Ishe wins by a unanimous decision if it is an eight or ten round fight because Ishe is a good boxer, and Sergio is too, but Ishe will take it to him.
RC: What do you think he'll do in a rematch that he didn't do in the first?
AB: Well if it is a ten round match he will have more rounds. Ishe is a ten round fighter.
RC: A very well respected participant, but non-fighter from the show told me that had the first fight gone another round, Sergio might not have been able to go another round in the state he was in at the end of the fifth. Do you agree with that?
AB: Yeah you know what that is probably true, because he was hurt. If there was one more round Ishe would have taken him out and would have beat him, but who is to say now.  I mean if they fight, Sergio knows what Ishe did.
RC: With Ishe Smith being as outspoken as he has been about the Contender do you think he will ever fight for them again?
AB: I don't think so, I think he has sort of sealed his own faith by... and grant it I know it is a matter of principle but as much as he talked about beating Jessie Brinkley the weight really shouldn't have mattered. I mean I know Ishe was a 154lb fighter
RC: Actually he was really a Welterweight…
AB: I know I know he wasn't going to budge, but that was Ishe's call, he was going to make 50 grand for that fight. Where else is he going to make 50 grand, I know it is not about the money it is about principle, but the principle is he did a lot of talking about beating Brinkley and this was his chance to show it. So if it is a matter of principle and not the money, do it. I should have gotten paid more for this fight, but it was not about the money. But I didn't do it for the money. I did it for the fact that I wanted redemption. So I hope Ishe gets another fight, whether it is with the contender, I don't know….. I don't think he will get a fight with the Contender because he said a lot of bad things about Mark Burnett and Sly Stallone and I don't know if they will give him a shot.
RC: How has the Contender experience been overall for you?
AB: For me it was a great experience and great exposure for me because obviously being from Minnesota we are pretty much geographically isolated as far as boxing is concerned. We don't get a lot of press or a lot of publicity because Minnesota is not a boxing state. We have the Timberwolves, the Vikings, well god knows we don't want the Vikings but anyway boxing doesn't get a whole lot of press. But because of the Contender I have received quite a bit now and it is kind of nice because now hopefully boxing will come back to Minnesota. The contender wants to bring a fight back to the Target center.
I still work a 45-50 hour a week job as a production supervisor for K-Mart. We service about 117 stores. Nothing really has cha……well as far as publicity and notoriety it has changed quite a bit, but I am still the same was before. I still take care of my two kids. I still do homework with them, and I still go hunting and fishing. I am still the same guy that if I walk in a bar and a guy wants to buy me a beer, I will buy him one back. I am still the same blue-collar guy
RC: Who do you still keep in contact with from the show?
AB: Tarick actually, in fact he called me last Tuesday when they played the replay on ESPN, and he was a big Jessie fan, he is close with Jessie and he said "I gotta apologize, I gave Jessie a high five after the fight and I was congratulating him because he won, but now that I have seen it on T.V. I think you won that fight" and I respect Tarick for that and even on the show I did because Tarick and Sergio were the only ones that backed me up when I picked Brent Cooper. They knew what it was all about, and I respect Tarick and Sergio for that because they stepped up and they didn't care what everybody else thought.
RC: You'll be 35 on the 28th of October, and you said you feel you are still competitive, but how much longer do you see yourself fighting?
AB: Someone asked me the same thing before and I said you know what, as long as I can compete with these fighters, because a lot of this fight against Jessie… that is what that was about, because at the press conference he said he was going to retire me. Well… we all know that he wasn't able to do that, and I still feel as though like I said before I can compete with these guys at this level and win, so I think I got two or three years left. Make me some money, win a world title and get out before I can't talk anymore. I am 35years old and I have been boxing for 25 years and I still can articulate, I can still carry on a conversation, I can still…. I have no brain damage yet.
RC: Is there anything else you would like to add in closing?
AB: I just want to say thanks to everybody who watched the show who supported me throughout, before and after the show and don't count me out because I will be there in the thick of things.
Send questions and comments to: rayocampbelljr@hotmail.com