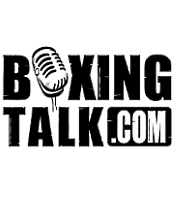 Simms ready to put on a show!
Boxingtalk.com recently spoke to undefeated Jr. Middleweight contender "Marvelous" Tarvis Simms 20-0(11), who was nice enough to take the time out of his busy training schedule to speak with us about his upcoming bout against former world title challenger Robert "Push Up" Frazier 30-6-3(15), which will take place April 9th 2005 at the Turning Stone Resort in Verona, NY.. Read on to see what else the twin brother of WBA Jr. Middleweight champion Travis Simms had to say about his in which he has received top notch sparring from undefeated Welterweight contender & WBO Interim title holder, Kermit "The Killer" Cintron.
RC: What's going on Tarvis?
TS: Nothing much, just putting my time in, Training hard twice a day, pretty much the same old same old.
RC: Before we get into your upcoming fight on April 9th against Robert Frazier, why don't you give us your thoughts on your must recent performance, in which you defeated former world title challenger Carlos Bojorquez?
TS:  I felt I showed a lot of different things in there. It just showed that I have what it takes to be in there with the best of them. It is funny that you even bought that up because I am sitting here watching, I just got the tape in of my and Bojorquez, and I am just watching over some of the things I was doing wrong and things I need to work on. As far as the fight, I thought I did well under circumstances, I fought with the flu I was under heavy medication and I thought for the must part I did pretty well. I gave myself a "C-"
RC: What can you tell us about your upcoming opponent Robert Frazier?
TS: My trainers have been watching a lot of tapes on him; I am in the gym training extremely hard. We got a lot of different work in there with us. He still fights like an amateur; he likes to move a lot and throw a lot of straight punches, but we are ready, definitely ready.
RC: With Robert Frazier being a guy that has only lost to world class opposition such as Winky Wright and David Reid, what do you feel a win over him would do for you and your career?
TS: Robert has been in there with some top name guys at Junior Middleweight and has only lost to good guys. I am just out there trying to fight the best that is out there. He is one of the guys that you have to go through to get through the gates to climb to that top level. I know I have what it takes to do it; it is just matter of me going in there and doing what I have to do
RC: Who have you been working with as far as sparring goes for this fight?
TS: Kermit Citron, Keenan Collins, Bobby Heath and a few others. I have been getting a lot of good work, with guys with fast feet, and fast hands. Camp is going well, I am punching harder than ever, my speed and accuracy is up, and I just can't wait until April 9th to go into his back yard and do my thing
RC: Prior to you last fight, you spoke about moving down to campaign as a Jr. Middleweight, and going into your last fight you weighed in at a career low 156lbs, how did that feel fighting so low for the first time in your career?
TS: I was fine. Actually there was no difference. I was just dealing with being sick, during that plane ride they had those things blowing me from the plane which got me really sick. Other than that I was fine as far as the weight and everything. He was the one complaining about the weight and he came in at 157lbs.
RC: How did your body feel being that low for the first time?
TS: I felt great, Tremendous. Unfortunately I wasn't able to go out there and display my best but hey I got the "W". With this fight, this is a statement fight as well, and I am just looking to stay busy and continue to climb the ladder.
RC: Being that this fight in Frazier's backyard, do you feel as if you are going to have to go out there and take him out to prevent the judges from being bias towards him on the scorecards?
TS: No not at all man, I am just going in there to get a good win. If I knock him out, I knock him out, but if I don't then so be it. But I am ready, I know I am going to win this fight, and like I said it is just a matter of me going out there and executing my plan,.
RC: With all the improvement you have been working on and with how well your camp is going, what can those on hand expect from Tarvis Simms?
TS: A lot of professionalism, and a lot of ring generalship. I am just going out there to outbox this guy, and just outgun him. I have been working on getting my punch count up, and working on my accuracy and obviously my defense so it should be a very good fight..
RC: Is there anything else you would like to say in closing?
TS: To the boxing fans I just want to thank all of them for their support, I hope to see everyone out there at the Turning Point Casino (In Verno NY), because it is going to be a great night. I always want to say thanks to Boxingtalk.com the number one boxing website.
Send questions and comments to: rayocampbelljr@hotmail.com