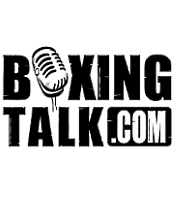 After all of the controversy with his previous two bouts against Sergio Mora, Peter Manfredo Jr is ready to put all of that past him when he steps into the ring against the very crafty, and gritty Scotty Pemberton. Manfredo speaks candidly to Boxingtalk about his upcoming fight against Pemberton, and he  pulls no punches on his feelings towards Sergio Mora. You don't want to miss what else Manfredo Jr had to say in this Boxingtalk EXCLUSIVE!
BT - Peter let's get right into this, talk about your upcoming fight against Scotty Pemberton.

PM - It's definitely a done deal, it's going to be in Providence, and I will be fighting at a weight the I feel more comfortable at. Scotty is a great fighter, and I am taking a step up fighting a guy like him, the guy was ranked number 1 by the WBC. When names were being thrown at me, I picked Scotty because I wanted to give the guy an opportunity to make some money, he deserves it.
BT - Peter, a lot of people out there would agree with that, how long have you known Scotty?
PM - I have known Scotty for like 15 yrs, I respect the guy, and I have sparred with him for years and years. Now that we are going to fight each other for real, it's going to be fun.
BT - Peter, Pemberton is a come at you, throw a lot of punches type of fighter. What sort of fight do you anticipate this one to be like against him?
PM - I am going to set the pace of the fight, and I will have to establish my jab against him. He's got the longer Jab, but I will work on angles against him. I will have to work the body, and the head. I am the younger guy too, so I will have to wear him down in the later rounds. It's going to be a great fight, It's in my hometown, and I can't wait to start training with Freddie Roach again.
BT - Which leads me to my next question, I am guessing that Freddie Roach will indeed be your trainer again
?
PM - Definitely, I like the chemistry that we have with each other. It's kind of weird how that happened, the first time away from my father and Freddie and I just liked each other right away. Freddie had me looking the best that I ever looked in just 6 weeks with him. I think the more I stay with Freddie, the more I will be ready for a world title fight in the near future.
BT - Peter you definitely looked sharper the second fight against Sergio, and in most people's eyes you won that fight. Talk a little more about how training with Freddie made so much difference.
PM - Well Freddie had me in the best shape of my life, he had me doing things that he normally does with his fighters, but I haven't done before. I was willing to work, and I was willing to learn different things, I was hungry. I was hungry, and I knew I was the better fighter than Sergio. Freddie got me throwing the right shots, and taught me how to work off my jab, and shorten my punches.
BT - Peter, my sources tell me that Sergio Mora will be at your fight against Scotty Pemberton. Do you see any chance of a third fight against Mora?
PM - He will probably be at my fight, and that doesn't bother me. I don't really like Sergio Mora that much because of how he treated me after both my first, and second fight against him. Mora has no class, and no respect and he made a hundred thousand excuses, and champions don't make excuses. With that said, I would love to fight him again, but the only reason why Scotty came up is because they didn't want to bring Sergio down here to Providence. Sergio is their number one guy, and they want to keep him undefeated I guess.
BT - Peter, what is your Contender contract status right now?

PM - When we signed the contract before the whole things started, I signed it for 3 yrs unless they let you go. So the only way I am getting out of the contract is if they let me go, and I don't think they will do that anytime soon.
BT - Peter would you do The Contender all over again if you had the chance?

PM - I don't know, I don't know, the way they act saying they made me who I am today, and all this other stuff, I didn't appreciate the way they told me that. I felt that before The Contender in another year or so with the way I was going, I would have been making at least the same amount of money by now, and possibly a world title, who knows?.... Going back down to 5 rounds, and having to lose 10 pounds, adjustments I had to make to fight Alfonso, people don't know what was going on behind the scenes. Doing all of that stuff was tough, but would I do it all over? do I regret it? It's hard to say, I am happy with my life now, happy with my family, my family got known, and I got known, so it's not all bad you know?
BT - Peter I want to talk about the relationship you have with your father, and what he had to do in order to bring Freddie Roach on board.

PM - Well to be fair, both Freddie and my dad are on the same page. The difference is my dad has been with me since I was 5, so we agree on a lot of stuff, and we disagree on a lot of stuff. With Freddie, he is a world champion class trainer, and I look up to him. I tried so hard to impress the guy, and unlike my father I am not looking to impress him, I am trying to pick a fight with him. To my father's credit he stepped to the side, and let Freddie do his thing. But with that said, my father wasn't completely out of the picture, he also trained me for the Sergio fights. Out of the 
6 weeks, Freddie trained me 4 and my dad trained me 2 weeks. Freddie was gone a lot with Manny Pac, and James Toney.
BT - Talk about your dad some Peter, a lot of people don't know that your father was a world champion kick boxer.
PM - Yes, my father was a very good kick boxer. He was a world champion, I don't remember how many fights he had, but not too many. There wasn't a lot of money in kickboxing back then, and not many people wanted to take my father on anyway. After kickboxing, my dad got into boxing some but he didn't have many fights, actually my uncle steven was a better boxer, and I guess I passed both of them (laughs).
BT - What got you into boxing Peter?
PM - Well growing up I didn't have much choice about it. My father pretty much made me box, I wasn't hanging on the streets, and he didn't let me go out. I was in the gym all of the time, and when it came down to turning pro it was my decision. Growing up in the gym me and my dad would argue sometimes, and I even got thrown out of the gym a few times (laughs), I guess it's sort of the normal father son stuff huh? I guess I did alright now though huh Brad? (laughs)
BT - (laughing), yea Peter I can say that you are definitely doing better than a lot of other fighters out there.
BT - Let's touch on Scotty Pemberton again. A win against Scotty does what for your career? and a loss against Scotty does what to your career?
PM - Well if he defeats me, I think I will be done with boxing. It's sort of like 3 strikes and you are out. If I win, I think it boosts me up in the rankings,  and it will tell me where I am right now, like I said the guy was ranked number 1. I try not to look at that though, I like to just take the fight and see what happens.
BT - Peter, talk to your fans.
PM - My fans will see a great fight against Scotty Pemberton. We will be trying to kill each other in there because I want my shot, and so does he. Merry Christmas to all, and I hope to see you in Providence at the fight!
PURCHASE
BRAD COONEY'S NEW BOOK - LET'S TALK BOXING
http://www.authorhouse.com/BookStore/ItemDetail~bookid~26398.aspx
Send questions and comments to: bradcooney1@Bellsouth.net