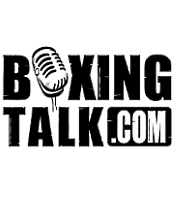 Tonight at the Westchester County Center in White Plains, NY on a North East Promotions in association with Irish Ropes Boxing promoted card. Up and coming Jr. Welterweight prospect "Mr." Joey Rios 8-0(4), of The Bronx NY will put his undefeated record on the line when he takes on Mobile, Alabama's "Bad" Chad Lawshe 8-3 in what is expected to be his toughest task to date as a pro. Although he normally isn't always mentioned amongst some of the more popular prospects in the area who are also trying to make their mark in the talented pack 140lb division, the local fans do. Rios might quit possibly be New York's biggest ticket seller (Amongst prospects in NY area, according to local Match Maker Jim Borzell). Read on to see what one of the divisions most underrated prospects had to say about his upcoming bout.
RC: Joey, what's going on?
JR: I am feeling great, feeling ready, we worked very hard and we are all set and ready to go for tomorrow night.
RC: How did preparation go for this fight?
JR: The preparation was amazing; we actually put a lot of hours in the gym. We had about four or five different sparring partners getting a different variety of styles, a lot of road work and just mentally and physically working out.
RC: Who did you work with in preparation as far as sparring?
JR: Sparring wise I worked with a few people, the Joseph brothers, they are awesome amateurs. I had Agapito Sanchez, former WBO Champion, I had Freddie Soto, he is another NY fighter and a few others but those were the main ones that I basically really worked with.
RC: On paper it looks as if Lawshe is your toughest opponent to date, have you done anything different in preparation for this fight than you normally do?
JR: Not really, I mean we always train very hard for a fight. We always prepare ourselves very well for a fight whether it be a boxer, brawler, puncher, runner, anything but I never underestimate an opponent. On paper he actually is going to be my toughest opponent to date. But I have been very disciplined in the gym, and we are basically ready. We are ready.
RC: What can you tell us about you opponent Chad Lawshe?
JR: I don't know anything about Chad Lawshe, I know his record and I know that he is from Mobile Alabama. Other than that I know he is coming Friday night to win a fight, as well as I am, and we are going to make this a really excellent fight.
RC: What can those on hand tomorrow night at the Westchester County Center?
JR: Just to expect an exciting fight. I work hard, I don't focus on a Knockout, you cant get a knockout if it is not there, you can't be focused too much on one thing. You have to go in there and see, feel the ropes, and work your jab. But they can expect an exciting fight, boxing, brawling, punching, moving, and an all around mix of an excellent boxing match.
RC: For those who haven't got a chance to check you out in action, how would you describe your style?
JR: I would say a boxer puncher, I have very good technique and I feel as if I can punch as well.
RC: When can we expect to see Joey Rios on a nationally televised bout?
JR: All of that would be up to my manager and my team. We are only doing fight by fight. We never look past an opponent, and we take every fight seriously like it was a world title fight, in due time, hopefully soon. Until then I am patient and eventually it will come
RC: In speaking to your trainer Angel Alejandro, he tells me we can expect big things from you in 2005, where would you like to see yourself in the division by years end?
JR: Basically with more wins, and still undefeated. We are going to work very hard for 2005. We ended off on a good note, and this is our first fight in 2005. So hopefully still undefeated, at least with the record of 16, 17-0, that is a goal and that is what we are planning on shooting for
RC: From what I understand you sold more tickets that one of NY's biggest young draws in K.O. specialist John Duddy 7-0(7) for this event, is that accurate?
JR: Yeah, we sold about 500 tickets, which is overwhelming. I just want to thank everybody that brought a ticket ands that is going up to support me and hopefully I can give them what they paid for.
RC: After selling so many tickets, does that put any added pressure to look spectacular, or do something you normally wouldn't do?
JR: Basically the crowd has nothing to do with what I have to do tomorrow night. I don't even think about the crowd. We are in a profession where this is entertainment. So hopefully they have a good time, and I just have to focus on what I have to do. I have an opponent in there that wants to take me out. So I just look forward to staying focused, I am very focused, I am in great shape and I am just going to go out there and do what I know how to do best and that is fight.
RC: Is there anything you would like to say to your fans in closing?
JR: Just thank you for everybody that came out, and that supported me and stuck with me through the hard times, and I am very thankful for everybody that purchased a ticket to see Joey Rios from the bottom of my heart.
Send questions and comments to: rayocampbelljr@hotmail.com