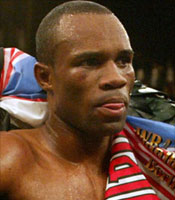 GL: Your attorney Josh Dubin told me you wanted to discuss the punch Carlos Maussa hit you with while he was down some more. What do you have to say Viv?
"I was dropped and I was on the ground and I felt a punch to my head that shook me up and I couldn't get up fast enough because of it. That punch took a lot from me."
GL: On the slow motion replay, some people are having a hard time finding where he hit you while you were down.
Vivian Harris: "The punch hit the rope and that what it looks like, but I was on the ground and I got hit on the head. He hit the rope and my head. I would have gotten up if I didn't hit with the second blow while I was down."
GL: Is there any update on your protest? Will you get a rematch with Maussa?
VH: "I don't know when we'll hear back about the protest, but I know I got a contract to get my rematch so I'm not worried about that. My thing is, this guy hit me while I was down and he shouldn't have been able to get away with that. The referee should have done something about that because that shouldn't happen in the sport of boxing. If someone is down you're not supposed to hit them or even try to hit them. That fight was supposed to be a no-contest and right after the fight I was just shocked how it went down and I just wanted to spend time with my family."
GL: Some people might believe you were on your way to losing the fight, had he never tried to hit you while you were down.
VH: "I don't think I would have lost the fight. I've been hurt worse than that, gotten dropped and won the fight. Like you know, I followed Tito Trinidad and in some of his greatest fights he gets dropped and comes back. I would have been more focused to continue if he didn't hit me while I was down. This isn't about winning or losing, this is about fighters shouldn't get hit while they're down. And this is not just for me, it's for all the other fighters in the game, so if this protest helps me now and other boxers later, I'll be really happy about that because in boxing it takes one punch to change everything and most of us have families so the rules of the game should be respected."
GL: But you do realize that had Vivian Harris been at his best coming into the ring, you would have never looked so shitty, you would have made easy work of Maussa and we'd be talking about your next title defense.
VH: "That's a fact and everything but it still don't have to do with me getting hit while I was down. Me looking shitty in the fight or not, if I get dropped you're supposed to wait for the referee to finish counting, not run across the ring trying to hit me again while I'm down."
Send questions and comments to: gleon@boxingtalk.net